Signs of economic life in New Hampshire
N.H. is not quite back to normal, but for the first time in years, all signs are pointing in a positive direction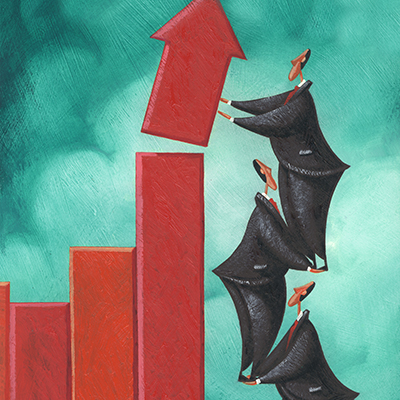 Looking for a sign that the recession is finally over?
For David Bellman of Bellman's Jewelers in Manchester, it's the fact that people are splurging more for that engagement ring, and the emotional and financial commitment that comes with it.
For Jeffrey Correa of Door to Door Delivery, also in Manchester, it's that the average check for a meal has jumped from $40 to more than $60.
And for Donna Goodrich of Top Furniture in Gorham, it is the fact that people are replacing their living room furniture.
One thing that most businesses agree on, and the statistics bear out, is that New Hampshire no longer has a sick economy, but a recovered economy. It has not been the best recovery, and we are not quite back to normal, but for the first time in years all signs are pointing in a positive direction.
And that's despite all the blows – perceived and real – inflicted by both Republicans (government shutdown) and Democrats (the disastrous rollout of the Affordable Care Act) in Washington.
"We almost burst free of the black hole of the great recession, if only the federal government had not added to uncertainty," said Dennis Delay, an economist at the New Hampshire Center for Public Policy Studies.
That said, the recovery has been and still is very uneven. Yet companies are expanding. Exports are rebounding. People are buying houses again, and at higher prices. Fewer are losing homes and businesses. Indeed, businesses are making enough money that they have had to fork over nearly 9 percent more in taxes to the state.
And, slowly but steadily, companies are hiring. The unemployment rate – a seasonally adjusted 5.1 percent in November – is more than a half-percent lower than last year, with the private sector adding more than 5,000 jobs for the month.
But those positive numbers mask some negatives, as economists point out.
Delay said New Hampshire's "sluggish" growth lags behind other states, and we won't hit our pre-recession employment peak until the spring.
Russ Thibeault of Applied Economic Research in Laconia points out that most of the state's economic strength is in the southern tier, Portsmouth and the Upper Valley, and about two-thirds of the job growth is in lower-paying service occupations.
But not all service occupations are low-paying. Take, for example, the 10 jobs created at Vital Design – a Portsmouth firm that helps companies with Web, search engine and social media optimization – that Zachary Gregg founded during the recession.
Gregg said he had hoped companies would opt to "cut the cost of customer acquisition" by turning to his company to replaced laid-off sales reps. They did, and the company has doubled its number of employees in two years.
And jobs are being created in the manufacturing sector.
New Hampshire Ball Bearings, for instance, added about 160 employees at the beginning of the year at its facilities in Peterborough and Laconia, bringing its total employment to 1,250 in the Granite State. The plants here primarily concentrate on the aerospace industry, which has grown despite defense cuts, thanks to the growth of the commercial aviation sector.
In fact, the aerospace industry has been the focus of the New Hampshire International Trade Resource Center. The center – which used to have a dozen employees, but was down to one thanks to state budget cuts – received a $600,000 federal grant to bring it up to three. Coincidentally or not, the state's exports suffered during that time leading to the grant, but they rose 19 percent for the first three quarters of 2013, the biggest increase in the nation, according to Tina Kasim, the center's program manager.
Real estate and construction
What has this slow but stable growth meant for housing, which led us into the financial mess?
For one, the foreclosure crisis appears to be almost over. There were 25 percent fewer foreclosures this year, resulting in the fewest number of people losing their homes since 2007.
Meanwhile, homes sales in the first 11 months are up 10.5 percent, pending sales are up 9.6 percent and prices are up 8.8 percent.
The turnaround could not have come at a better time for Matt Ajemian, who founded Granite Coast Realty in Hampton in 2009, after spending a decade working at a larger company.
"You don't control the market," he said back then. "You work within its parameters and make sure your clients understand that."
But in 2013, Ajemian faced another kind of problem: a three-way bidding war for a downtown Portsmouth condo that eventually sold for $330,000, $2,000 above the asking price.
Revenue is up 35 percent at Northcape Design Build, said Everett Pollard, whose firm specializes in renovations of the second-home market around Lake Sunapee. He cites one $2 million project, owned by a New York City area energy broker, that includes a 50-foot-long mudroom.
Homes are moving around Lake Winnipesaukee as well, especially in the lower end (under $1 million), said Thibeault. There have been 145 lakefront sales thus far in 2013, close to the 2004 peak.
Statewide, single-family housing permits are up 16 percent for the first three quarters of the year. There are now more than 1,400 more people employed in construction compared to the same time last year, a 7 percent increase.
The commercial real estate market has also improved, said Chris Norwood, president of NAI Norwood Group in Bedford, especially multifamily residential construction. But industrial and office construction is still flat, with some exceptions: Londonderry, near Manchester-Boston Regional Airport, has "come into its own," and there has been a spurt of growth in Epping. Both areas, not coincidentally, are accessible by a highway.
"Infrastructure precedes the development," said Norwood.
Retail and travel
People seem to be more willing to buy more than houses. "Psychologically, people are feeling more optimistic, pulling the trigger for the engagement," said Bellman of Bellman's Jewelers. "A lot of people in long-term relationships kept on putting it off."
More home sales means more furniture sales too. "I definitely have seen an upswing," said Goodrich of Top Furniture.
The North County has been the hardest-hit region in the state, but now, with a resurgence in the second-home market, opening of the new federal prison and the Burgess biomass plant in Berlin, "we've got some stability."
The sales increase wasn't staggering, about 5 to 7 percent, she said, "but that's a lot for our area."
The opening of the biomass plant has helped the logging industry, according to Jasen Stock, executive director of the New Hampshire Timberland Owners Association. "Last month when I visited loggers and sawmills, it felt like we turned the corner. There is a real optimism."
There is more demand for industrial-grade pine from the Middle East. People are paying top dollar for red oak. All that means more money flowing through the more rural regions of the state just in time for the holidays.
Generally, retailers are "cautiously optimistic," said Nancy Kyle, president of the Retail Merchants Association of New Hampshire, whose pre-Thanksgiving survey predicted a 4 percent increase in holiday sales. Some 58 percent said that store sales were up during the first three quarters of the year.
And with Black Friday moved up to Thursday, there was a mad rush in New Hampshire, particularly since blue laws prevented stores in Maine and Massachusetts from joining in. But whether this early start led to increased or redistributed sales is not yet known.
Snowy weather could have slowed retail sales, but that weather is a good sign for ski areas, which opened early this winter, and stayed open later last winter.
The 2012-13 season had 74 more days with snow cover compared to the winter before that, and it showed, with ski area attendance up 21 percent from the 2011-12, according to New Hampshire's Travel Barometer, compiled by the Institute for New Hampshire Studies at Plymouth State University.
The barometer also shows that there were roughly the same number of visitors to New Hampshire in the 2013 fiscal year (ending June 30), but they spent 5.3 percent more. More recent statistics indicate that trend is continuing. Hotel occupancy through October, for instance, is at 59.8 percent, only a percent higher than last year, but those visitors are spending about $3 more a day than in the first nine months of 2012. Rooms and meals tax revenue during the same three quarters is up about 4.5 percent.
Jeffrey Correa of Door to Door Delivery has noticed the spending trend. He also started his business – a third-party delivery service – in the middle of the recession. Business is growing, and what Correa has noticed is that the average check has increased by $20, even though many of his restaurants offer more value-priced meals.
"The only thing that explains it is that people just feel like they can spend more money," he said.
Not all restaurateurs agree. Tom Boucher, owner of Great NH Restaurants Inc., owner of the T-Bones, Cactus Jack's and The Copper Door restaurants, says he is making only a percent more than last year; in 2012, the company saw a 4 percent increase. He blames the uncertainty over Obamacare and the government shutdown.
"All that plays into the psyche of the consumer," he said. "Just eat at home tonight and save money."
Those on the grocery side of the business have noticed the opposite.
"We had benefited when people decided to eat at home," said John Dumais, president at New Hampshire Grocers Association. "Now we see them swinging back to the restaurants."
People are even going for higher-priced wine, said Christian Vitone, CEO of Vitone Family Wines, who started his firm selling mid-priced wines made in California, but distributed primarily to state stores from Amherst. Business has been booming – 27 percent growth in 2012 and 22 percent this year – but Vitone has noticed the market is becoming more upscale, and he is offering a more exotic Petite Sirah that sells for more than $20 a bottle.
"It's a big bold wine with a beautiful dark pigment," he said.
So, New Hampshire, here's a toast to a growing economy and a Happy New Year.