Should NH medical pot dispensaries be for-profit? House votes yes
Bill allow dispensaries to change corporate status, but industry isn't so sure it's necessary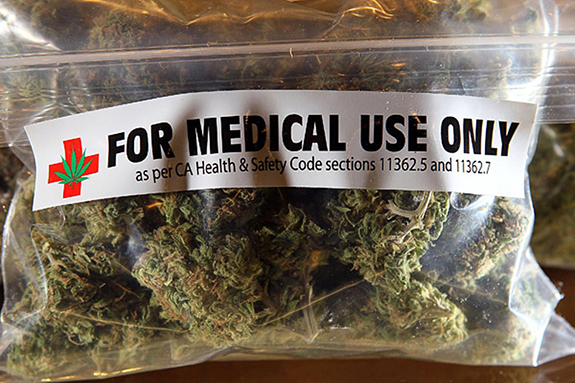 All medical marijuana dispensaries in New Hampshire might be forced to close their doors if lawmakers don't pass a bill allowing those dispensaries to become for-profit businesses, claimed Rep. Richard Abel, D-Lebanon, on the House floor Wednesday.
But at least two of the three companies operating dispensaries said that was simply not true.
"Nothing is further from the truth," Keenan Blum, administrator of Prime Alternative Treatment Centers of New Hampshire, told NH Business Review. The company, which is opening a dispensary in Merrimack and looking at opening another in the Concord area, is also planning "a multimillion-dollar cultivation buildout" at its cannabis farm in Peterborough.
And, said Ted Rebholz, founder and CEO of Temescal Wellness Inc., claims of a for-profit necessity "is not the case. We are not going anywhere." Temescal which operates dispensaries ins Dover and Lebanon.
"We have not been aware of any financial trouble" with the dispensaries, said Michael Holt, program administrator of the Therapeutic Cannabis Program at the Department of Health and Human Services, which oversees the officially named alternative treatment centers.
Sanctuary ATC, which operates dispensaries in Plymouth and Conway did not respond to several attempts to reach them by deadline. Abel also did not respond to inquires by deadline.
'Financial trouble'
Currently, all dispensaries in the state are required to operate as nonprofit entities, though they might be subsidiaries of or have some relationship with a for-profit company. The problem is that the federal government won't recognize them as nonprofits, so they get none of the tax advantages of being one. They also can't sell pieces of the company for equity, and most banks will still not lend to a cannabis company.
House Bill 1345 would allow them to turn a profit themselves, but the House Commerce Committee was split on the matter when it considered the bill, narrowly backing it, 11-9. The measure is similar a bill passed last year by the Legislature and vetoed by Gov. Chris Sununu.
On the House floor Thursday, Rep. Werner Horn, R-Franklin, argued that the bill would "undermine" what the Legislature had in mind when it voted to allow the dispensing of medical marijuana in 2016.
"What this bill does is that it changes it from being in the best interests of the state to where they can charge whatever they like," he said.
But Abel claimed that the change is crucial to the very survival of the dispensaries and the well-being of people who use them.
"The existing dispensaries now are all in fairly serious financial trouble, and it means that in the near future a number of them may go out of business, possibly all of them," he said.
He said that "the debt they have is so great that they had to raise prices making it difficult for the people who have the right to get medical cannabis. They can't use it."
He added that "the important thing is we want to be sure we have dispensaries in the state so that people who have medical marijuana rights are able to get that."
Possible expansion
While having for-profit status would be beneficial, said Blum of Prime Alternative Treatment Centers, "it would make no difference in our ability to expand. That statement is inaccurate. It is the opposite of accurate."
Indeed, Blum told NH Business Review that the company is looking at a possible expansion site in Concord.
Prime has nearly doubled its customers to 200 new patients a month, said Blum, and it now has up to 3,800 patients and 40 employees. A New York investor group, Acreage Holdings, is lending it the capital, though he admitted at high rates.
"I would actually say we are doing well and want to do better," said Rebholz, speaking from Temescal's headquarters in Framingham, Mass. "Our concern is not going out of business in New Hampshire but catching up to the competition in the neighboring states."
The state of Maine doesn't have the nonprofit requirement, and companies there have greater access to capital, he said. "The only way we can get a loan is from a small number of private lenders at very high interest rates. You are talking 15 to 20 percent. You can't sell any part of your business because the business can't be able to make profit for an investor and has to be run for charitable purposes."
While this hasn't meant Temescal has to raise prices, it does mean it hasn't been able to lower them, and it is a barrier in its attempt to expand, Rebholz said.
According to the latest DHHS data report, medical cannabis use continues to grow in the state. As of Oct. 1, 2019, there were 8,566 qualifying patients, more than four time the number in 2016.
The House passed HB 1345 on a voice vote, just as it did to the vetoed Senate Bill 145 last year. The House never had a chance to vote on the veto, because the Senate vote of 15-9 fell short of the two-thirds majority required for an override.
This year, the House passed an amendment that would prevent any further conversion for an additional three years, so that a business could not just turn around and sell to a larger out-of-state corporation and the New Hampshire Charitable Trusts Unit would have to be consulted before any conversion could occur.