Shedding light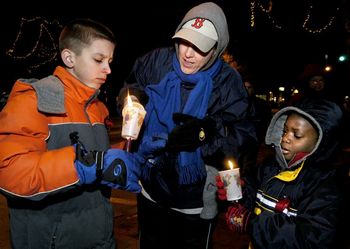 NASHUA – Bundled up against Monday night's bone-chilling wind, a group of about 40 people lighted candles at Nashua City Hall and began a slow stroll up Main Street.
Although a beautiful sight, the group was not celebrating the holiday season, but rather was trying to bring attention to an ugly worldwide problem.
Organized by members of the Nashua-based Southern New Hampshire HIV/AIDS Task Force, the early evening candlelight march was held in observance of World AIDS Day.
It was one of a few such events that were held in the state along with other events nationwide to bring attention to the issue of the worldwide spread of the deadly disease.
After reaching the Soldiers and Sailors Monument at the north end of Main Street, the marchers, who consisted of task force members, volunteers and some who are battling the disease, took a moment of silence in honor of AIDS victims before heading to Unitarian-Universalist Church on Lowell Street for a short and much-warmer ceremony.
Nashua High School north campus arts and humanities teacher Jane Murray was one of a few speakers who talked about the global impact of the disease to the small crowd of people, who sat and thawed their hands with hot cups of coffee.
Focusing on the African country of Zimbabwe, Murray talked about how the culture in that country has quickened the spread of the disease there.
"Education does make a difference, but there are many tribal conditions and beliefs that are preventing people from becoming educated," Murray said.
Murray, who became active in AIDS awareness and education programs after losing her brother to the disease in 1987, _has studied the spread of the disease in Zimbabwe and had recently planned to travel there when political conditions in the country made travel too dangerous, she said.
She explained to the crowd how because of economic conditions in the country, many men are forced obtain jobs away from their wives and families and often contract the disease with other partners during those long stays away from home.
She said the men often infect their wives with the disease when they return. Then the women transmit the disease to their children.
Women in the country have few rights and risk being ostracized or beaten by their husbands if they request their husband use a condom during sexual intercourse, she said.
After coaxing three teenagers to stand with her before the small crowd, Murray asked two of the kids to sit back down.
"That is what is happening to the youth of Zimbabwe," Murray said.
"Two-thirds of the youth are dying. This is pretty scary for generations to come," she said.
Of the one-third of the youth population that remains, Murray said many are orphaned.
"That's the reality in Zimbabwe. An entire generation may be lost there and in many other countries. Unfortunately not enough people care and not enough people are willing to put forth financial backing and help the country out," Murray said.
Among those listening to the speakers was task force volunteer and Nashua resident Thomas Cash.
In an outside hallway, Cash, 36, later talked candidly about his life since he was diagnosed as HIV-positive following hospitalization for pneumonia in 2000.
The infection caused massive swelling in his legs, caused him to be hospitalized for about a month and left him disabled, he said.
Since the initial hospitalization, Cash said he has had eight surgeries and explained how because of his weakened immune system he has a difficult time fighting even a common cold.
"People don't know how much time it takes," Cash said.
Costs for the eight daily medicines he needs to strengthen his weakened immune system are astronomical without insurance or other help, he said.
For instance, he said one 30-day supply of his medicine is $1,200.
"I wouldn't be able to afford it without some kind of help," Cash said.
Joyce Keeman, executive director of the Southern New Hampshire HIV/AIDS Task Force, said the typical patient needs between $18,000-$40,000 in medicine a year to fight the disease.
In Africa, the reverse is true, Keeman said, as medicines needed are very cheap but access to such medicines is limited.
The Nashua center is currently helping 175 local clients with the costs they incur as a result of the disease.
However, with flat funding and an increase in clients every year the task force relies heavily on donations and other sources of income.
"I am very concerned and angered by the financial support both in the U.S. and the state of New Hampshire but also globally," Keeman said.
New Hampshire Grassroots Coordinator Matthew Bartlett spoke to the small crowd about why the epidemic in other continents such as Africa needs action by citizens of United States.
According to Bartlett, of the 8,000 people who die of AIDS every day worldwide, 6,500 of those deaths are in Africa.
"So an AIDS problem in the United States is an absolute emergency in Africa," Bartlett said.
Along with a short speech, Bartlett gathered signatures from the crowd for Debt AIDS Trade Africa, an AIDS awareness group founded in 2002 by U2 lead singer Bono and Bobby Shriver.
The signatures would be sent to U.S. Congress to request more attention to African AIDS crises.
"An African life should mean as much as a European or American life. If this was in London it would be on the front page every day," he said.