Shaheen urges long-term highway funding bill
As July 31 deadline looms, Senate weighs latest proposal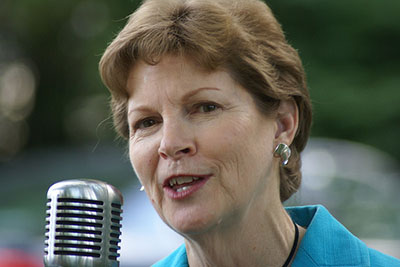 U.S. Sen. Jeanne Shaheen once again called on Congress to approve a long-term transportation funding measure.
Current funding authorization, itself a temporary fix, expires on July 31. The senator said failing to ensure continued funding threatens important infrastructure projects and planning New Hampshire.
On Monday, during a tour of Pike Industries' Lebanon facility, Shaheen said, the "message" was "clear" that "we must have stable funding for road and bridge construction so that these companies can plan ahead, hire workers and begin construction."
She added that she "will continue to use every opportunity to urge Congress to pass a highway funding bill that makes the future investments needed to support public safety and commerce in our Granite State communities."
Meanwhile, an effort by Senate Majority Leader Mitch McConnell of Kentucky to hammer out a bill to fund highway and transit projects hit a snag after Democrats complained they'd had only an hour to read the 1,040-page bill before McConnell called for a vote.
The $47 billion bill would close the current funding gap for transportation programs for three years, according to The Associated Press.
Currently, about $50 billion a year is spent by the federal government on highway and transit projects.
Some Republicans voiced displeasure with the bill as well, particularly with a $16 billion revenue-raising provision that calls for reducing the dividend paid by the Federal Reserve to member banks.
The majority leader insisted that he intends to move ahead with the bill even if it means keeping the Senate in session over the weekend.