Shaheen, Realtors meet to discuss market
Senator: 'Must do more to improve housing recovery'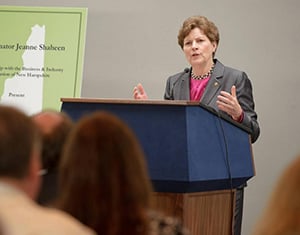 Members of the New Hampshire Association of Realtors met last week with U.S. Sen. Jeanne Shaheen to discuss the state's real estate market and its impact on the New Hampshire economy.
Shaheen led a June 27 discussion of the concerns and priorities related to the market and her efforts in Washington to support it as well as affordable housing.
"While we have seen improvements in New Hampshire's housing market, we must do more to continue to improve the housing recovery and address the issues of an evolving real estate market," said the senator. "The housing market is directly tied to our state's economic growth and success, so we have to continue to work to get the housing market and the economy back to where it needs to be and support homeownership for people in New Hampshire."
Bill Weidacher, past president of NHAR, who hosted the event at Keller-Williams Realty Metropolitan in Bedford, praised the senator for her support of such real estate-related programs as the Mortgage Debt Relief Act and the National Flood Insurance Program.
"Senator Shaheen has assisted New Hampshire homeowners who couldn't close because of unaffordable flood insurance rates, or a short sale transaction that was held up because of the uncertainty surrounding the taxation of forgiven mortgage debt," said Weidacher.
According to Shaheen's office, the senator has helped assist more than 1,200 Granite State families with issues related to their home mortgages including short sale assistance, stopping foreclosures and assistance obtaining mortgage modifications.
Shaheen, who has backed efforts on Capitol Hill to promote the housing industry and extend the first-time homebuyers tax credit, is a co-sponsor of the Commercial Real Estate and Economic Development Act, which gives businesses access to long-term, fixed-rate loans to help them purchase assets for expansion, thereby boosting economic growth and job creation.