Sewing service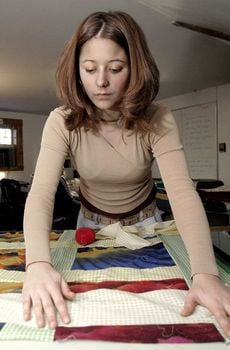 Arlene Magoon brags that she knows a good idea when she hears one.
As a former volunteer coordinator and now operations director for the Greater Nashua and Souhegan Valley chapter of the American Red Cross, Magoon has helped put many volunteers to work for the agency.
However, some volunteer activities have been harder to coordinate than others, such as what jobs to give the large amount of juveniles who come to the agency looking to do court-ordered community service.
The agency gets an average of three juveniles a week with such requests, Magoon said.
The kids, often with 20-40 hours to complete, have traditionally been given clerical duties or were put to work washing windows, vacuuming, and other maintenance duties. That was something Magoon wanted to change.
"We thought maybe we could do something that would impact their lives on a positive level, that they could actually do something for the community rather than just doing a service, then walking away and not having anything to show for it," Magoon said.
So when Milford social worker and master quilter Joan Haskell approached her last fall about involving the kids in a quilting program that would benefit disaster victims and the elderly, Magoon jumped on the idea.
"I said we gotta do it. It's what we are all about," Magoon said.
Haskell, a licensed independent clinical social worker for Milford Regional Counseling Services, had initially approached the agency to volunteer to be on the agency's disaster team.
While talking with Magoon about volunteering at the agency, Haskell learned about the kids and came up with the idea of the agency's Community Quilt Project.
Haskell told Magoon that if the Red Cross would supply the materials and space and for the program, she would approach Milford Regional Counseling Services to see if they would pay her to teach the youths quilting skills.
Within weeks of the discussion, the women approached both MRCS and Red Cross officials who agreed to support the idea.
Shortly afterward, Red Cross volunteers helped to transform the attic of its headquarters on Concord Street into a sewing room, filling it with the 10 donated sewing machines and large amount of material and other sewing supplies donated by residents who responded to published requests for the items.
By February, Haskell's three-hour Monday and Wednesday quilting classes had begun and since then more than 40 kids that have contributed to the making of five finished quilts, Haskell said.
Although many of the kids do not have sewing experience, Haskell said many pick up the skill quickly and seem to enjoy the experience.
"It's all in the attitude. If you are willing to give it a try and you are willing to keep going," Haskell said.
The biggest challenges have not been the students' skills, but upkeep of the machines.
"We are constantly fixing machines," Haskell said.
The agency has a volunteer who works on the broken machines, she said.
Each of the colorful 4-foot-by-5-foot quilts have a label with the signatures of the kids that worked on them, something Haskell said the kids are happy to contribute.
"They are proud of their work," she said.
Nashua High School north campus senior Molly Diggins is just one student who began quilting at the agency as a way to perform her court-mandated community service but quickly became addicted to the work.
Diggins, 17, who agreed to 30 hours community service as a way to keep a speeding ticket she received over the summer off her record, was diligently working to finish the opposite side of a rainbow gingham-patterned quilt she had been sewing for more than a month.
Diggins, who had already completed 23 community service hours through the program, says she doesn't plan to stop when her 30 hours are completed.
"I really like it," she said.
"I'm glad that I have this compared to yard work or whatever else you do for community service. That would just get boring, with this you are actually doing something for the community," Diggins said.
Besides sewing the quilts, Diggins said she would like to be involved in distributing them to the elderly community.
"I'd like to see the reactions of the people," Diggins said.
Along with elderly, the quilts will also be given to fire and flood victims who Magoon said are often left with the nothing but the clothes on their backs.
"We thought if they had a quilt to wrap around them that they would keep as the beginning of a new life," Magoon said.
And maybe the quilts could serve as the way to a new life for the kids as well.
"They are never going to see these quilts again after they leave but they know that they made them and someone is getting them who will benefit from their community service," she said.