Seven business-related N.H. bankruptcies filed in Sept.
Total filings more than August, but less than a year ago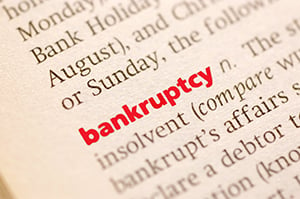 Some 195 New Hampshire households and businesses filed for bankruptcy in September. While that's more than the record low of 157 set in August, it's still 15 fewer than September 2013, a 7 percent decline.
Indeed, September marked the third straight month with less than 200 bankruptcy filings, and it's the lowest September figure since 1996.
Seven of the filings were related to recent business debt, three fewer than last month. Four of those businesses filed as households and three did as businesses. As in past practice, NHBR will list the related businesses that caused the debt, not the individuals actually filing.
• The Pizza Shack, Farmington, filed Sept. 4, Chapter 7. Assets: $123,902 Liabilities: $265,727. (Pizza Shack is no longer in operation. Pizza Shack LLC was ongoing at the time of filing).
• Knot a Problem, Hudson, filed Sept. 5, Chapter 13. Assets: $268,790. Liabilities: $200,902.
• Recycling Services Inc., Claremont, filed Sept. 12, Chapter 11. Assets and Liabilities: $1 million to $10 million. (Business filing)
• T.J. Caldon LLC dba Four Corners, Gilford, filed Sept. 17, Chapter 11. Assets: $1,829,500. Liabilities: $863,119. (Business filing)
• EMCAL Custom Homes, Moultonborough, filed Sept. 22, Chapter 7. Assets: $27,788. Liabilities: $423,755.
• Data Industries, dba Boardwalk North Londonderry, filed Sept. 29, Chapter 7. Assets: $6,285. Liabilities: $562,876. (Business filing)
• American Water Systems, Center Harbor, filed Sept. 30, Chapter 7. Assets: $26,593. Liabilities: $151,066.