Series of mix-ups leads to turmoil over a trade name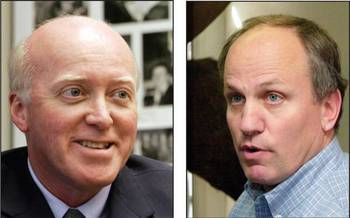 How did FaciliClean LLC, a trade name reserved and registered by Ed Tyler for a start-up commercial cleaning business, end up in the hands of Tyler's former boss, the man who is suing him — Steve Duprey, a prominent developer and former chair of the state Republican Party?
There is a long, involved explanation to all of this, one that includes a series of unprecedented errors at the secretary of state's Corporation Division, missing files, suspicious timing, conflicting accounts and, perhaps, innocent miscommunication.
But in the last analysis, as New Hampshire Secretary of State William Gardner said, "I can't tell you how this happened, because I don't know."
Tyler got the name back in June, after Gardner reviewed the documents with William Kennedy, a civil attorney at the attorney general's office. Gardner had called Kennedy in after receiving a complaint from Tyler's lawyer. Kennedy's finding was that the whole thing amounted to a paperwork error.
Tyler, however, wasn't so sure. "I would love to believe it was an error, but the facts don't add up," he said.
For his part, Duprey laughed at the thought that anything sinister was going on.
"I like to believe he (Gardner) gave me special access, but I never found it to be the case," he said. "I have every right to call anyone I want in public office."
Duprey said he did call Gardner once, shortly before Christmas, after he discovered that Tyler, his former employee at Facilitech — the name of Duprey's commercial cleaning division that was formerly run by Tyler — was filing for a company name of FaciliClean.
Duprey complained to Gardner, arguing that the name could be confused with Facilitech. He said he would have put the complaint in writing, but was told that it was not needed, since the name was reserved and not registered.
Gardner told his staff to add Duprey's complaint to the FaciliClean file — which no longer can be located.
Things began getting murkier after that.
Taken to court
Duprey – who chaired the state Republican Party from 1992 to 2001 – is well known in the Concord area for such developments as the Comfort Inn, Grappone Conference Center and Courtyard by Marriott and rehabilitation of the former Blue Cross Blue Shield building.
His Foxfire Property Management company, which employs about 250 people, has had a commercial cleaning division since 1994. Duprey registered the trade name it was operating under – Facilitech — with the secretary of state's office in 2003.
By that time, Tyler had been operations manager of the Facilitech division for about a year.
On Nov. 20, 2006, Tyler gave notice that he intended to resign from his Foxfire job on Dec. 8, though his last day was actually three days later. Tyler won't go into details about why he left, only to say that "it was the current working environment. I was not happy there."
Tyler told Duprey that he was going to work for his family's glass business and go to school for computer security, but on Oct. 17, Tyler had already reserved the trade name FaciliClean at the Secretary of State's office, for the purposes of "facility services and commercial cleaning." The 60-day reservation was scheduled to expire on Feb. 14, 2007.
Duprey charges, in a lawsuit filed Jan. 17 in Merrimack County Superior Court, that Tyler was actually attempting to undermine his business to steer clients his way while he was still working there. As Facilitech's manager, he allegedly raised the rates on one client, allowed another contract to expire and told one company that he wasn't sure if Facilitech would stay in business after he left, the lawsuit alleges.
Duprey said he has no problems with former employees competing against him. "I have helped them establish their competing business," he said, adding that he's "philosophically opposed" to non-compete agreements, he said.
But trying to sabotage his business and take a client base is a violation of the "loyalty" owed to the employer — not only morally, but legally, under common law, he said.
Besides, even though there was no non-compete agreement, there is a confidentiality policy in the Foxfire handbook that protects proprietary commercial information.
"Don't take my proprietary information," he said. "Don't set up your own business while you are working for us."
Tyler said he didn't sign the latest version of the handbook, but he denies specific and general allegations that he was using confidential information or steering business away from Foxfire while working there.
He cites several examples of new contracts he won in the weeks after he gave notice, including a contract at St. Paul's School in Concord. The four clients that followed him after he left did so because they either liked his service or were dissatisfied with Foxfire after he quit, Tyler said. Besides, three-quarters of his clients never worked with Foxfire, he said.
Tyler agreed he owned Foxfire loyalty when he was with the company, but there was nothing wrong – especially without a non-compete clause – with trying to win over Foxfire's business afterwards.
"It's called free enterprise and competition," he said.
Confusing events
On Jan. 10, a week before the lawsuit was filed, and more than a month before the FaciliClean trade name reservation was to expire, Tyler went into the secretary of state's office, plunked down $100 and registered the name.
Records show that he paid cash, received a receipt and a copy of the paperwork. The actual certificate, to be signed by Gardner, would be sent in the mail.
At that point, Tyler thought he had the name. He even checked online and saw it. So he proceeded to do business under it, he said.
However, Tyler never received the certificate and never should have been able to get the name, Gardner said. Someone should have read that there was a complaint, talked to him, told him there was a complaint, that the name could be challenged, and that he could end up in court. This is done for the registrant as much as for the complainant, Gardner said — after all, why should someone invest time and money under a name that could be taken away anyway?
If Tyler had insisted on the name, then an official – probably in the Corporation Division — would have to make a decision as to whether the name is "distinguishable from and not the same as or likely to be confused with or mistaken for" any other trade name listed.
At first blush, apparently, there weren't any red flags waved, because back on Oct. 17, when Tyler first reserved the name, Facilitech and another company, Facilicare (a Massachusetts-based carpet cleaning firm formed in 2006), were already registered. On a Corporation Division form entitled "Named Availability," next to the name FaciliClean is written "OK."
But a complaint, said Gardner, puts the whole matter in another light. Duprey told him, Gardner said, that customers were getting confused, thinking FaciliClean was Facilitech. He also didn't know there was a dispute between a former employer and employee. And since the "Facili" suffix is not very common, Gardner said, "had we known then what we know now, he may have never gotten that name."
But Gardner never made a decision on the matter because, for some reason, nobody flagged the note, and nobody talked to Tyler.
A matter of timing
Jane Northcott, a part-time worker who used to be the supervisor of corporate records at the secretary of state's office, discovered what happened.
It was she, on the order of Gardner, who added Duprey's complaint to the file, and after she found out that Tyler had come in to register the name and had not been told about the complaint. So, she said, she wrote everything up and sent the entire paper file to her supervisor, Debra Ulmanis. On the computer, Northcott said, she typed in the words, "name not available, complaint filed."
Because of that, the name never went into the system. What Tyler said he saw on the Internet, according to Gardner, was his reservation, not his official certificate of formation. (Tyler isn't exactly sure what he saw, just that the name FaciliClean was under his name.)
Again, Tyler was supposed to be notified of Duprey's complaint. But even though Ulmanis told an employee to talk to him, it never happened.
"It was busy here," Ulmanis explained.
She said that she has no idea where the file is now.
In addition, no one was told to sit on the file. Ulmanis said she didn't even know who Duprey was, though she later found out.
"There was no consideration of that," she said.
Meanwhile, the trade name came up in litigation. Duprey asked for a temporary restraining order that would not only prevent Tyler from making use of Foxfire's trade secret information and from soliciting business from its clients, but from using the trade name, FaciliClean LLC.
On Feb. 8, the court held a hearing on the matter, and on Feb. 13 – the day before Tyler's registration was to expire — denied Duprey's motion.
That was just round one, of course. A trial on the matter was scheduled for June 2008. Even so, Tyler had little time to celebrate his temporary victory.
On Feb. 20, Duprey walked in to the secretary of state's office, paid the fee and walked out with the FaciliClean trade name, for "facility services and commercial cleaning." The business was organized on Feb. 13, the day of the court decision.
While there was a complaint filed on the name, since it was Duprey's own no one held up the file, Gardner explained. So Duprey received the certificate, signed by Gardner, which had not reached Tyler.
On the same day, the secretary of state sent a letter to Tyler saying that his trade name was being rejected because of complaint. It did not say that the complaint was made two months ago, before Tyler had paid for his name.
When Tyler looked online, he saw FaciliClean had been assigned to Duprey. Tyler thought, and still thinks, that Duprey did this to retaliate for the adverse court decision. Duprey, however, said that he simply was waiting for Tyler's 60-day name reservation to run out. When he saw no name on the system, he grabbed it, he said, thinking that either Tyler failed to file, or his complaint had worked.
"I figured if the name was registered, I wouldn't have been granted it. So I went merrily on my way, and figured, 'Well at least I've solved that problem,'" he said.
'Very unusual'
Tyler was not merry at all. He called Gardner, demanding to know how someone else waltzed off with his trade name.
The accounts of this conversation, held shortly after Feb. 20, differ somewhat. Tyler said that he clearly told Gardner that he had paid for the registration, and he had a receipt and copy of his paperwork.
"He said he received a complaint back in December and that the name was closed. He mentioned Steve, no last name. He said I couldn't have the name, that I would have to go to court to get it," Tyler recalled.
Gardner said that he thought Tyler meant he had sent in the application, and that, along with the check, was being held. He didn't know that Tyler had paid cash, was given a receipt, and had been told that a certificate would be in the mail. If he had, then Tyler would have gotten the name right then and there.
As it was, Gardner, at that time, said that Duprey would keep the name, "and I might have said something about the matter might have to be settled in court."
Tyler talked to his lawyer – Sean O'Connell – who also thought there was something fishy about the matter.
"I never saw a name given to someone and taken away like this. This is a very unusual set of circumstances," O'Connell said.
A series of e-mails went back and forth, including one complaint charging — in so many words — that Gardner was helping Duprey thwart his business despite Tyler's victory in court because he is friendly with the former GOP chairman. Gardner acknowledged that he knows Duprey, but only when dealing with him as party chairman in overseeing the secretary of state's Election Division. However he has never been close to Duprey.
"I've never been to his house. I don't even know where he lives," he said. He calls him by his first name, but he calls everybody by his first name, Gardner said
Gardner, who vehemently denies doing anything special to help Duprey, forwarded the conflict complaint to the attorney general in May. Kennedy came to his office to advise him on the matter, but not to launch any investigation, said Gardner.
Meanwhile, Tyler, despairing that he would ever get his trade name back, filed for two other names, including Reliability Facilities Services. These also were rejected, because they were not specific enough. While other names were suggested, Tyler just threw up his hands, and went back to insisting on FaciliClean.
Tyler was starting to think that the fix was in. "Why was I having such a hard time?" he said.
On June 14, Gardner and Kennedy went over the paperwork, and it was then, for the first time, Gardner said, that he learned that Tyler had paid cash and registered the name.
"When Gardner found out that he had paid, he nearly fell off his chair," said Northcott, who was at the meeting.
The fact that the office accepted Tyler's money closed the matter for him. Whether Duprey's objections were valid or not, Tyler "should have been told. What happened to him was not right. The complaint was not acted on, and it should have been acted on. It was our mistake, and he should not have been punished."
So Gardner took the name back from Duprey and gave it to Tyler. "Someone had to lose out," he said. "And in this case it was Steve Duprey."
Duprey is not exactly happy about the matter. He might challenge the ruling, he said, but, on the other hand, Facilitech is a small part of his business. He is mainly miffed at the way Tyler launched his business, he said, not that he launched it.
"I think the decision is incorrect and unjust," Duprey said. "Am I going to make a big deal of it? No. FaciliClean doesn't even rise to the level of a minor irritant."
"Minor irritant" or not, the matter could result in more than a year of litigation, all in the wake of an unprecedented mix-up at the secretary of state's office.
Northcott said that it was a series of errors that "just snowballed. Nothing like this ever happened before."
Tyler, while happy to get his trade name back, still doesn't accept the explanation. Why wasn't the file acted upon? Why can't it be located? Why wasn't the attorney general investigating the secretary of state's office, as opposed to just offering legal advice?
"For someone else to come in and steal a name, I just couldn't understand this," he said.