Seeking recognition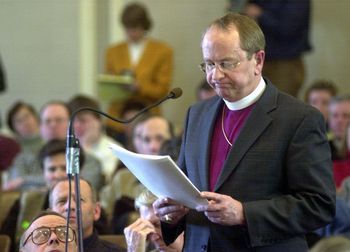 CONCORD – Citing Scripture, sociology, law and personal experience, people from all walks of life fervently debated gay marriage Tuesday at the Statehouse.
Supporters and opponents of the controversial issue filled all 400 seats in Representatives Hall, as they testified on a Senate bill that would stop New Hampshire from recognizing same-sex marriages performed in other states.
The historic hearing follows the Massachusetts Legislature's failed attempt last week at drafting a constitutional amendment to oppose same-sex marriages. The Massachusetts Supreme Court has given gay couples the right to marry.
"We owe it to the people of New Hampshire to protect the institution of marriage," Sen. John Barnes, R-Raymond, said. "Marriage is between one man and one woman. Husband and wife."
Some of the strongest applause came for backers of the bill, who worry that gay couples married in Massachusetts would then seek recognition of that status in New Hampshire.
But loud cheering also followed the testimonials of those who consider the bill discriminatory.
"I am grateful my children are not part of this democratic process," said Leanne Tigert, who lives in Concord with a female partner. "They would hear things like, 'They are going to jail. There is something wrong with them.' Passing this bill will reaffirm a prejudice and categorize people."
Tigert referred to those who not only opposed same-sex marriage, but people who called homosexuality a moral abomination. Some gay-marriage opponents claimed that children not raised by heterosexual couples suffer psychological harm.
Opponents of the bill – mainly those supporting gay marriage – contended it repeats the state law preventing same-sex couples from marrying, and the federal defense of marriage law already allows states to ignore marriages performed elsewhere. They view this redundancy as blatant discrimination.
But the bill's sponsors believe a loophole exists in the law, and that same-sex couples married outside state borders could in fact have their status legitimized here. They believe the bill further strengthens the federal act.
Several lawyers debated the bill's particulars from the floor, with Franklin Pierce Law Center professor Marcus Hurn arguing the Legislature has until now agreed only to honor the out-of-state marriages of cousins. Approving the Senate bill would widen the scope of marriage, and essentially New Hampshire would have to recognize not only gay marriages, but polygamy and other unions, Hurn said.
The Senate committee reviewing the bill had initially scheduled the hearing for the Legislative Office Building. But the mid-sized room there filled quickly and the committee had to use the House's hall.
Exchanges between both sides of the issue were limited mostly to testimony spoken into a microphone. No one directly challenged the words of individual speakers, but instead presented their own views.
A few speakers did use terms that visibly rankled gay-marriage supporters. For instance, Rep. Robert Letourneau, R-Derry, argued that the bill does not join church and state, but rather allows legislators to protect society.
"We don't allow cousins to marry," he said. "We don't allow blind people to drive. What if someone really loves their pet? Would we allow them to marry?"
Many gay-marriage opponents defined their arguments through morality and religion. One minister quoted directly from the Old Testament, while others cited the intentions of God by urging legislators to recognize only "traditional marriage" between heterosexuals.
The Rev. Edward Arsenault, chancellor of the Catholic Diocese of Manchester, said: "One cannot change what God has created. To alter what God has created, for any reason, is an affront to God and does not serve the common good."
While some clerics upheld heterosexual marriage, other ministers defended same-sex marriage.
The Rev. V. Gene Robinson, bishop of the New Hampshire Episcopalian Diocese, challenged the bill's Senate sponsors to defend marriage not by crafting legislation against gay couples. Rather, legislators should tackle a failing economy that requires husbands and wives to work multiple jobs, said Robinson, who is openly gay.
"Can we all agree that Britney Spears did more to undermine the institution of marriage in the 55 hours between when she said 'I do' and 'I don't' than any gay or lesbian couple?" he asked.
The debate also drew parents, heterosexual and homosexual, to the microphone.
Angela Hughes of Bedford spoke of the rewards she and her husband have gained from raising four children. She said the definition of marriage has come under attack, and "mothers and fathers do matter."
But Beth McGuinn of Hopkinton had the opposite perspective, saying such legislation attacks gay families who have children.
The words of several speakers gave every indication that even with the passage of the bill, gay rights is an issue that will not die quickly.
While opposing gay marriage, Arsenault said "the individual human rights of persons, including homosexual persons, need to be heard and answered."
The Rev. Olav Nieuwejaar, former pastor of Unitarian Universalist Church in Milford, finds fault with the bill. He suggested that the state recognize only unions between both heterosexual and homosexual couples. Churches then could decide the boundaries of marriage itself, he said.
Albert McKeon can be reached at 594-5832 or mckeona@telegraph-nh.com.