Seed-to-table dining
Applecrest Farm Bistro brings the restaurant to the farm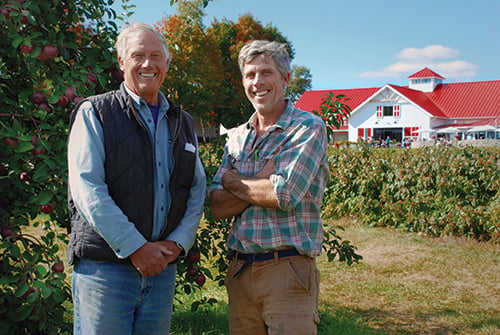 The patio at Applecrest Farm Bistro in Hampton Falls overlooks rolling fields of farmland, and whatever's being harvested from those fields that morning will end up on the bistro's dinner plates that night.
In early spring, tender asparagus, that's just crested the soil days before, accompanies poached duck eggs and microgreens mere hours after it's picked. In summer, sun-warmed strawberries get transformed into a fresh cream parfait. In autumn, pumpkins provide the dumpling filling for house-made agnolotti pasta.
"It's picked that day and served in the kitchen that night, that afternoon or even that morning," says Peter Wagner, Applecrest Farm Orchards' president. "We start picking at 4 or 5 o'clock in the morning, as soon as the sun comes up."
Farm-to-table dining is so popular and prevalent that slapping such a label on a restaurant is almost passé. But Applecrest Farm Bistro is different: It actually brings the table to the farm, with a permanent restaurant.
"I think our business model is very unique," Peter says. "As far as a total farm, where basically everything that's served is grown on the farm or sourced locally, this is the very first I've seen."
Applecrest Farm Bistro, which opened in May along with a farm store and coffee shop, is the culmination of a more than $3 million total investment and years of germinating and planning.
According to Todd Wagner, the farm's vice president and Peter's son, the idea for the bistro evolved from "a number of factors," including wanting to host farm dinners, weddings and other events in the orchard, which would require a full liquor license.
"We have an incredible demand for events here on the farm," Todd says. But a full liquor license comes with its own rules and regulations.
Based on those rules, "it became clear that we would need to increase the level and types of service and the frequency of service," Todd says. "We began to see, as we explored these points, there really was such a void for the kind of thing we were beginning to think about."
Bustling kitchen
The new Farm Bistro operates year-round, seven days per week, with walkup counter service for breakfast and lunch, and full service for dinner and seasonal Sunday brunch. It's housed in a 12,000-square-foot barn, which also features a farm store. The barn was newly built, but blends in seamlessly with the character of the existing farm and buildings. Inside, the 35-foot-high ceilings add an impressive element of rustic grandeur to the space. There's also a wide patio for dining that overlooks the farm.
Much of what appears on the seasonally driven and ever-changing menus is grown right on the farm, and what's not is sourced as locally as possible, such as fish from New Hampshire waters, meat from New Hampshire farms and New England cheeses.
The kitchen is bustling, nearly round the clock.
"We outfitted the kitchen to service not only the [restaurant] on a busy service day, but also to simultaneously accommodate a function under a big top in the middle of the orchard," Todd says.
Executive Chef Patrick Soucy in the kitchen.
At the helm of that busy kitchen is the acclaimed Executive Chef Patrick Soucy, an alum of the Newburyport, Mass., restaurant Ceia Kitchen + Bar, and many other area restaurants. He has long shopped at Applecrest's farm stand for his restaurants and actually got married on the farm himself. Todd says he's known Soucy for a decade.
"He's always been a total thorn in our side," Todd jokes, recalling the way Patrick would show up early in the morning to get the freshest possible produce for his kitchens and make requests of the farmers like, "Do you think you could harvest a bushel of peas a little younger than normal?"
"Before we even opened, he'd be nosing through, trying to pick out the best stuff before it was even out on the shelves yet," Todd says. "It was sort of a no-brainer when it came time to develop this project [that] he would be the person we would seek."
'A lot of risk-taking'
Seeking out Soucy has certainly paid off, and he's in his element here, devising inventive and delicious dishes featuring his homemade pasta, pickles and charcuterie, as well as creating farm-inspired cocktails and desserts.
"He's clearly extremely passionate about food and what's going on to the plate, and is incredibly inventive," Todd says. "His house-made pastas are absolutely outrageous."
It's fine dining, right on the farm, but without fine dining prices, Peter says. That's because the majority of the produce on the menu goes from seed to plate "without a middle man," Peter says, and that's reflected in the prices.
"We pass that value on to our guests," Todd agrees.
Peter and Todd Wagner pose with a large pumpkin grown at Apple Crest Orchards. Four generations of the Wagner family have worked on the farm.
"We were extremely sensitive to our price point when developing this menu," Todd says. "We're a farm. We wanted to appeal to the community and make it a place that was approachable and affordable and not price people out."
So why haven't other farms taken the step of putting restaurants right on their own land, sourcing produce directly from their fields?
Peter says it's a not an easy economic model; it's one that involves "a lot of risk-taking and a lot of hours." He points out that some of the farm's workers are in the field at dawn, while others are working in the kitchen until midnight.
"It's a big nut to crack," Peter says. "Economically, what we've done is very, very risky. When you're farming you have a lot of eggs in the basket that are dependent on God and nature. There are years when I don't have a crop, and that's a disaster."
Diversified business
But there's a reason that Applecrest Farm Orchards have survived and thrived for more than 100 years.
"What has made us relatively successful and enabled us to continue on in lean years is that we have diversified," Todd says.
The farm's business includes many different elements, such as a diverse produce selection, a community-supported agriculture program, farmer's market participation, school group tours at the farm, and a pick-your-own program with an "agritainment" component, such as live music and hayrides.
"All of those things help to spread out the risk to some degree," Todd says.
Applecrest isn't done diversifying yet. They're developing a petting zoo, beginning to make hard cider, and even putting some land into cattle so the bistro can eventually serve its own home-grown beef.
Peter says the farm bistro has been – and continues to be – a lot of work for everyone involved, but the overwhelmingly positive community reception so far is an early indication that it's paying off.
"It's well worth every bit of it, as far as I'm concerned," he says.