Seacoast program fills the gap for uninsured residents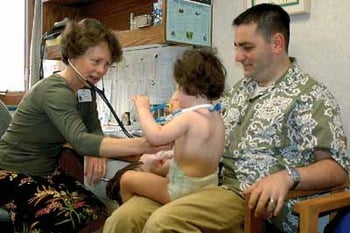 Kathleen Crompton sat before the Seabrook Budget Committee last fall representing SeaCare Health Services, as she has at dozens of other town budget committees over the years. Crompton was asking Seabrook to make a $1,900 contribution to the organization that provides health care to a number of the town's residents.
"SeaCare Health Services is a non-profit program that provides health access to uninsured and under-insured residents of Seabrook and 20 other towns in eastern Rockingham County," Crompton, who has served as the program's executive director since 1994, told the committee. "Over 350 health-care professionals donate their services through SeaCare, including primary and specialty medical care, mental health therapy, dental and chiropractic care and laboratory analysis. SeaCare participants themselves are asked to pay only from $5 to $20 per office visit for this professional care, but no one is ever turned away for inability to pay, once they've been qualified. In addition, SeaCare offers health-care coordination for patients, prescription service for chronic conditions, home visitations for children and families, and health education … This is true charitable care."
Ultimately, the Seabrook panel and voters approved giving SeaCare funding, as did other Seacoast towns, as part of the annual contributions they make to the health and social service agencies ministering to local residents.
In a region where health insurance is incredibly pricey and sometimes even impossible to access, SeaCare holds up a candle to illuminate the darkness for about 2,000 Seacoast residents. And it's done on a small annual budget of $636,000.
Though originally funded by a five-year Robert Wood Johnson Foundation grant, Crompton said, the organization's annual budget is now derived from donations made by 21 towns, corporate and private contributions, other grants and the United Way.
But, Crompton said, pivotal to making the program work are the medical professionals who contribute their services to ensure local adults get needed health care, even if they or their employers can't afford to purchase health insurance. Without the donated services, she said, SeaCare doesn't exist. It's that simple, and it's that complex.
Preventive maintenance
New Hampshire's Healthy Kids program serves the state's uninsured children, Crompton said. And there are other programs in the state which serve uninsured and under-insured working adults, she said, such as clinics and programs in Derry and the Lakes Region. But those programs are more hospital-based, and SeaCare is community-based, offering services in doctors' private offices.
SeaCare provides care to those earning 185 percent over the federal poverty guidelines. To be eligible for SeaCare, a individual can't earn more than $17,224 annually, and a family of four not more than $34,873.
According to Crompton, in 1994 two local physicians worked to turn an established health-care program for children that began in 1989 — Project Good Health — into SeaCare, with the help of the RWJ Foundation and Exeter and Portsmouth hospitals.
Drs. Wendy Gladstone (an Exeter-based pediatrician) and John Robertson (a Portsmouth-based neurologist) helped put together the grant and round up the medical community's support for the program.
According to Gladstone and Robertson, the concept behind SeaCare is one of preventive health maintenance, which works to keep patients healthy and health-care costs down. Regular visits to the doctor's office for checkups can catch routine health problems before they become expensive health crises, both doctors said. Further, the follow-up attention provided by SeaCare's health coordinators makes an enormous difference to the well-being of the patients and prevents the escalation of illnesses.
Robertson, who has extensive experience working with health insurance providers in New Hampshire, said it wasn't hard to get other doctors and specialists to acknowledge the need for the program.
"I told them they'd probably be treating the people this program is meant to serve anyway," Robertson said. "Only instead of seeing them in their offices through SeaCare to deal with routine problems, they'd get a call at 3 o'clock in the morning to rush to the emergency room to treat these patients during a crisis. Since these patients are uninsured, both the hospital and doctors most likely would not get paid. … And it was very hard getting these patients to come back to our offices for follow up care, especially since they didn't have insurance. SeaCare helps with all of that."
According to Gladstone, medical professionals donating services to their patients is nothing new.
"There have always been doctors who've treated their own patients without charging them when the patients have lost their insurance or fallen upon difficult financial times," Gladstone said. "SeaCare allows others without regular health care providers to access health care, too."
Gladstone also sees the work of SeaCare's health coordinators as one of the reasons the program meets its goals. SeaCare coordinators work with the participants through offices in Exeter, Portsmouth and Seabrook. They help participants fill out forms, they answer questions, provide referrals to other needed resources and encourage participants to develop good life and health skills in general.
These coordinators also help doctors work more effectively with their SeaCare patients by helping patients make and keep follow-up medical appointments, take medication properly and make healthy decisions in regard to chronic conditions. All of this, Robertson said, prevents patients from having to get their medical care from very expensive hospital emergency rooms.
With the success of SeaCare, are there aspects within it that can provide a model for a future publicly-financed health care access program in New Hampshire? Crompton, Gladstone and Robertson said the board of directors is pursuing that question, but more research needs to be done before the answer is formulated.