Sandra Pierce-Jordan, 2014 Outstanding Woman in Business
Executive Director & Program Director, The Birchtree Center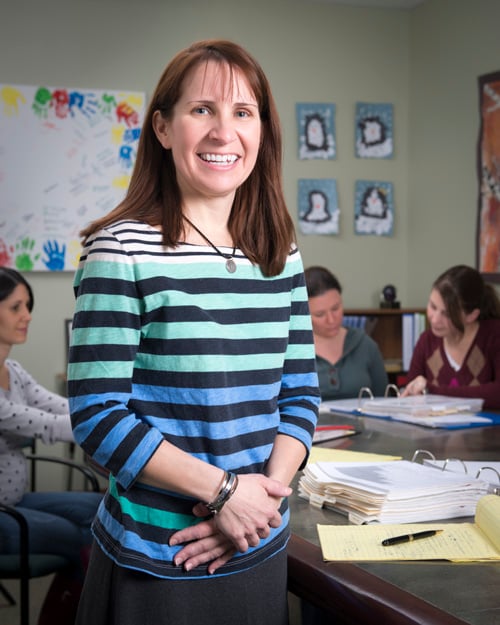 When Sandra Pierce-Jordan was starting out her career in the early 90s, she was given a grant to study autism, which was then considered a low-incidence disorder.
"That just blows me away to look back all those years later," said Pierce-Jordan, who holds a PhD. in school psychology and is a board-certified behavior analyst. Today, the Centers for Disease Control reports that one in every 88 children in the U.S. has autism. According to Pierce-Jordan, autism is a pervasive developmental disorder that is diagnosed when three common themes are present: social deficits, communication deficits, and a pattern of unusual behaviors.
Pierce-Jordan has spent her entire professional career work- ing with people with autism, and her expertise has grown along with the rising demand for autism services. Pierce-Jordan came to the nonprofit Birchtree Center as a behavior analyst in 2007 after more than a decade as a consultant serving children and adults with autism in their homes and schools.
Based in Newington, The Birchtree Center provides two core programs: a day school for children aged 2 to 21 with autism, as well as an outreach program that provides support to students with autism in schools and agencies in Maine, New Hampshire and Massachusetts.
In 2009, Pierce-Jordan was promoted to program director, and in early 2011, she was appointed executive director after the previous director's abrupt departure. It was a "baptism by fire, in taking on so many new duties in the areas of human resources, financial management and board relations," wrote Carol McClard, Birchtree's board secretary, in a letter of support of Pierce-Jordan's nomination. "But she quickly mastered those challenges."
In fact, Pierce-Jordan has worked doggedly to turn around Birchtree since her appointment, bringing it from an organi- zation with a $31,000 annual operating deficit to a $364,000 surplus; increasing enrollment in its programs to capacity; approving its first-ever strategic plan; increasing the total number of students served by 21 percent; and increasing annual revenue from $2.7 million to $3.1 million, thanks in part to two new annual fundraisers. She has also introduced policies that support employees, including flex-time and giv- ing preference to internal candidates for job openings (nearly two-thirds of Birchtree's program staff on the management team started as instructors).
So it's no wonder her nominator, Jessica Files Squier, called Pierce-Jordan "a rock star in the field of autism. In her 25-year career, she has helped hundreds of individuals with autism and related disorders attain full and productive lives."

Q. What have been some of the biggest challenges to getting where you are today? A. The biggest challenge is helping people understand children with autism. They have societal deficits. In addition to all their challenges, they still have to learn academics, how to take care of themselves, how to tie their shoes – these kids have a lot going against them, and developing a field of professionals who really understands these children, at a visceral level, that is a challenge at Birchtree. We can teach new staff how to work with a child with autism, but we can't teach them how to have a passion for these kids, or a desire to want to change their lives.

Q. Did you have a professional mentor?
A. There's someone name Dr. Karin Lifter, who I worked very closely with at Northeastern (University). She was doing research on kids with autism and was so passion- ate. She said, "Sandra, you have an important story to tell about these kids." She would tell me to be confident and go tell that story. It was hard to leave the Boston area because I had to leave that working relationship.
The other individual is Dr. Bob Putnam, who was my supervisor for almost 15 years when I was a consultant. He just taught me everything I need to know about be- ing a consultant and a good clinician. Everything I need to know comes from working with him. He has truly made me who I am. Some of my staff will say to me, "What would Sandra do in complicated situations?" I think, "What would Bob do?"

Q. How do you balance your personal and professional lives?
A. I actually have discovered I'm not that challenged by that. I am really good compartmentalizer. I have two young children at home – an 8-year-old boy and a 12-year-old girl – and when you have kids, they make sure they're a priority, and they are a priority. I really do compartmentalize. I don't feel like I need to check off every box on my to-do list every day. It took me a long time to get there.

Q. What advice would you give to young women just starting their careers?
A. Figure out a career and do exactly what moves you, what you're passionate about. I have never followed a career based on money, benefits, status – I have always followed what moves me and motivated me. It's really important for young women to find something they love. And if you don't love what you're doing, change – don't say stuck. Too many people stay stuck and they're too scared to make a change. I sometimes discovered things I love to do by doing things I didn't love to do.