Sandra Cleary, 2014 Outstanding Woman in Business
Owner and President, CruCon Cruise Outlet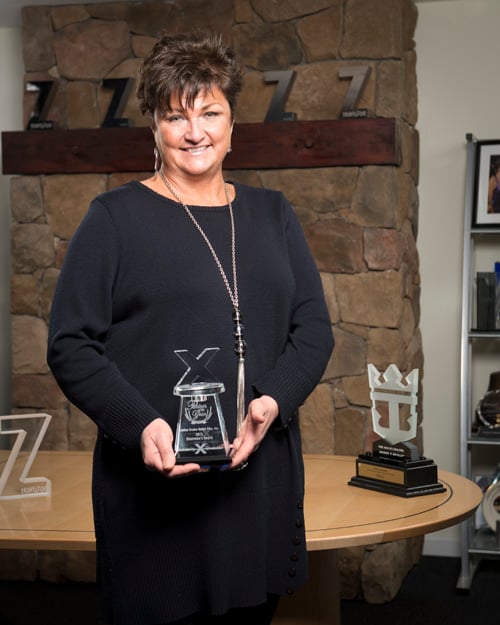 Odd as it sounds, a burnt toaster pastry changed the whole course of Sandra Cleary's career.
When her brother passed away suddenly in 1993, Cleary decided to quit her job in California, where she had been working as an aeronautical engineer developing ballistic missiles for the government. She moved back to her native New England, to be closer to her mother – and got closer indeed.
"My brother always told me if I did what I loved I'd be successful at it," said Cleary, an East Boston native. "I really enjoyed what I was doing in aerospace, but I didn't love it – I'm passionate about travel. So I actually started a company in my mother's basement."
She launched her cruise travel business in the early days of the Internet, and ran it out of the basement for about a year until what she calls "the Great Pop-Tart Incident": a Pop-Tart that Cleary had popped into the toaster oven and then forgotten about set her mother's kitchen on fire – a fire that was easily contained with an extinguisher, but one that prompted her mother to ask Cleary to relocate her business.
"I do believe everything happens for a reason," said Cleary. "Had I stayed in my mom's basement, I never would have been able to grow."
Now, it seems, CruCon cannot stop growing. From the basement, Cleary opened an office in East Boston, which grew to have 10 staffers. But in 2004, Cleary decided to relocate the company to the shores of Lake Winnipesaukee, where she had a summer home.
"I love the people in New Hampshire – they have good values, good ethics, they're good family people," said Cleary. "I said, 'This is the place I want to have my company.'"
Nearly all her staffers came with her – they now make up much of her senior management team – and together they grew the Moultonborough company to where it is today. CruCon has 80 employees, with plans to double that number by year's end. Construction is also underway on a new 30,000-square-foot building that will house recreation and exercise rooms and aims to eventually hold 250 employees.
A hallmark of CruCon is its personalized customer service – CruCon travel agents are always on hand to help customers talk through the pros and cons of different cruise vacations, negotiate incentives for them and offer them a low-price guarantee. It's that service that helped the company get voted TravelZoo's top cruise provider for five years running, and has brought the company to more than $100 million in annual sales. CruCon has used its success to give back to its community, donating $75,000 in charitable donations last year alone.
In 2013, CruCon was awarded Celebrity Cruises' Chairman's Award – the cruise line's highest honor. "The brilliant marketing, exceptional customer service you provide to your clients, and your outstanding reputation in this industry makes your organization a pleasure to do business with," wrote Richard Fain, chairman of the Board of Royal Caribbean International, Celebrity's parent company.

Q. What have been some of the biggest challenges to getting where you are today?
A. Finding qualified employees or people that actually want to work, since the mentality up here is seasonable. We are in a resort area, in Lake Winnipesaukee, and it's a very high-paced environment that we work in here at the company, so it's trying to find the people who can keep up with the pace. We train everybody, and typically we find if you can last 90 days, you're here for life.

Q. Did you have a professional mentor?
A. Really my only mentor was always my brother and the values that he had when he was alive – he passed away of a heart attack at 42, when I was only 32. He said so many things that made sense to me, like if you do what you love, you'll always be successful at it. One of the others was go big or go home – if you're going to do something, do it right; if you're going to take out an ad in the paper, take out the whole page.

Q. How do you balance your personal and professional lives?
A. It's really hard, but I have a great guy, Bruce, that I've been with for 14 years, and he basically takes care of everything I need in my personal life – he makes sure the house is clean, he's kind of like my souped-up house husband even though we're not married. I don't think I could ever do it without him. I think everybody needs a support and a rock like that.

Q. What advice would you give to young women just starting their careers?
A. Nothing is impossible. If you want it, go for it, but you've got to work for it. I've made tons of mistakes but you don't let that stop you – you just get back and learn. Also, find somebody that you admire and look up to and can talk with to help you through some of those times where you doubt yourself. My people here, my employees, if there's somebody here who wants to do something different, I'll push them as far as they want to be pushed – there's no glass ceiling. You can be whatever you want to be here.