Same-sex Greenville couple exchange wedding vows in Belgium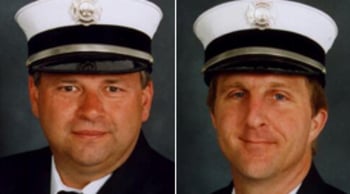 New Hampshire might frown on same-sex marriages, but that disapproval has been translated into overseas support for two former Greenville residents.
On Oct. 9, Christopher Staker, 49, and Phillip Sorensen, 46, exchanged wedding vows in Enghien, Belgium, where they have lived since 1996. Staker, former owner of Amherst Travel in Amherst, and Sorensen both work for NATO but remain legal residents of Greenville, where they vote and base their U.S. driver's licenses.
Twenty-four Americans went over for the wedding party, including many from Amherst, Greenville and Milford, they said.
Sorensen wrote in an e-mail exchange that he believes the two men are the first U.S. same-sex couple to wed anywhere in the European Union.
Belgium is the only country that allows such ceremonies when both partners are foreigners, and only started this approval when a new constitutional amendment went into effect Oct. 1.
"We realize our marriage is only recognized by Belgium," he wrote.
Ironically, Sorensen wrote, it was New Hampshire's opposition to same-sex marriage that made their ceremony possible. Foreigners must show that their wedding is outlawed in their native land before they can wed in Belgium.
In 1987, New Hampshire amended its laws on prohibited marriages to outlaw same-sex weddings (RSA 457:1-2), and in April, the Legislature amended the laws to prevent recognition of any out-of-state same-sex marriages (RSA 457:3).
"We found the laws on the N.H. web site, pulled them off, had them officially translated by the NATO legal department, notarized. It was pretty simple actually, using Google," he wrote.
"The only three states which implicitly state men are not allowed to marry any other man are Maryland, Minnesota and N.H. It was a stroke of luck in a very off sort of way to say the least," he wrote.
WWII veteran to give talk
AMHERST – World War II veteran Creeley Buchanan will talk about his wartime experience in the Persian Gulf when it was the "worst non-combat area in the world," as the Historical Society of Amherst kicks off its new season.
Buchanan, 86, an Amherst resident for more than half a century, was a second lieutenant who led transport missions to Iran during World War II. His talk is titled "A Bunch of Unknown Soldiers."
The talk will be held Monday at 7:30 p.m. in the vestry of the Amherst Congregational Church.
A short business meeting will also be held and refreshments will be served. Everybody is welcome to the free event.
For more information, contact Janice McDermott at 672-4710.
Fire Department promotes 2
MERRIMACK – Capts. Michael Currier and Francis Fraitzl have been promoted to deputy fire chief, Fire Chief William Pepler Jr. announced Friday.
The Board of Selectmen created the positions in a reorganization of the Fire Department's senior staff. Part of the reorganization included the elimination of one assistant chief position.
Currier will coordinate the Fire Prevention Bureau and serve as third in command of the department. Fraitzl will coordinate the Safety and Training Bureau and serve as fourth in command.
Currier has served as fire marshal since Sept. 20, 2002. Before that, he served as lieutenant of Engine 3 at the Reeds Ferry Fire Station. In 1984, Currier became a call firefighter in Merrimack. He was promoted to lieutenant in 1999.
He also works as a staff instructor at the New Hampshire Fire Academy, teaching classes on hazardous materials, emergency response to terrorism and technical rescue.
Fraitzl was hired as fire marshal in Merrimack in 2001. In 2002, he left to become deputy fire chief in Hooksett. Earlier this year, he returned to Merrimack as the administrative officer.
Prior to coming to Merrimack in 2001, Fraitzl served as lieutenant and shift commander at the Bedford Fire Department for 15 years.
He is a senior staff instructor at the New Hampshire Fire Academy. He is also certified as a firefighter, fire officer, fire inspector, emergency medical technician, and hazardous materials technician. He lives in Bedford with his wife and two daughters.