River Valley Community College offers custom solutions to businesses looking to build the manufacturing workforce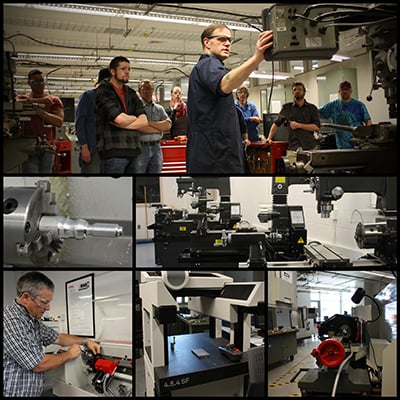 What does River Valley Community College's advanced machine tool training program have to do with a sharp business suit? It's simple: Custom is best; nothing beats personalized design and tailoring.
Guided by that principle, RVCC offers flexible, industry-approved certificate programs in advanced machine tool technology, as well as a two-week intensive machine tool boot camp designed to develop sought-after skills – fast. For those looking for more advanced training, the community college's pre-engineering/engineering technology associate degree program is based on national standards for majors in mathematics and science. It includes a rigorous and diverse curriculum that emulates the first two years of study at four-year colleges and universities. All programs combine essential classroom time and practical lab experience.
"RVCC prides itself on the ability to customize training according to industry needs and not produce 'off the shelf' training," said Advanced Manufacturing Partnerships in Education project coordinator for RVCC Kelly Roe.
The approach has proved successful for job seekers and hiring managers in western New Hampshire, even leading to RVCC being designated "sole trainer" for Sturm Ruger Inc.'s Newport, N.H., production team after creating a custom boot camp-style program capable of training hundreds of new employees each year.
"We are pleased to work closely with Sturm Ruger, as well as N.H. Ball Bearings," said Roe, who meets with industry leaders on a regular basis to ensure standards are continuously met. "Through our partnership with these companies, we are now in a position to train their new hires and be ready to respond to skill-building needs of incumbent workers, as well."
In addition to Sturm Ruger and NHBB, the community college partners with several other advanced manufacturers to deliver a highly skilled workforce. It recently purchased new training equipment in response to a demand by Maxcess International for more technically proficient CNC programmers.
"It's a natural choice for regional manufacturing employers to reach out to RVCC," said Roe. "We continue to grow our industry partnerships, whereby what used to be a push to reach our customers has started to become a pull; businesses in the area are coming to us and requesting solutions to their advanced manufacturing needs."
That's right in line with RVCC President Dr. Alicia Harvey-Smith's social mission to directly meet community needs.
"There is a need for well-paying employment," said Harvey-Smith. "We have created a clear path to that employment by providing flexible and responsive training sensitive to those needs. What's more, we're connecting trainees and employers."
The community college has in the last few years opened new advanced machining training labs at its campuses in both Claremont and Keene. In addition, it partners with the Regional Center for Advanced Manufacturing, housed at Keene State College, to deliver training on-site. RVCC's high-tech equipment list includes CNC mills, lathes and simulators, 3-D printers, a coordinate-measuring machine and an optical comparator among other options. The cutting-edge equipment, which in many cases is the same found on professional manufacturing floors, creates seamless transitions from classroom to career, while the partnership with Keene State College delivers an extended educational pathways for students.
WorkReadyNH
RVCC recognizes the need for strong foundational and "soft" skills in any successful workplace. To this end, the tuition-free intensive WorkReadyNH program is available to eligible students at all NH community colleges. WRNH helps job-seekers and career builders improve math, reading, information-gathering, communication, team-building and problem-solving skills. Its assessment and training services enable students to earn two nationally recognized certificates, while helping employers identify qualified career candidates.
AMPed NH
RVCC and its six sister colleges are part of NH's Advanced Manufacturing Partnerships in Education, a statewide initiative that unites the colleges with more than 200 industry, state- and federal- agency partners to offer flexible, industry approved education and training. Under a $20 million USDOLETA TAACCCT grant, advanced manufacturing labs at each of the colleges were opened or overhauled with state-of-the-art equipment.
Five ways NH community colleges serve employers:
1. Their diverse selection of more than 30 advanced manufacturing certificate and degree programs was designed in partnership with industry, ensuring delivery of relevant skills across myriad disciplines.
2. Programs customized to meet specific employer needs can be offered online, on campus or on the worksite.
3. In-class visits, industry tours and the AMPed NH Student Online Suite (offering an online networking community, ePortfolios and more) put employers in touch with potential employees.
4. Career-focused training at the colleges reduces on-the-job training time once students are hired.
5. Staff can connect eligible students and employers with resources for traditional financial aid and funding from the Workforce Investment Act and NH Job Training fund.