Rising diesel costs leave truckers road-weary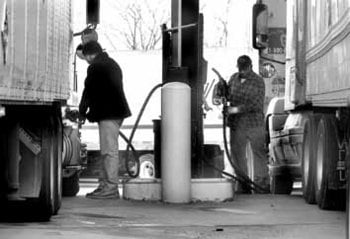 Diesel fuel prices have risen more than 60 cents – over 37 percent — in the last year, with New Hampshire's trucking and freight companies feeling the pinch. And consumers will soon.
Bill Richard, terminal manager at the Concord location of New England Motor Freight, said the rising prices have definitely added a big cost to his shipping runs. "Although we buy in bulk through our headquarters in New Jersey, it still has increased our costs quite a bit."
While motorists also are facing sticker shock at the pump, Scott Beltramini, vice president of Manchester Motor Freight, said an automobile driver would have to multiply that shock by about five times to understand what his company has been going through.
"We're paying $125 to $150 more per tankful over last year," said Beltramini. "It used to cost about $300 per fill-up for a truck, now it's closer to $450. That's huge."
Global shipper UPS saw its fuel costs increase by 35 percent last year. "That figure represents a $1.4 billion increase worldwide in 2004 over 2003," said company spokesperson Susan Rosenberg.
UPS maintains a major dispatch hub at Manchester Airport and has dozens of drop-ship sites and customer service centers in New Hampshire.
Unlike some other businesses, haulers can't just raise prices, primarily due to contracts with nationwide customers. Both New England Motor Freight and Manchester Motor Freight levy a fuel surcharge that is adjusted every week, but according to Beltramini, it doesn't even come close to keeping pace with the rising costs he's facing.
"We have to look at fuel prices as a whole across the country. New England, however, is second only to California in what we're paying for diesel. The surcharge is 15 percent, but for us it should be closer to 20 percent," he said.
UPS also imposes a sliding fuel surcharge, which could add as much as 2.75 percent or more to a customer's bill. According to the company's Web site, the surcharge is based on the national average on highway diesel fuel prices reported by the U.S. Department of Energy for the month that is two months prior to the adjustment. For example, the surcharge for February 2005 was based on the December 2004 figures.
All three companies are searching for ways to cope with the diesel increases.
"We're caught between a rock and a hard place," said Richard of NEMF, a national drayage company that does approximately $5 million in business in New Hampshire. "We've always provided good service, overnight service, but now are doing much less LTL (less than truckload) business and combining shipments. We are limiting some runs to the northern part of the state."
MMF, Beltramini said, has always combined shipments for full truckloads to maximize efficiency, so the negative effects have trickled down to the end of the line.
"It's the trucker at the end of the pump that's being affected," he said.
Other fuel options
At UPS — one of the largest companies in the world, with equally large resources — streamlining operations and implementing efficient logistics are helping it to keep up with fuel price fluctuations.
For instance, every UPS truck can handle residential, business and air terminal pick-ups and drop-offs for more efficient routing. "Other shippers have one set of trucks that handle air exclusively, business exclusively and residential exclusively. By having one truck do everything, we can handle traffic much more effectively," said Rosenberg.
With its mammoth buying power, UPS purchases its fuel in bulk. "We sometimes buy straight from the refinery or pipeline," Rosenberg said. "Except for shipments to very rural areas, we do not rely on the commercial pump."
The company also has equally broad technology strategies to mitigate fuel costs.
"We have computerized tracking systems that manage shipping and deliveries that have all but eliminated return trips," she said.
UPS also has the ability to explore other fuel options. "In densely populated urban areas where our drivers make lots of stops and starts, we use compressed and liquid natural gas. We use propane in many countries outside of the U.S. We are also testing hybrid electric and hydrogen fuels," said Rosenberg.
Echoing many industry analysts, Richard said he does not think the soaring costs will level off any time soon.
"We're paying about $54 a barrel for crude; Japan is paying in the mid-80s. So guess where prices are going to go? The industry may have to change. And the trickle-down effect will ultimately stop at the consumer."
Rosenberg explained that its not just the huge computer systems or diesel-buying programs that save UPS money, it's also simple things that small companies and consumers can do. "We've instituted a 'no idle' policy. We don't keep our trucks running. We've changed our oil-changing process and saved over 330,000 quarts of oil and $3 million a year. Even rotating tires and maintaining adequate tire pressure saves money. Preventive maintenance really does make a difference," she said.
For Beltramini, however, rising diesel prices are a symptom that has left him speculating about the underlying cause.
"The question is why?" he said. "Why is this happening? Prices always rise in the summer, but not like this. Why the spiraling increase? Why is this not in the news?"