Reunited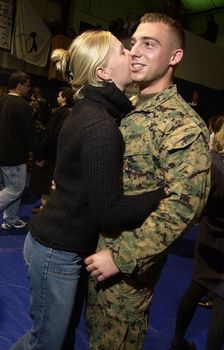 everal young women, carefully made up and dressed in fashionably casual clothing, stood together inside the packed athletic complex at Southern New Hampshire University in Manchester on Thursday.
They were part of a crowd of hundreds – mothers, fathers, brothers, sisters, aunts, uncles, sons, daughters, grandparents – waiting for four busloads of Marine Reserves who were coming home.
The Marines, assigned to Bravo Company, 1st Battalion, 25th Marine Regiment, were mobilized last January, spent six months at Camp Lejeune in North Carolina and then served in Okinawa, Japan, and the Philippines.
"I wasn't this nervous the day I got married," said one of the young women.
Christmas carols played on a public address system: "Joy to the World," "Let It Snow."
The Marines were coming home for the holidays. Six months of anxiety were over. Family and friends had gathered to celebrate the answer to their prayers.
Love filled the room. You could feel it. You could breathe it in. You could practically touch it. Homemade banners covering every inch of wall space expressed the common sentiment: Welcome home. We love you. We are so proud of you.
Not far away, four buses were carrying the Marines on the final leg of their journey from Camp Lejeune. When they crossed the state line into New Hampshire, they could look out the bus windows and see a police escort in their honor. Banners hung over the highway, welcoming them home.
The Mussaw family from Westford, Mass., sat in a row on folding chairs waiting for Lance Cpl. Adam Mussaw, 21.
There were the Marine's parents, Bill, 48, and Robin, 47, his daughter Alexis, 2, dressed in red velveteen and wearing a sign around her neck that said, "I love my daddy." There were the Marine's sisters, Meghan, 20, and Kori Marshall, 23, who was holding her 9-month-old daughter, Madeline.
An older brother, Jamie, 27, served in the U.S. Marines for seven years and is on his way home from Baghdad, where he is working as a civilian, said his parents.
In the gym, the Mussaws sat quietly, their expressions subdued until they heard the announcement, "They're here! Be looking for your Marine, folks. They're coming!"
The crowd roared in unison. Some people yelped. Others howled their delight as the line of young men in camouflage, their faces and heads freshly shaven, filed into the gym.
The Mussaws stood with the others, watching for their Marine. Robin Mussaw's face looked as if she was trying to contain her emotion. Her husband held a camcorder to his eye.
"Adam!" Kori Marshall screamed when she saw her brother.
In seconds, Lance Cpl. Mussaw was hugging first his toddler daughter to his heart, then his mom, his sisters, his new niece, and his dad.
Family members didn't bother to wipe the tears from their eyes. Instead, they hugged their Marine again. They touched his shoulder as if to assure themselves that he was really home.
It was as if no one else existed except this happy family with their son, father, brother, uncle, who was home for the holidays, home safe and sound.
"We'll go home, hang out and relax," Robin Mussaw said when asked about the family's plans for later in the day.
It was an emotional homecoming for Lance Cpl. Gerard Ditolla, 21, a Nashua resident and a junior at Norwich University, who was met by his parents, Barbara and Bob Ditolla, and his girlfriend, Katie Sherwood.
"It's so wonderful to be back," said Lance Cpl. Ditolla, who was heading home for a home-cooked meal of his choosing – turkey with stuffing and carrot cake.
His happy parents were at a loss for words.
"I'm just glad he's back," said Barbara Ditolla, her eyes filling with tears.
Before the hall emptied, the Marines and the families listened to several brief speeches, including one paying tribute to Milford resident Tina Philbrick, who served as the volunteer liaison for the 182 families whose loved ones were deployed.
Philbrick organized a phone tree, circulated a regular newsletter, put together a benefit concert that raised $5,500 for phone cards for the Marines, arranged a potluck family gathering and more while she was waiting for her husband, Sgt. Hunter Philbrick, to come home.
"This is the best day of my life," she said. "I didn't sleep all night."
Rochester residents Anna and William Ingram could second that emotion. They were reunited with their son, Sgt. David Ingram, 28, who was deployed with his first cousin, George Clini of Connecticut. The Ingrams were planning to travel to Connecticut on Saturday for a family reunion.
On Thursday night, however, the celebrating took place at home. A group of the Marine's friends were invited for dinner. The menu, Anna Ingram said, was her son's favorites – chicken cutlets, mashed potatoes and broccoli.
Lance Cpl. Chris Saunders, 21, was also thinking about food when his mother, Cecelia, met him at the university gym. Later in the day, he said, he was hoping to enjoy chicken cordon bleu or a T-bone steak.
"It's kind of priceless," Saunders said of his homecoming.
His mother, who is a single parent, agreed.
"It was a really challenging year," she said while her son lifted his bags from the curb. "I encouraged him and I prayed for his return and for the safe return of all of them. I can't describe how it feels to have my son back."