Retirement and John Stabile just don't mix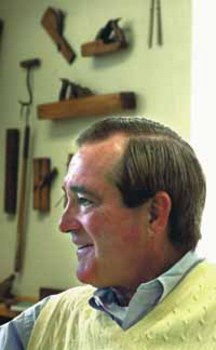 Even when he's spending part of the winter in Naples, Fla., John Stabile isn't on vacation.
Stabile, whose first job was clearing lots at his dad's construction sites when he was 10, has tried retiring once before. It didn't work.
So when the founder and chairman of The Stabile Cos. is in Florida, his secretary overnights a package at 5 p.m. to his Naples condo. By 11 a.m. the next day, the package arrives. Inside is every message, every memo and every piece of mail that arrived at the company's Merrimack office — ready for Stabile to peruse.
Stabile makes sure to send the appropriate faxes and return phone calls. Only then will he go out to relax on the golf course or the beach.
"No matter where I am, the package goes out," Stabile, 57, said in an interview last month in his Manchester Street office.
Stabile's company, which he named H.J. Stabile & Son Inc. in honor of his father, Harry J. Stabile, back in 1973, is celebrating its 30th anniversary in November. It started as a single-family home-building company and has grown to The Stabile Cos., which consists of four businesses: Stabile Homes, Stabile Home Remodeling, Stabile Construction Services and Stabile Property Management.
Today, the Stabile name can be found on numerous housing and office building projects in southern New Hampshire. He has built 2,500 houses between Exits 4 and 7 of the F.E. Everett Turnpike alone.
Southern New Hampshire Medical Center and Manchester Airport also were built by Stabile.
He says his expectations are high and
that he needs to have a hand in the
business at all times.
"I tried to stay in Naples," he said. "But after a while, you know, you can only go out to dinner so many times. You can only play so much golf. You can only fish so much. Then you start calling the office, and drive everybody crazy. So I might as well be here."
'The way he is'
"He's got a work ethic, all right," said Ginny, his wife of 34 years. "I've learned it's not going to change. He's amazing. It drives me nuts, of course, but it's the way he is."
Ginny Stabile said she should have known. Her husband liked to work from the time she met him on a blind date in college. He was going to Norwich University while she attended Vermont College in Montpelier.
He had a paper route, worked at spaghetti dinners and would paint people's houses — all while managing to get good grades and have fun, she said.
"He would put me to work serving the spaghetti dinners," she recalled. "Or if we went to a hockey game, he'd be the one selling programs.
"That's how he made his spending money, because he didn't come from a wealthy family, that's for sure."
His great-grandfather, Gabriel Stabile, had a construction business. Stabile's father followed in his own father's footsteps to become a builder.
Even though it was expected of him, Stabile worked for his dad while growing up in Winchester, Mass., and loved it.
"My grandfather and father used to have conversations at Sunday dinners and my grandfather would say, 'He's going to go into the banking business with me,' and my father would say, 'No, he's going to go into the building business with me.'
"They'd get me all riled up. I always knew I wanted to go into the building business. But I would say, 'No, I'm going to be a fisherman.' "
The fact was, he always knew he wanted to be a builder. He worked for his father until he died in 1962. Stabile was 16.
The company is still a family business. Their son Jake, 29, works in field operations for the company and their nephew Jim Stabile works in the real-estate end of the business. Their 22-year-old son, Ryan, is a student at the University of New Hampshire.
The Stabiles lost their 28-year-old son, Jeremy, last February because of an unknown heart condition.
'You'd be surprised'
Stabile graduated from Bridgton Academy in Maine in 1965 and Norwich in 1969. After graduation, he worked for Continental Homes of New England in Nashua.
He was commissioned as a second lieutenant in the Army and began his active duty with the infantry as a jungle training officer. He served two years and rose to first lieutenant.
After his military service, Stabile joined Border Corp. in Nashua, one of the state's leading contractors. He worked for a builder named John Cadario of Hollis, who died several weeks ago.
Cadario was an entrepreneur and pioneering builder of homes, apartments and professional buildings in Southern New Hampshire. Cadario built the Pine Hill Garden apartments and the original New England Aeronautical Institute/Daniel Webster College campus, both in Nashua.
Stabile started working for Cadario as his assistant.
"Within two years I was running his business on a day-to-day basis," Stabile said. "Go to work at 5 o'clock in the morning, go home at 7, 8 o'clock at night, you'd be surprised what you can get done."
Stabile bought some lots from Cadario, who was trying to wind down his business as Stabile was trying to get started on his own.
Cadario taught him a lot, as did other big builders in the area, such as Dana Patterson and Sam Tamposi Sr., Stabile said.
"The great opportunity in southern New Hampshire was the home builders weren't afraid of somebody new in the business," Stabile said. "They helped me grow, and we worked as a group."
They also got Stabile into politics, he said.
Stabile served three terms in the New Hampshire Senate and was active for nearly a decade on the Republican State Committee.
Tamposi sold Stabile his first large subdivision, Chapel Hill Estates, for $600,000. That was 28 years ago, when Tamposi was buying into the Boston Red Sox. Stabile was 28.
So he picked up and moved to the Gate City.
Stabile said moving to Nashua was the first good decision he made. It was an area that had "pretty recession-proof growth going on."
When he first moved to the city, Stabile lived in a ranch house with a two-car garage. He took one of those garages and turned it into an office.
"That's where we started, and ran the business for two years out of that garage," he recalled.
Stabile said the reason his company has lasted 30 years is largely thanks to longtime employees who have helped to "re-energize" him to stay on top of an industry that has changed tremendously over the past three decades.
Thirty years ago there was ample land and subcontractors. Today, land is scarce and zoning is restrictive, he said.
A big change followed the recession of the late 1980s when New Hampshire lost some 50,000 construction workers.
"We've never recovered from that," Stabile said. "It's a lot more difficult. We're going to pre-fabricated panels on our frames, we're going to a whole different system of building in order to keep the quality we want to keep. It's a much more expensive way of doing business."
As the amount of developable land has dwindled, Stable has had to change the scope of his company, focusing more on remodeling.
In 2001, he launched Stabile Home Remodeling to serve folks who are staying in their home and updating.
"That was probably one of the key things that we did," he said.
Land scarcity is bad news for builders of single-family homes, but Stabile's remodeling division sees it as a golden opportunity.
"The houses we built 20 years ago now need new roofs, porches, renovated kitchens — all the things people want to have in the year 2000 that weren't available in 1980 or 1975," he said.
But that doesn't mean Stabile isn't doing new construction. There's still land available in Merrimack, Bedford and Amherst, and he'll continue to build in those communities.
And in Nashua, there are still pockets of land that have been passed over, because of lack of sewers, for instance. Those pockets will eventually percolate up, and there will be high demand for them, he said.
Cost, however, remains a factor. It's still expensive to buy land in Nashua.
"Right now, the numbers don't meet the formulas you'd normally use to make economic sense," he said.
Generally, a developed lot should make up 25 percent of a house price, Stabile explained. But with fully developed lots selling at $150,000, people are looking at a $600,000 house, he said.
"You don't have to be a NASA space scientist to figure out that you have to try to make it up some way or try to get some of your land costs down," he said. "That's the challenge."
He can cook, too
Stabile still drives around to all of the work sites and is still very much a hands-on company owner, said Patricia Cooke, director of marketing for the company.
"There are guys out there who are developers who have never had a hammer in his hand, and he did," she said. "He still works damn hard."
Cooke said Stabile has very high expectations, is very smart and is a very "intense" guy.
When he isn't working or reading the packages, he's spending time with Ginny — the woman who made the best day of his life when she accepted his marriage proposal.
The couple enjoys time with their dogs, Mulligan, a chocolate Lab, and Olivia, a yellow Lab, and their son Jake's dog, Juno, which is part rotweiller and part chow.
Stabile said there is something about him that may surprise people: He said he isn't as outgoing as some may think.
"I really am shy," he said. "I can turn it on, but I can go sit with my dogs and I'm very content."
Stabile gives his wife a lot of credit for being patient and understanding.
And she does understand.
"If he stops doing it, he's really grouchy," she said. "He needs to be doing his work."
But when he does slow down, Ginny said, he likes to tend to his garden, where he grows tomatoes, peppers and onions he uses to make his own spaghetti sauce.
"He is human and likes the same things (we) like," Ginny said. "He's not the rough, tough person he probably appears to people in business. He's very generous. That's something people don't know — all that he does for people."
Just as Stabile said he does not plan to retire, his wife agreed.
"I predict he will not retire," Ginny said. "I don't know what I'd do with him all day if he did."