Retailers ready for holiday shoppers
Local stores share their expectations for season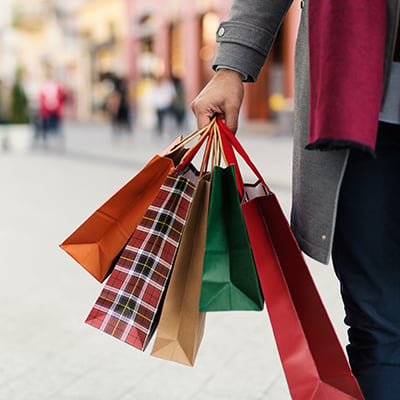 "I'm hearing the same thing from most retailers — they're doing well," said Nancy Kyle, president of the NH Retail Association.
Business is good on Main Street, a condition Kyle attributes not only to the strong economy, but also to the "whole local movement. People want to know where their dollars are going and that they're acting on the part of their community, and that bodes well."
There is, of course, a dark lining in the silver cloud: With so many people currently employed, "the hardest thing for retailers right now is finding help."
With a 4.6 percent annualized economic growth rate, New Hampshire earlier this year became the state with the second fastest-growing economy east of the Mississippi, trailing only Michigan, said Russ Thibeault of Applied Economic Research in Laconia.
October's 2.6 percent unemployment rate is a "two-edged sword," Thibeault said. "It's good for people looking for work, but bad for employers looking for workers." That and growing competition from distant online sellers, had some retailers in a NH Business Review sampling voicing a quiet note of caution to their otherwise optimistic view of the marketplace at the start of another year-end shopping season.
'Actively hiring all year'
At the family-owned Kilwins Chocolates, Fudge & Ice Cream Shoppe in Portsmouth, business "has been great. We've had a good year," said Janette Desmond. "We're a chocolate shop, so for us, it's a lot of gift baskets, chocolate Santas and things that are great for gifting, for a hostess or for corporate gifting."
Kilwins currently has a staff of 13, with seasonal help, typically college students, added in the summer. In the brisk economy, getting and keeping help is difficult, given the number of businesses hiring in and around the Port City.
"We have been actively hiring all year," said Desmond. "There's so much competition out there that we will hire someone and not realize that he's accepted five different jobs. I had someone call me on his first day here to tell me he was going somewhere else, and he hadn't even come in yet."
That leaves more work to be done by the staff that is on the job, including the owners.
"I've certainly been working," said Desmond. "I didn't spend much time on the golf course this summer, that's for sure."
'Lucky to be where we are'
At Dutille's Jewelry in Lebanon, a boost from the holiday shopping season is always welcome, but it's not a whole lot different from the rest of the year, according to store manager Beau Maville.
"I would say this whole year is up quite a bit," said Maville, who has been in the family business since 2005. "We don't have a holiday shopping season per se. We do get a kick up from Christmas gift-giving, but we're kind of busy all year."
Dutille's is busy being a different kind of jewelry store, said Maville, whose stepfather, Jude Dutille, still owns the business that Jude's father, Phil, bought in 1959. The third-generation family jeweler has evolved in recent years to focus heavily on designing and making the jewelry they sell, rather than selling products bought wholesale.
"We carry very few lines of finished goods," said Maville. "We're here designing for customers, making to specifications for people who want something special, something unique, not run of the mill."
Though he speaks lightly of being "stuck in a corner" of New England, Maville finds that corner advantageous. The number of professionals employed at nearby Dartmouth-Hitchcock Medical Center provides a steady stream of customers, and a location along Interstate 89 and not far from I-91 helps attract customers from more distant places.
"We're lucky to be where we are," said Maville. "We get people coming here from Burlington, up from Boston and from Portland." Some are second- and third-generation customers coming back to the third-generation jewelry store.
Local authors, good books
"Sales this year have gone pretty well and we're looking forward to a good holiday season," said Willard Williams at the family-owned Toadstool Book Shops, which has locations in Milford, Peterborough and Keene.
Toadstool offers "a huge selection of books, including a lot of great local authors," said Williams. "We certainly like to support local writers. They are well known and have a lot of friends in the area, who also like to support local authors. It's also a part of the whole buy local movement."
Williams, however, is not impressed with all the news and numbers about a strong economy and rising consumer confidence. "I don't know that the economy has changed that much," he said. "So much of the economy has transitioned to online buying, and that's having an effect on a lot of downtowns in a negative way." So far, it hasn't deterred too many customers from coming to Toadstool," he said. "I'd say we're holding our own."
Toadstool, an independent bookseller since the first store opened in 1972, employs about 30 people at the three stores. Finding workers hasn't been a problem, Williams said.
"We don't have a lot of turnover and when we have needed additional help, we have been able to find it very easily. People like the concept of working in a bookstore."
'A stocking-stuffing emporium'
You might think of a general store as a place where locals come to get their milk and bread, candy bars, cigarettes and soda pop. But Zeb's General Store in North Conway offers a lot more than that.
"We're a destination shop," said General Manager Ray Boutin, who caters to the needs of tourists as well as locals in the picturesque Mount Washington Valley. "We sell a lot of candy, New England gourmet foods and gift baskets. We're a stocking-stuffing emporium over here."
While some retailers are watching for the first snowfall to stimulate winter shopping, Zeb's draws holiday shoppers in the heavily traveled tourist area when they are passing through in the summer or fall.
"Around the end of August people start coming in to begin their Christmas shopping," Boutin noted. By mid-November, he was ready to declare 2018 a very good year.
"We've been having a great year," he said. "It's right on par if not a little bit ahead of last year, which is always a good thing." Like many other retailers, he's not sure how much the strong economy has been boosting sales.
"It's too difficult to put a metric on the effect the economy has had," said Boutin, noting the store has enjoyed "quite a few up years" in recent times. "I hear it on the news all the time: people are optimistic about the economy," he said. "That makes a difference in how they spend." Especially in the crucial fourth quarter.
"The holiday season is very important to us," said Boutin, "given the way things die off after the kids go back to school."
'Cold weather certainly helps'
It was nearly mid-November and still no snow. Did that make the folks at the Ken Jones Ski Mart in Manchester nervous?
"No, not yet," said Dylan Jones Hall, grandson of Ken Jones Sr., the original proprietor of New England's premier specialty ski shop. "We're off to a good start, with mountains open in Vermont, New Hampshire and Maine. Having snow on the ground right now is not essential, but cold weather certainly helps."
Even crisp fall weather helps stimulate sales of sweaters, jackets and other cold-weather accessories. "When it gets cold, people think about coming in and buying what we sell," he said.
But it's usually not very cold at the beginning of August, which is when the ski mart opens each year. It closes in April, an indication of how crucial winter is to a ski-related business.
During the other months, its affiliated Snowboard Jones snowboard and skateboard shop keeps the revenue streaming.
Hall is another retailer who does not set much of the store based on the statistical economic indicators. Sales yield the proverbial proof of the economic pudding, he said.
"Ski equipment is not a need. It's the kind of product that's a luxury item. And people are okay with buying something like that."
'A lot of people coming in'
"We're definitely having a lot of people coming in right now", said Pam Peterson, who started the Gondwana & Divine women's clothing store in Concord in 1995. "We do a lot of outfitting year-round, but a lot of people are coming in now because of the holidays. They come in looking for outfits, and seeing the gifts that we have to offer, they're starting to pick up some gifts at the same time."
In the store's 23 years, each has been better than the year before, Peterson said, providing steady growth for the business. She has been building the customer base over the years and now has a roster of 4,000 subscribers to the store's semi-annual emails.
"We've worked very hard over the last year or so on our website and it's beginning to slowly pick up," she said. The problem is Amazon and other major retailers dominate the search engines. "You can find us with a Google search, but you have to turn a lot of pages."
With or without internet sales, Gondwana & Divine has been doing rather well, having been voted best clothing store in the state by New Hampshire Magazine, the Hippo and the Concord Monitor. For the downtown Concord clothing store, it's more than the economy that's looking good.
"People leave the store looking good," said Peterson, "and their friends want to know where they shop."
Positive outlook
"Honestly, it looks very positive," said Elaine Carrier at the original Josh's Toys and Games store at the Pheasant Lane Mall in Nashua. "We just got in some new toys and we're very excited about it. While there may not be any one toy that is causing shopper mania, like the Cabbage Patch Doll of the early 1980s, there are a number of popular items that should appeal to small fry on Christmas morning."
"We just got in some Magformers," said Carrier about a toy that joins various parts to form other toys, including cars with tracks to run on.
The Nashua store is one of three Josh's stores in southern New Hampshire, with two more in Massachusetts. Finding workers for the stores hasn't been a problem, said Carrier.
"We're always getting applications," she said, from "all over southern New Hampshire and northern Massachusetts." As a "key holder," Carrier's own job is rather broadly defined. "I can open and close stores and handle money," she said. Beyond that, "if I need to do something, I do it."
'Vintage,' not antique
It's no secret that winter comes early in northern New England. Before you could say, "No snow yet," eight inches fell on northern Coos County on November 13, with another six inches on the way a few days later, reported Ida Boudle of the Blossom Shop in Colebrook. That would help put Christmas in the minds of North Country residents, winter campers and snowmobilers, who might want to checkout some floral arrangements for gifting purposes.
"I use a lot of natural winter greens and berries," Boudle said, noting the Christmas baskets are a little sparse on flowers. "I make them long-lasting so [people] can have them for a whole month." During the rest of the year, the Colebrook florist is busy designing and selling floral arrangements for holidays, birthdays, weddings and anniversaries. And of course, the saddest occasions are the ones that bring the most business. Funerals keep the flower shops alive.
The Blossom Shop also sells "vintage" items in its gift shop — things like old-fashioned window shutters, brass colanders and old-style pots and pans and tea kettles. "We don't call them antiques, because antiques have big prices," she said.
When not at the shop, Boudle is out looking for unusual items at flea markets, sometimes traveling as far as Pennsylvania and Ohio. Some of the items she finds are "hundreds of years old. People have them and don't know how to decorate them, don't know what to do with them. That's where I come in."