Retail report: Southern New Hampshire vacancy rate up
Sports Authority closings lead to jump from a year ago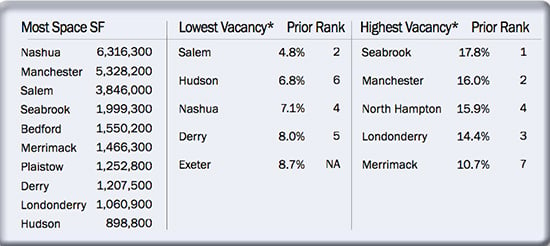 With occupancy down, the vacancy rate for southern New Hampshire retail real estate has reached 10.5 percent, up from 9.6 percent a year ago, according to KeyPoint Partners' Report for Southern New Hampshire 2016.
The Burlington, Mass.-based real estate firm reported that the major factor in the jump – which essentially brings the vacancy rate back to 2014 levels – was due to the closing of four Sports Authority stores totaling 170,200 square feet.
According to KeyPoint, total retail space for the region stands at 28.9 million square feet, down from 29.9 million a year earlier.
FitLab Fitness Club led retailers in new square-footage in the region, adding 86,400 square feet, and tied with Mattree Firm for first in new store count, each adding five units. Other retailers high in the expansion ranks include Dick's Sporting Goods, Walmart, and Aldi Food Market, KeyPoint reported.
According to KeyPoint, the lowest retail vacancy rate in the region is in Salem, at 4.8 percent. The highest vacancy was reported in Seabrook, at 17.8 percent.
Other vacancy rates by municipality were: Hudson (6.8 percent); Nashua (7.1); Derry (8.0); Exeter (8.7); Merrimack (10.7); Londonderry (14.4); North Hampton (15.9); and Manchester (16.0).
The report also includes a 10-year historical report on expansion and contraction in all major retail tenant categories in the region from 2006 to the present.
The 10-year review tracks expansion and contraction since 2006 among all major retail tenant categories in the region, providing what Bob Sheehan, the firm's vice president of research, calls a clear picture of how social values, shopping habits, and lifestyle choices of shoppers have changed the retail real estate landscape.
"The Beauty Supplies and Cosmetics category ranked highest by expansion in the region, both by square-footage and store count, over the past decade," said Sheehan. "Space in that category increased by a whopping 177 percent. This was mainly due to the entry of Ulta Beauty into the area in 2011."
On the flip side, the Electronics Stores category showed the largest decrease in both square-footage and store count, he said.
The complete KeyPoint Report can be accessed at KeyPointPartners.com.