Residential activity again sets pace for future construction in N.H.
But infrastructure projects continue to remain stalled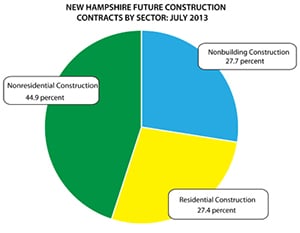 The pace of future construction contracts in July was a mixed bag in New Hampshire.
More money was earmarked to build new homes and office buildings in July than the same month last year, but projects like roads and bridges stalled during the month, and total contracts for the first seven months of 2013 are down nearly a quarter from where they were last year.
There was $176.5 million in future construction activity in the state in July — 8 percent higher than the $163.1 million recorded in July 2012. It was also up slightly from the $172.5 million recorded in June 2013, according to industry information service McGraw Hill Construction, which releases the figures monthly.
There were two reasons for the year-over-year increase: jumps in the value of both nonresidential and residential building contracts.
But the bad news is that for the year through July, the value of future construction contracts is down by almost a quarter from the same period last year.
Through July 2012, contracts for future construction in New Hampshire totaled close to a billion dollars ($966.8 million). But through the same period of 2013, they totaled $740.9 million – a 23 percent decline.
The reason for the decline is mostly due to a sharp decline in nonbuilding construction from 2012 to 2013. Nonbuilding construction – which includes such projects as bridges and roads, sewage and water supply systems and utilities – is down 68 percent so far in 2013 compared to the same period in 2012.
There was $408 million in nonbuilding construction through July 2012, but just $128.9 million through July 2013.
Meanwhile, nonresidential building is just about on par with where it was last year ($298.3 million through July 2012, compared with $292.2 million through July 2013).
The one bright spot has been the increase in residential construction in 2013. So far through 2013, residential construction contracts total $319.9 million – up 23 percent from the $260.5 million in the same period of 2012.