Report: Retail space grows, but so does vacancy rate
Southern N.H. survey shows effect of new Seabrook Commons, Stop & Shop closings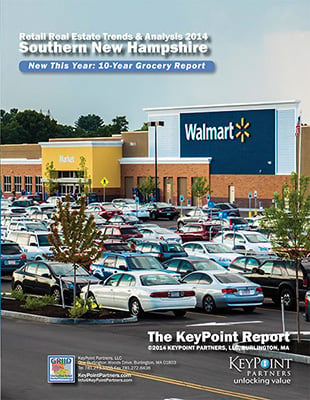 The southern New Hampshire retail real estate market grew by more than 280,000 square feet, according to a newly released report, but the vacancy rate in the area rose as well, easily topping 10 percent.
According to Bob Sheehan, author of The Keypoint Report for Southern New Hampshire, released earlier this month by Keypoint Partners LLC, "The region continued its upward trend in retail inventory, with a gain of 283,500 square feet, thanks in large part to the opening of Seabrook Commons, a new power center in Seabrook."
Nevertheless, he added, the area experienced a "sizable" increase in the vacancy rate, which jumped to 10.7 percent in 2014 from 9.6 percent in 2013. Sheehan said the increase was mainly attributable to the closing of six Stop & Shop stores in the area, as well as the closing of two Shaw's stores and one Building 19 location.
Unoccupied space increased by 13.2 percent, to some 375,000 square feet, although Sheehan said there was a nominal decrease in the number of vacant units. With incremental vacancy outweighing the growth in retail inventory, the result was negative absorption of 91,400 square feet, he said.
The report also found that there was no change in the top 10 market rankings, except for Seabrook jumping ahead of Bedford during the year, another effect of Seabrook Commons.
Nashua continues to rank first, with 6.2 million square feet of retail inventory. Manchester follows at 5.4 million square feet, and Salem is a distant third at 3.9 million square feet. They are the only cities or towns with inventory in excess of 2 million square feet, said Sheehan, although Seabrook, with 1.82 million square feet, is edging closer to that threshold.
To put the numbers in perspective, the aggregate retail space in Nashua, Manchester and Salem represents 51.8 percent of the total 29 million square feet of retail inventory in the region.
Sheehan said that, in assessing vacancy rates by store size, "it was encouraging to see that other than the 50,000 to 99,999 square-foot category, only one other size range (2,500 to 4,999 square feet) experienced an increase in the vacancy rate."
He said the 50,000 to 99,999 square-foot category "was clobbered by big box store closings, increasing the vacancy rate in that size range from 11.4 percent to 22.7 percent." The vacancy rate in the 2,500-4,999 square-foot bracket edged up from 11.4 percent to 12.2 percent.
According to the report, Walmart was the largest contributor to new retail inventory in the region this year, adding 98,700 square feet – the net change between its vacant traditional store and its relocated Supercenter store.
"Finding a replacement for a 91,900-square-foot vacant Walmart space may be challenging, however, particularly considering a vacant Shaw's unit at the same property," said Sheehan.
Hannaford acquired the former Stop & Shop in Exeter, adding 65,200 square feet to its inventory in the region. Party City ranked third by acquiring four iParty stores, resulting in an additional 40,000 square feet.
To view the report, visit keypointpartners.com.