Report offers picture of commercial drone use in New Hampshire
Aerial survey, photography, real estate top applications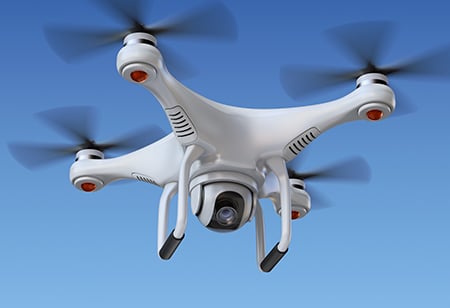 New Hampshire businesses have received 16 exemptions from the Federal Aviation Administration to fly unmanned aircraft systems in the U.S., according to an analysis released by the Association for Unmanned Vehicle Systems International.
According to the report, which analyzed more than 3,000 FAA exemptions nationwide:
• New Hampshire businesses have been granted 16 exemptions to use UAS for commercial purposes. California leads the nation with 360, and exemptions have been approved for operators from all 50 states and Puerto Rico.
• The total approved exemptions cover 38 different types of business operations. In New Hampshire, operations for aerial photography topped the list, followed by real estate and aerial survey.
• The number of exemptions granted for New Hampshire increased throughout 2015, reaching a peak of five exemptions in September of that year.
• All the companies in New Hampshire receiving an exemption are small businesses, with less than $1 million in annual revenue and fewer than 10 employees. Three exemption holders are self-employed and do not employ others.
The unmanned vehicle industry "is poised to be one of the fastest-growing sectors in the U.S., and these numbers demonstrate that New Hampshire businesses are eager to take advantage of this technology," said Brian Wynne, president and CEO of the association. "From taking aerial photographs of real estate listings to inspecting construction sites, the applications of UAS are virtually limitless. It's no wonder businesses – small and large – are clamoring to use this technology."
The report includes interactive features that enable users, using the site's web tools, to isolate state-specific data on the most popular applications for unmanned vehicles, the most prevalent manufacturers for each type of use, and economic overviews on the companies gaining FAA exemptions.
An economic impact study released earlier by the association said the unmanned aircraft industry will create nearly 650 jobs and have a $514 million economic impact in New Hampshire in the first decade of unmanned aircraft registration and integration in the U.S.
The complete report is available at auvsi.org.