Report: N.H. ski areas had $1.15b impact in 2012-13
Total spending sets record, study finds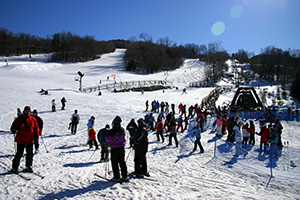 Here's a reason to put away those nasty thoughts about all the snow we've been seeing this year: A New Hampshire ski industry study says it had a $1.15 billion impact on the state's economy in 2012-13.
According to the study, which was prepared by the Institute for New Hampshire Studies at Plymouth State University, the state's ski resorts attracted a total of 3.26 million visitors in the winter, summer and fall of 2012-13, resulting in $1.15 billion in direct and secondary sales, up some 25 percent from the $910 million reported in the most recent economic impact study of the 2009-10 season.
These numbers place New Hampshire fourth nationally in terms of state ski revenue per capita, according to the study.
The summer and fall seasons now account for 19 percent of the visits to ski areas with direct spending of $58.6 million, the study found, up from $35.3 million in 2009-10.
Highlights of the 2012-13 economic impact study include:
• Direct spending by skiers, snowboarders and non-skiing family members totaled $300.4 million during the five winter months, up from $282.2 million in 2009-10. An additional $58.6 million was spent by summer and fall visitors to ski areas and ski area towns, for a total direct spending of $359 million between May 2012 and April 2013.
• Direct spending led to an estimated $786.5 million in secondary spending within the state, up from $592.4 million in 2009-10. The largest share of secondary sales benefited households ($295.6 million in wages, salaries, profits and rents), followed by retail trade ($107.4 million), transportation, utilities, wholesale trade and information ($98.6 million), the insurance, banking and real estate industries ($70.1 million), state and local government ($70 million), "other" services including professional and business services ($54.1 million), educational and health care ($46.6 million), and construction ($22.4 million.). The remainder was split among hospitality and leisure, manufacturing, and agriculture, forestry and mining ($21.7 million).
• During the five-month winter skiing season, skier spending made up nearly half of total traveler spending in the northern and western travel regions, at 45.3 percent. • Direct and secondary spending at and away from ski areas during the period between May 2012 and April 2013 supported an annual average employment of 11,067 jobs.
The study also found that New Hampshire ski areas invested more than $121 million in new construction and equipment during the past decade.
Leading investments included snowmaking equipment, $38.4 million, new ski lifts, new and improved lodges and new trail grooming equipment.
Also, according to the study, the majority of winter resort visitors are from Massachusetts (46 percent) and New Hampshire (34 percent), with additional guests from Rhode Island (4.4 percent), Maine (2.5 percent), Connecticut (2.5 percent), New York (2 percent) and other states and countries (8.7 percent).
"Ski New Hampshire's economic impact study serves as an invaluable tool in demonstrating the impact New Hampshire's ski resorts have on the economies and character of the communities in which they are located," commented Alice Pearce, president of Ski NH. "In this most recent study, only 11 percent of the total direct and secondary sales generated by ski area visitors actually took place at the ski areas. This reflects the substantial contribution these ski area visitors are making through spending at hotels, second homes, restaurants, liquor stores, tollbooths and other service facilities."
Copies of the report are available online at http://www.SkiNH.com or by sending an email request to mailto:media@SkiNH.com.