Report: Foreign-owned businesses a key New Hampshire employer
Plymouth State study finds they employ 44,000 Granite Staters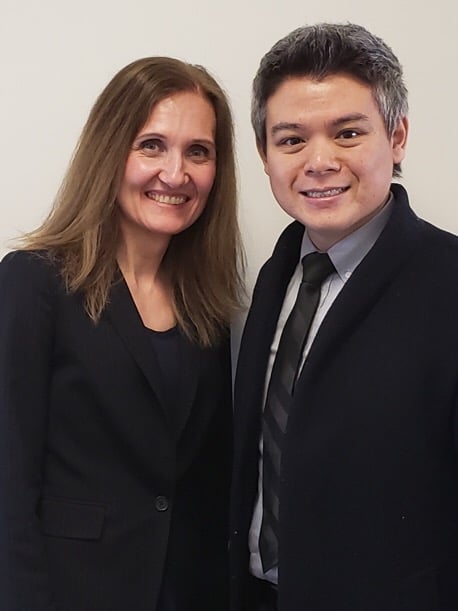 Subsidiaries of foreign-owned companies are a significant contributor to New Hampshire's economy, according to a report conducted by two professors at Plymouth State University.
Approximately 44,000 jobs are created by foreign firms, or 7.7 percent of the state's total private sector employment – making New Hampshire third in the nation in regard to the share of jobs created by foreign firms (after New Jersey and South Carolina).
The report is the first comprehensive analysis of foreign direct investment in New Hampshire, conducted by PSU professors Dr. Chen Wu and Dr. Roxana Wright, using a variety of data sources, including SelectUSA, a federal program that assists foreign companies with establishing subsidiaries in the U.S.
While these subsidiaries are owned by parent companies in foreign countries, they are very much local companies, with Granite State employees in many positions including senior roles, say the report's authors.
"One of the points we want to make is these are local companies. We know that our state has a small business profile so these companies fit right into that profile," said Wright, who discussed the report prior to its Wednesday release with NH Business Review. She noted 50 percent of foreign subsidiaries have fewer than 10 employees.
The 453 subsidiaries tracked in the report are owned by 186 companies from 24 countries, with Canada, the United Kingdom, Germany, France and the Netherlands rounding out the top five.
'So many companies'
Seventy-five percent of foreign subsidiaries are located in the southernmost counties: Hillsborough, Rockingham and Merrimack. Most of the firms (29 percent) are in the financial services and insurance industry, with a majority being British and Canadian financial institutions, the latter likely representative of TD Bank's presence in the Granite State. Another 22 percent of foreign subsidiaries are in the manufacturing field, with the largest concentration (28 percent) being German-owned firms.
Wright examined each company, uniquely mapping out supply chains in three categories: producers, distributors and service providers.
"What was interesting was that we did find so many companies, almost half of them, that were at two stages of the supply chain, so they are integrated inside New Hampshire," said Wright. "That indicates that they are more integrated into the industry supply chains overall, but they are also more responsive either to local manufacturers or suppliers or most importantly to the customers in New Hampshire."
Eighteen percent of foreign subsidiaries are in high-tech industries, with 23 in professional, scientific and technical services; 20 in computer and electronic product manufacturing; and 12 in machinery manufacturing.
"The majority of the high technology companies in New Hampshire are in the highest concentration of scientists and technicians, so they support very high paying, advanced jobs in the state," said Wright.
This is an area where Wright and Wu see growth potential. Wu has created conditional models, analyzing where foreign companies have located subsidiaries and the potential for locating and increasing job creation in New Hampshire.
His models show Germany is the most likely to invest in New Hampshire, with the potential to support 32,149 jobs in the state. East Asia — Japan, Korea and China — Australia and the Middle East also show strong potential.
"This would provide some guidance for our state agency as to where to put their efforts," said Wu.
The idea is PSU's report would help the state strategically plan which countries to visit and promote New Hampshire as a foreign direct investment destination.
"We'd like to offer some policy suggestions to the government. One of the things we think is important is the indexes we create. This will direct state efforts regarding how to allocate their limited resources to attract foreign direct investment from certain countries. Economic policies can play positive roles in attracting foreign direct investment," said Wu.
Policy recommendations
Among policy changes the report recommends are increasing the number of foreign trade zones – which provide tax-free zones for imports used in the production of a product. "Those are very important," said Wu. "The more the better."
Another recommendation is establishing foreign offices to promote New Hampshire as a destination for foreign direct investment.
Wu said that, in 2015, 47 out of 50 states had foreign offices with representatives providing trade and investment services. He noted, during the recession, California closed its 80 offices around the world, but reopened them after weathering the financial crisis.
"These offices are important to tell people 'Come to New Hampshire, we have good business environment, we offer talented workforce,'" said Wu.
"Plymouth State University's comprehensive analysis of foreign direct investment in New Hampshire is substantial and important," said Taylor Caswell, commissioner of the New Hampshire Department of Business and Economic Affairs, in a press release on Wednesday. "This work will be highly useful as part of our department's growing concentration on key geographic areas and sector emphasis as we refocus New Hampshire's international commerce activities. … The work that went into this report and the action that it will inevitably lead to is an excellent example of New Hampshire's competitive edge."
"I think New Hampshire has an advantage to attract foreign investment," said Wu. "One of the reasons is that we are actually a very business friendly environment."
Wu pointed to the corporate income tax and proximity to Boston that attracts foreign subsidiaries along New Hampshire's southern border.
"They feel a little insecure doing business in a foreign country so they like to support each other and share resource pooling," said Wu.
By mapping out the location of the subsidiaries, Wu noticed the congregation of subsidiaries in the southern part of the state does spillover to the inner counties.
Grafton, Cheshire, Stratford, Sullivan, Belknap and Coos counties capture almost 25 percent of FDI. Even Sullivan, which receives the least foreign direct investment, has subsidiaries with parent companies in seven countries. "So we see a bright future," said Wu.
"All of our findings is that foreign direct investment is good for New Hampshire. It contributes to economic development. These are companies that add something to the business climate in New Hampshire to the local customers," said Wright. New Hampshire-owned companies can benefit from a network of foreign subsidiaries as well. "Part of the findings is that the local companies that establish themselves would find these partners that have access to the global supply chain."