Report: Disparities persist for New Hampshire women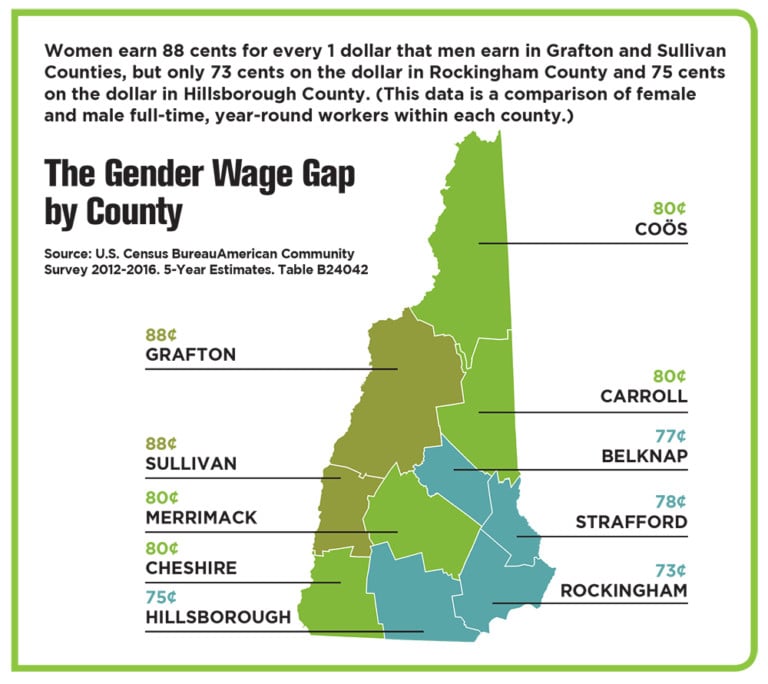 Women in New Hampshire face continued obstacles when it comes to opportunity and economic security, according to a newly released report from the NH Women's Foundation.
The report, "The Status of Women in New Hampshire," is a compilation of 15 key data sets on four measures — health, safety, economic security and leadership. And in almost all cases, the numbers aren't pretty, whether it involves the wage gap, poverty, exposure to sexual violence or access to leadership spots in government and business.
The report "tells us where we are right now," said Sarah Mattson Dustin, director of policy for the foundation. She co-authored the report with Kristin Smith, a family demographer at the University of New Hampshire's Carsey School of Public Policy.
The report's statistics highlight the impact of disparity when it comes to economic security and opportunity.
For example, while women make up half of the state's population and are more likely than men to have a high school or college education, women with full-time, year-round jobs earn 79 cents for every $1 earned by men — a gap that is larger than the national average of 82 cents per $1.
The wage gap differs from county to county. The gap is lowest in Grafton and Sullivan counties — 88 cents per $1 earned by a man — and highest in the state's two most populous counties, Rockingham (73 cents) and Hillsborough (75 cents).
There are also gaps within certain industries, particularly in four sectors that are key to New Hampshire's economy:
• In engineering and architecture, women earn 88 cents for each dollar a man earns in the same field.
• In the life, physical and social science professions, women earn 79 cents compared to a man's dollar.
• In the computer and math fields, women earn 77 cents per a man's dollar.
• In healthcare, the gap is far larger: 60 cents for each dollar a man earns.
Except for healthcare, an industry in which women overwhelmingly fill lower-paying jobs, there are no clear explanations for the disparities, said Smith, although she said, "The engineering field has made a lot of efforts to retain female workers and part of that retention has come along with increasing wages and increasing benefits. That is not to say that there isn't money discrimination in those fields, but it seems that retention is better than in other fields."
In other words, said Tanna Clews, CEO of the NH Women's Foundation, "there are industries, like engineering and architecture, that maybe are not getting it right yet, but they're getting it better."
Katie Merrow, vice president of community impact for the NH Charitable Foundation — which provided funding for the report — called the wage information "critical infor-
mation for employers who are looking
to attract and retain women employees."
"Women in New Hampshire have historically had very high rates of labor participation — they're critical to the workforce," she said. "The report points to ways we could increase economic security for women while addressing critical workforce needs."
Other findings
Another aspect of the gender gap can be seen in the poverty rate. Some 9 percent of adult New Hampshire women live in poverty, according to the report, while 6 percent of men do.
Again, there are geographical differences. For instance, the poverty rate for women is highest in Coos County, where 13 percent live in poverty. That's more than twice as high as it is in Rockingham County, where 6 percent of women live in poverty.
There are also racial disparities when it comes to poverty in New Hampshire. Poverty is highest among Hispanic women (16 percent), black women (16 percent), and women who are multiracial or belong to another racial group (22 percent).
Among the other key findings of the Status of Women report:
• The median personal income for women age 65 and older is $19,700 — $15,800 less than men in the same age group, whose median income is $35,500.
• Women with bachelor's degrees have less personal income ($23,100) than men with no college education ($27,000).
• More than one-third of women and men in New Hampshire have experienced intimate partner violence during their lifetime, but women are more than twice as likely as men to have experienced sexual assault during their lifetime.
• Despite being half of the population, women hold 29 percent of the seats in the NH Legislature.
• Some 38 percent of elected mayors are women and 62 percent are men; 30 percent of elected city councilors are women and 70 percent are men; and 52 percent of school board members are women and 48 percent are men.
• Some 17 percent of the CEOs of New Hampshire companies with more than 1,000 employees are women, and 26 percent of companies with 250 or more employees have a women CEO.
The Women's Foundation said it intends to update the information contained in the report every two years. The complete Status of Women in New Hampshire report is available at nhwomensfoundation.org.
NH Business Review editor Jeff Feingold is a member of the board of directors of the NH Women's Foundation.