Report details impact of REITs on New England economy
In New Hampshire, they own over 800 properties worth $3.7 billion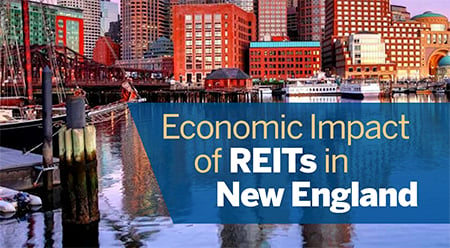 A recently released report sees real estate investment trusts, or REITs, as major contributor to the New England economy.
The report, "The Economic Impact of REITs in New England," developed with data from the trade group Nareit for the New England Council. It details various ways that REITs are contributing to the New England economy, ranging from employment to assets and community revitalization.
In New England, according to the report, there are over 13,000 REIT-owned properties in New England, representing $94 billion in gross assets and over 100,000 jobs.
The report says that there are currently 802 REIT-owned properties in New Hampshire with a $3.7 billion gross asset value. In total they support some 5,000 jobs, according to the report.
More specifically, the New Hampshire REIT-owned assets include 49 healthcare buildings, eight hotels, 11 industrial facilities, three office buildings, a mixed-use complex, seven residential properties, 123 real estate buildings, 24 storage properties, 323 telecom towers and six specialty properties.
Modeled after mutual funds, REITs give investors the chance to own an interest in real estate, provide dividend-based income and total returns.
The region's REIT-owned properties include commercial properties like office buildings, shopping centers, hotels, data centers and recreational and entertainment facilities, residential properties such as apartment complexes and rental homes as well as consumer and commercial storage facilities, over 3,000 telecom towers and nearly a million acres of timberland.
"As this report details, these businesses are having a tremendous impact on our region's economy, ranging from community revitalization to supporting tens of thousands of jobs thought the six New England states," said James T. Brett, president and CEO of the New England Council. "We hope that this report will provide stakeholders and policymakers with a better understanding of the role these companies play in our region's economic wellbeing."
According to the report, there are 16 New England-based REITs, 14 in Massachusetts and two in Connecticut.