Report: Boat industry helps N.H. economy stay afloat
An industry report says some $321 million was spent on boats in the Granite State, and that spending leaves about the same amount of indirect economic activity in its wake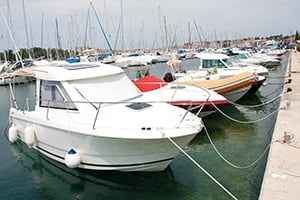 Those boats, parked in a driveway or tied to a pier, make a big splash in the state's economy — a $760.7 million splash to be precise, if you count the ripple effect, according to a report released last week by the National Marine Manufacturers Association.
The industry's "rising tide" (the words of the association's press release) caused by the 77,500 boats in the state supported more than 6,000 jobs and 256 businesses in New Hampshire, according to the report. Nationally, the industry claims credit for 964,000 jobs and 35,000 businesses.
The association said people spend about $321 million on their boats in the Granite State, and that spending directly leaves about the same amount of indirect economic activity in its wake. Nationally, $83 billion in spending results in an economic value of $121 billion, according to the report. The industry anticipates sales will grow by 5 percent in 2013.
"New boat sales have historically been a barometer for the U.S. economy, and the steady sales increases we're seeing are being reinforced by the slow uptick in consumer confidence, housing and spending," said Thom Dammrich, president of the association.