Report: 13.4% of NH bridges structurally deficient
2013 statistics find 317 bridges are in 'poor' or worse condition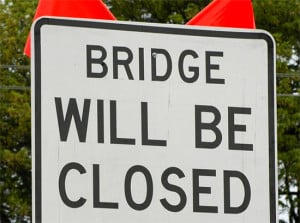 Some 32 percent of New Hampshire's bridges were either "structurally deficient" or "functionally obsolete" in 2013, according to figures released by the U.S. Department of Transportation.
The DOT reported that 317 of the state's 2,359 bridges – 13.4 percent – were structurally deficient at the time. The statistics were compiled by the American Society of Civil Engineers.
"Structurally deficient" means one or more of the key bridge elements, such as the deck, superstructure or substructure, is considered to be in "poor" or worse condition. "Functionally obsolete" means a bridge doesn't meet design standards in line with current practices.
The county with the biggest needs was Rockingham, where 48 of 427 bridges (11.2 percent) were considered structurally deficient. In Cheshire County, 37 of 345 bridges, or 10.7 percent, were structurally deficient, followed by Merrimack (49 of 496 bridges, or 9.9 percent) and Sullivan (24 of 249 bridges, or 9.6 percent).
In Coos County, 24 of 269 bridges, or 8.9 percent were considered deficient, followed by Hillsborough (47 of 550 bridges, or 8.5 percent), Carroll (23 of 300 bridges, or 7.7 percent), Strafford (13 of 199 bridges, or 6.5 percent), Grafton (43 of 784, or 5.5 percent) and Belknap (nine of 181, or 5 percent).
Congress remains deadlocked on passing a long-term highway funding bill, although the House is reportedly due to vote on a bill today that would temporarily fund transportation spending through Dec. 18.
If it makes its way through Congress, it would be the 35th time since 2009 such a short-term remedy has been cobbled together in Washington.