Renovations nearing completion at Laconia 62-and-over project
Project will feature 50 units at historic Tavern Inn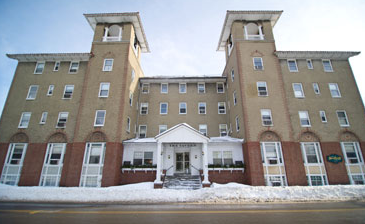 Laconia Housing is completing renovations to the Tavern
Inn on Church Street, an historic building in downtown Laconia.
When completed, the Tavern Inn – built in 1912 – will feature 50 affordable studio and one-bedroom apartments for people 62 and older.
The Tavern Inn hallways and common areas are getting a makeover with freshly painted walls in modern level-coding colors, plank tile flooring and new acoustical ceiling tiles. Other improvements include a completely rebuilt parking lot, exterior brick repointing, and boiler replacement. All of the improvements have been funded through a loan from TD Bank.
Using Community Development Block Grant funds, the Tavern Inn also was recently modernized with a 33-kilowatt solar array on the roof, LED light fixtures, new windows, and ceiling insulation where previously there was none.