Renee Plummer, 2014 Outstanding Woman in Business
Vice President of Marketing, Two International Group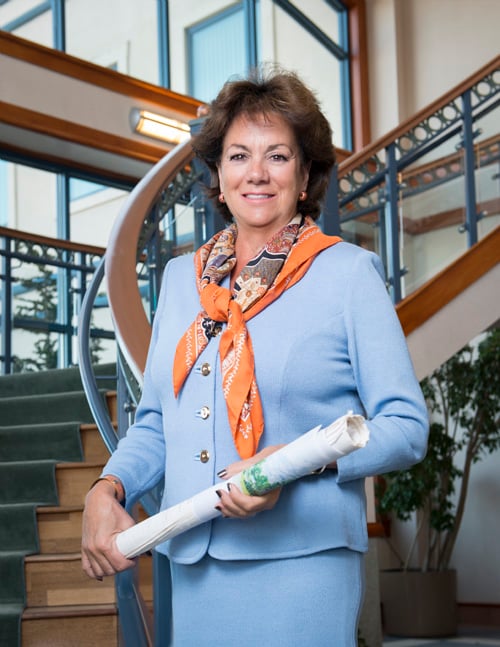 Renee Plummer may have the best Rolodex on the Seacoast. She's a Portsmouth power broker who seems to know just about everybody, and it was her ability to leverage those connections that helped her to fill the office buildings at Pease when it was an up-and-coming business park.
Plummer is vice president of marketing for Two Interna- tional Group, a commercial real estate development firm that was one of the driving forces leading the successful transformation of Pease International Tradeport from a shuttered Air Force base into a thriving business and industrial park.
Since 1997, Two International Group has built 16 buildings with 850,000 rentable square feet and developed more than 70 acres at the tradeport, which is widely lauded as one of the most successful military base redevelopment projects in the country. The company also owns One and Two Harbour Place in downtown Portsmouth.
When Two International Group was breaking ground on its first tower at Pease, it faced a daunting task: they were building on spec without any tenant commitments, not to mention pessimism from some observers that the base wouldn't be able to attract businesses. So Plummer had an idea – she phoned a Wall Street Journal reporter, and was able to convince him to write an article on the redevelopment at Pease. The article created a buzz, tenants began to show interest "and the rest is history," said Plummer.
Of course, the many high-powered contacts that Plummer had made through her numerous volunteer pursuits and political activities didn't hurt, either. For years, she had been involved with Exeter Hospital's Fashions by the Sea fundraiser, through which she met many corporate executives (who would ask Plummer to secure good seats for their wives).
On top of that fashion show, Plummer has had her hands in organizing and fundraising for many of the Seacoast's most notable events – the Boston-Portsmouth Air show, the USS New Hampshire commissioning, the Scarecrows of the Port, and many more. In fact, she is so frequently asked for assistance with events and fundraising that in 2006, she started her own charity, the Granite Springs Foundation, which helps other nonprofits raise money.
"There is virtually nothing of importance that occurs on the Seacoast that doesn't have Renee's handprints all over it," wrote her nominator, Mark Sullivan, of Seacoast Asset Management.
Though a New York native, Plummer quickly acclimated to the special standing bestowed on New Hampshire via its first-in-the-nation primary, organizing fundraisers and helping with the campaigns for then-New Hampshire Congressman Bill Zeliff and Kansas Sen. Bob Dole's presidential run.
A born entertainer and foodie, Plummer and her husband Dan (who is president of Two International Group) also act as mentors to local college students, inviting them into her home for dinner parties and networking opportunities.
"We're just happy to help people," said Plummer. "I want to give them the tools to change their lives."

Q. What have been some of the biggest challenges to getting where you are today? A. I love challenges. I love when people say 'No you can't,' like when people turned their backs on us when we started building at Pease, saying 'Nobody will ever move there or come to Pease – it's all cow pasture.' I thought they had a second head. I wondered, do they not realize how perfect this place is? Now, of all the BRACs (Base Reassignment and Closures) that they've closed, Pease is the most successful, so it worked out well. In the beginning, it was also a challenge getting people to listen to me rather than a big commercial broker.

Q. Did you have a professional mentor?
A. When I was part of the Exeter Hospital Associates, there were a few old-time women who had been there for years and it was my first time sitting on a board
like Fashions by the Sea – women that were smart, they were hardworking even though they had come from money, they understood about giving back to your com- munities and teaching their children and grandchildren that you have to give back. I loved learning from these women. I take a little bit from everybody.

Q. How do you balance your personal and professional lives?
A. That's difficult; I think that's probably always going to be the hardest thing, especially if you have children. You have to have the right people around you so you can balance it. I don't know if anybody has any formula for that.

Q. What advice would you give to young women just starting their careers?
A. Do what you love, but for women, this is hard because you also have to be quick, you have to know how to dress, you have to be smart, you have to have common sense – you've got to have the whole package. And surround yourself with the right people. Everyone around me is smarter than I am, which is great because it makes me look better. I have people around me who are smarter than I am and I love it because I want to learn everyday.