Remembering three giants
In their lives, Barbara Bush, Peter Peterson and Stewart Lamprey set examples that are difficult to find today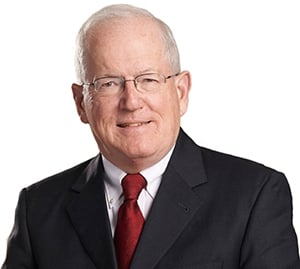 Sometimes, when people pass from the scene, it seems as if "constants" in our lives have gone away, leaving huge voids.
Recently, there have been three such losses, which affect New Hampshire, directly or indirectly.
When former First Lady Barbara Bush died, it was as if America's grandmother had died. Wife and mother of presidents, opinionated, forceful and yet gracious and warm, Barbara Bush epitomized grace and class. Her loss was not only felt by her family, but obviously by the nation as tributes came in from leaders from all points of view and philosophies.
The Bush family's embrace of former President Clinton and his wife Hillary was an example of the breadth and warmth they demonstrated, especially given the fact that Clinton beat George Herbert Walker Bush for the presidency, perhaps one of the most significant losses for the nation in the 20th century, given Bush's performance and experience. The Bushes' marriage of over 70 years, dedication to each other and their family, as well as to the nation, was a great example for all of us. Their loss of a young daughter early in the marriage was a reminder that no matter what the family's circumstances, none of us are immune from tragedy or problems. Rather than let it divide them, it seemed to unite them.
Former Commerce Secretary Peter G. Peterson also died earlier this year. Founder of the Concord Coalition and its prime source of funding, he was connected to New Hampshire in several ways.
First, he recruited Warren Rudman to be co-chairman of the Concord Coalition after having been impressed by Rudman's service in the U.S. Senate. Rudman and Paul Tsongas, former Massachusetts senator, co-chaired the coalition as it advocated for fiscal sanity, balanced budgets and controlled spending.
While that effort apparently has not borne much fruit lately, Peterson's untiring efforts and continued dedication to the cause into his 90s was a strong reminder of the need to think about the ramifications of deficits and debt. Peterson built a financial and business empire, served in government in several capacities, had a foundation which helped many causes, and was a major figure and role model for others.
On the local level, in honor of Rudman, Peterson was a major contributor to the Rudman Center at UNH School of Law. He attended several events there, including the initial dinner. At a later appearance, in a droll address, he recounted a recent review of one of his books on the economy and fiscal responsibility.
He said, "My good friend at the New York Times reviewed my book recently. It was my 12th book and, the reviewer said, 'I just read Pete Peterson's newest book. Once you put it down, you can't pick it up.'" The room, having done a double-take, exploded in laughter and Peterson enjoyed the joke on himself.
Peterson's wife, Joan Ganz Cooney, was the founder of Children's Television Workshop and its premier production, "Sesame Street." With foundation support and encouragement from Peterson, "Sesame Street" has influenced the lives of generations of children in New Hampshire and literally worldwide.
New Hampshire lost a major figure when former House Speaker and Senate President Stewart Lamprey died at 96 on April 4.
Lamprey had spent his entire life serving New Hampshire and was praised by Republicans and Democrats alike for his service. He started in the Legislature in 1951 and served five terms, three as speaker from 1959 to 1964. He was elected Senate president three times, serving from 1965 to 1969 — the only person in state history to be both Senate president and House speaker three times.
Notably, he was the campaign manager for Republican Walter Peterson in his run for governor and served as Peterson's senior executive officer for two terms. He also served in the federal government as deputy undersecretary of commerce in the Nixon administration. A Realtor and business broker in his private life, Lamprey participated in state affairs until age caught up with him a few years ago.
Stewart Lamprey was part of a significant group of people who changed New Hampshire politics in the late 1960s, bringing a centrist Republican point of view to the problems of the state, changing its tax system and modernizing its government. With his death, the last of the giants of that group seems to have passed from the scene and that should not occur without being noted.
Others in the group included Peterson as its leader, David Nixon, Kimon Zachos, Warren Rudman, Martin Gross (a Democrat), Lou D'Allesandro, who blessedly is still with us, Jim O'Neil and many others now departed.
The example set by Mrs. Bush, Secretary Peterson and Stewart Lamprey might be compared to some on the national scene today, who unfortunately would suffer from the comparison.
Brad Cook, a shareholder in the Manchester law firm of Sheehan Phinney Bass & Green, heads its government relations and estate planning groups. He can be reached at bcook@sheehan.com.