Sedoric: Remembering Paul Volcker
He was an exemplary public servant who I was privileged to call a friend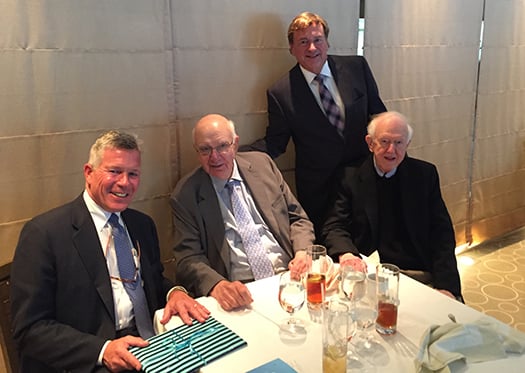 Paul Volcker, who died Dec. 8 at 92, was the exemplar of public service surpassing all others with his notable legacy, matched by his towering presence and stature.
I first met the 6-foot 7-inch Paul Volcker in 2011 on the veranda of the Mount Washington Hotel in Bretton Woods, where financiers, economists and public officials were gathered for a conference hosted by the Institute for New Economic Thinking. I looked skyward up at this Goliath, introducing myself and promptly thanking him for his many years of public service.
"Hey, can you say that again?" Volcker quipped as he turned to introduce me to Jim Yong Kim, the incoming president of the World Bank. We enjoyed several get-togethers in the next eight years and, like everyone fortunate enough to share his company, I always left enlightened and enriched by the experience.
As a financial advisor working in New Hampshire for the past three decades, I expect Mr. Volcker was used to "faster" financial company. Yet, when we conversed a few years ago, he expressed some regret about having chased yield by investing in oil and gas partnerships that had soured. I suggested alternatives that fared well, he thanked me for my "good advice" and said my job might be more demanding than his because I dealt with the lives and fortunes of individuals and families while he "managed policy."
Apart from the graceful modesty of his remark, I reflected on how much my career thrived and my clients prospered because of the role Mr. Volcker played during his 25 years at the Treasury and the Fed.
By sustaining the dollar as the medium of international exchange after the Bretton Woods system unraveled and by stanching the "Great Inflation" to restore the purchasing power of the dollar, he set the scene for a generation of stable prices and steady growth. This is our generation, the most affluent in our history.
Mr. Volcker described inflation as "a kind of economic shell game in which rising incomes disappear at the supermarket or the shoe store." This deception, he said, "undermines trust in government and is the greatest evil of inflation."
It was a lesson he learned from personal experience. When he left for Princeton, his mother gave him an allowance of $25 a month – the same as his sisters before him. When he reminded her that prices had doubled since the 1930s, she was unmoved, leaving him to sell hot dogs at football games for extra pocket money.
Years later, with consumer prices rising at 13% a year, Mr. Volcker became chairman of the Fed, his salary a bit more than half of his salary as president of the Federal Reserve Bank of New York. Renting a small apartment – "a dormitory room with a kitchen" – for $400 monthly he coaxed his daughter into doing his laundry. Meanwhile, his wife Barbara, a diabetic stricken with rheumatoid arthritis, remained in New York with their physically challenged son Jimmy, where she took a part-time job and rented out a room.
He knew firsthand how monetary policy affected the daily lives and fondest hopes of his fellow citizens.
At our last encounter, we shared our mutual concern at the efforts of the Trump administration and Republican Congress to eviscerate the Dodd-Frank Act, which included the "Volcker Rule" forbidding banks from engaging in proprietary trading – or, as Volcker declared, "gambling with the taxpayers' money."
While Mr. Volcker may be best remembered for his leadership of the Fed, he told me he would prefer his legacy to be a greater attention and respect for public service – he bore the title "public servant" with the pride of an inherited title.
In his last years, he grew increasingly troubled by the erosion of respect for government – federal, state and local – a measure of which he traced to "lapses in public management." In 2013, he founded the Volcker Alliance, with the credo that "good policy is dependent on good management." Its mission is to revive interest at our universities in the managerial aspects of governance and to increase the investment in preparing young people for careers in public administration.
As the effects of Paul Volcker's management of monetary policy are eclipsed by time and circumstance, we would all do well to reflect on the character and career of this exemplary public servant. Others will take the full measure of the man, but none will be more grateful than me for the privilege of having shared his company and being his friend.
Tom Sedoric lives in Rye.