Remembering Marilyn with Schani Krug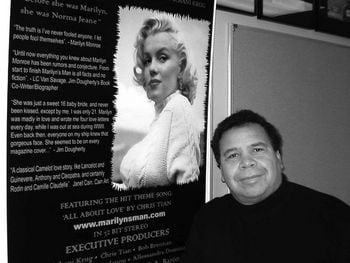 The cliche is sometimes right — truth is stranger than fiction. The story of Portsmouth-based Valhalla Productions and its first film, "Marilyn's Man" — a documentary about the love affair between Marilyn Monroe and her first husband, Jim Dougherty — is one no screenwriter could imagine.
Two years ago, first-time director Schani Krug and producer Erik Baron didn't know each other and were not in the filmmaking business. In May, they will present "Marilyn's Man" at the Cannes Film Festival in France, and they are talking about distribution deals with Hollywood heavyweights like Miramax Studios.
Krug is a former Hollywood cameraman who worked on hundreds of television productions, including "The Rockford Files," "Sanford & Son" and "Days of Our Lives." He had moved back to the East Coast after having his "financial clock cleaned" in a Hollywood divorce and was working as an antiques dealer. Baron had worked on Wall Street as a financial adviser, and after watching the World Trade Center towers collapse on September 11th — he worked there but was taking the day off to fish when the towers were attacked — he quit and moved to Maine to work as a commercial fisherman.
Krug met Baron at a Kittery pizza parlor, where Baron was working as a pizza delivery man. "The guy who ran the pizza place introduced us," Krug says while shaking his head in amazement. "Erik didn't know anything about the film business, didn't even know what a producer was. But he knew how to raise money, which I didn't."
New Hampshire Business Review recently sat down with Krug while he was overseeing final editing of his film at Pixel Force's post-production studio in Laconia.
Q. Where did the idea for 'Marilyn's Man' come from?
A: The idea came to me when I met Jim Dougherty at a book signing at Dunn's Watch and Clock repair in Kittery in June 2002. I immediately felt a need to make this film, and though I'd been in the business as a cameraman in Hollywood, I'd never directed.
What's strange is that Jim had signed a contract with a Japanese production company who were going to make a non-fictional treatment for about $9 million. They even got started, but the company fell apart and I walked right in after them.
Q. What is it about this story that interested you, and why haven't we heard more about Jim Dougherty?
A: I was attracted to the story because I was intrigued by the genesis of how and what Jim did to steal the heart of the most famous actress and icon of all time.
Everybody wants scandal, grit and dirt, but for more than 50 years Jim has kept mostly quiet, kept quiet about what the media did to her and the myths that grew around her.
I believe their time together, the four years when they were married (1942 to 1946) were crucial — without him, there never would have been a Marilyn Monroe. He formed her, shaped her and influenced her on a molecular level. The story was much like Pygmalion and Galatea. The only difference was that she was not carved out of marble, but carved from the media and the public. Marilyn said it best: "The truth is I've never fooled anyone. I've let people fool themselves."
Q. What's been foremost on your mind while making the film?
A: My main goal is to tell an honest and sensitive story about Norma Jean and Jim. I want to humanize her and set the record straight about the misconceptions about her life.
She is one of the most recognizable icons ever, but things could have been quite different. They met when he was 20 and she was 15 and got married a year later, and she was madly in love with him. He was one of the most handsome boys at their high school (in Van Nuys, Calif.).
If, for example, Jim hadn't joined the Merchant Marines in World War II — and she begged him not to go — Jim believes Marilyn would have been quite happy to be a nice old grandmother with her grandchildren, living in Maine (where Dougherty, 82, lives now, after a distinguished career as a Los Angeles police officer).
But then there was the "Rosie the Riveter" poster of her and it became one of the most popular photos of the war. When he saw his shipmates with Marilyn's poster on their bunks, Jim would say "Hey, that's my wife! That's my wife!" but no one believed him.
Q. What's the process been like?
A: It's been 18 months to get where we are now. This began as a small project. I thought it might be like one of those A&E documentaries, but it got pregnant in a hurry. Jim has so many wonderful stories and we came across more photos no one had seen before. And then there's beautiful period music and an original composition by Chris Tian (a Portsmouth-based singer).
We should have a distribution deal soon. We just talked with Miramax. Who knows? We might end up in a bidding war, which I never imagined.
Q. How did you finance this?
A: It wasn't easy. Our financing came from a myriad of sources, mostly my own money, and from various seacoast investors that I brought on board, as well as Erik. I sold all my antiques — I sold everything I could to raise the $150,000 to get going.
Selling is not a problem now. Finishing it is. Because of the subject, all our marketing has been done for us. We've just signed a deal (for licensing) and the word is getting out that this is the definitive film.
Q. What might an outsider be surprised to learn about this business?
A: That it isn't as easy as it looks to make a film. It's glossy on the outside, but in reality, it is a mixture of sheer terror, mixed with complete, orgasmic ecstasy, once you see your idea transformed into a reality.
Q. What's next for you?
A: We are already in the planning stages for the next film. It will be part of the distribution deal we are negotiating and be a bigger-budget full-length feature film about Jim Dougherty and his wife Norma Jean. NHBR
Editor's Note: Jim Dougherty is scheduled to appear on "Larry King Live" March 12 on CNN. For more information, see marilynsman.com.