NH recovery centers model how to treat recovering employees
'Many folks who work in this field are in recovery because they want to help people with what they know'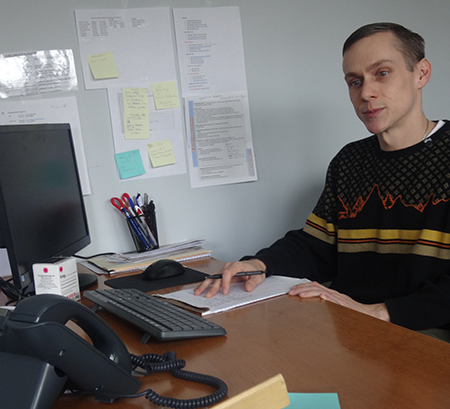 When Ryan Fowler, a recovery specialist in long-term recovery at Granite Pathways in Manchester, lost a friend to an overdose death last year, he was encouraged to take time off to grieve and got a card of support from co-workers when he returned.
At his prior recovery jobs, Fowler would have kept his loss hidden, he said, because that support wasn't there. "Because I've had such great support (at Granite Pathways), my job is a strength for my recovery," Fowler said.
An estimated 30 percent to 50 percent of addiction professionals are in long-term recovery themselves, said Dr. Dorothy Saxon Greene of East Tennessee State University, who studied this population in 2014. She found a 14.4 percent relapse rate but two prior studies found a 38 percent relapse rate.
And while research shows that recovering addicts fare better when they have meaningful work in a safe environment, many share Fowler's experience: They aren't offered that support or don't trust it would be there even if promised. They fear they will be fired and lose their license to practice. They are hesitant to attend a local support group for fear of encountering a client.
New Hampshire may be an example for the rest of the country when it comes to workplace culture and the state's response to licensees whose substance abuse impairs their work.
At least nine of the state's largest substance use disorder treatment providers signed on last March to Gov. Chris Sununu's new Recovery Friendly Workplace initiative – a project that encourages employers to see recovery from substance use disorder as a strength, not a failure.
Employers who sign on can work with advisors to review their drug and alcohol policies, establish supportive evidence-based health and safety practices and plan trainings on substance misuse, behavioral health and addiction. The services are free.
'Natural fit'
Several of those nine providers said joining was a way to tell other employers they've tried it, and it works.
At Gatehouse Treatment, a drug rehab center in Nashua, more than a dozen employees are in long-term recovery, including Chief Executive Director Ed McDonough. He said they have designated a "safe person" for anyone in need, not just those in recovery, and encourage employees to take mental health days when needed.
"If I had cancer or went into diabetic shock, my co-workers would probably send flowers, pick up my shifts and send a casserole home," said McDonough. Substance use disorder is no different, he said.
Joining was a "natural fit" for Headrest, an addiction recovery service in the Upper Valley, said Executive Director Cameron Ford. The nonprofit hires former clients who have completed treatment and been in recovery for at least two years and lets them know that support is there again if they need it.
"Many, many folks who work in this field are in recovery because they want to help people with what they know," Ford said. "That's been great for the industry."
At Granite Pathways, where Fowler experienced support for the first time since joining the recovery profession, there is a mandatory staff meeting each week to offer peer support to co-workers who are struggling. And employees also get weekly supervision to help them work through difficult cases.
Under state law, licensed drug or alcohol professionals can be disciplined if they use controlled substances or alcohol and it impairs their ability to work safely with the public. Jacqueline Abikoff, chair of the state Board of Licensing for Alcohol and Other Drug Professionals, said the key word is "and."
"The push is to start measuring whether someone is unable to work in the profession based on their work performance and not whether or not they have relapsed," she said. Focusing on relapse would create more problems than it solves and disregard the power of treatment, she said.
For example, how would the state define relapse? Drinking for an evening? For a week? And, Abikoff said, relapse would apply to only those who identify as being in recovery and not the rest of the profession.
'How can we help?'
The question isn't whether someone is using, it's are they doing their job safely, Abikoff said.
If the licensing board concludes the licensee is practicing impaired, it may restrict his or her ability to practice or arrange to have them supervised while they are undergoing treatment. The board will also monitor the practitioner's progress with a goal of allowing him or her to return to a full practice.
"The first response is, 'How can we help?," Abikoff said. That doesn't mean they get a pass. Criminal behavior, breaches of integrity or ethical violations warrant discipline, she said.
"Having a disease does not excuse you from accountability," she said. "We are responsible for our recovery. We are not responsible for our disease."
Ashley Hurteau, criminal justice recovery manager for SOS Recovery Community Center in Dover, was disciplined for her heroin addiction – with incarceration – before joining the field. The licensing board agreed to waive Hurteau's criminal conviction and granted her a certified recovery support worker license.
Now she works alongside the same police, probation and parole officers who previously arrested and monitored her. She did not have the option of keeping her recovery private, and she was worried she would continue to be seen as a client and not a professional.
She's been treated as the latter since she started in 2016.
"The response has been more than anything I expected," she said. When she paid off her restitution, her former probation officer texted her to say her work was appreciated. They wanted to celebrate with her when she marked her third year of recovery.
"I haven't relapsed since I got sober and into this field," Hurteau said. "But if I relapsed I know I could call my boss and he would totally drop whatever he was doing and help me come up with a wellness plan. I would not lose my job."
See an opportunity
Chris Placy of Newmarket started Substance Free Workplace in 2011 to help businesses develop workplace policies and culture that support employees whose substance use is interfering with their work. That sometimes means telling companies what doesn't work.
Placy dislikes zero-tolerance policies for most workplaces because firing employees for substance misuse moves them on to another unsuspecting employer at a cost to the business and local communities. He encourages employers to see these situations as an opportunity to make a difference in an individual's life and the state's drug epidemic.
He also encourages companies to develop policies that address issues specific to substance misuse. Rather than say an employees can be fired at the discretion of the human resources department, tell employees what is expected of them and how falling short will be handled.
Include a "recovery return agreement," he said, that lays out the response for work impairment due to substance misuse. That may include drug testing, an alcohol evaluation and a requirement to follow all the recommendations of a substance abuse counselor.
When Placy visits companies to educate staff on recognizing and addressing substance misuse, he tells them the goal should be to support and retain good employees, not look for ways to fire them. He knows that first conversation can be difficult, so he gives them pointers for that too.
"I'm concerned about you, you don't look well," Placy said. "You've been late the last five days and your work performance isn't what it used to be. What can I do to help?"
That last line is what treatment providers say matters most.