Record prices at the pump have many drivers in the area changing their ways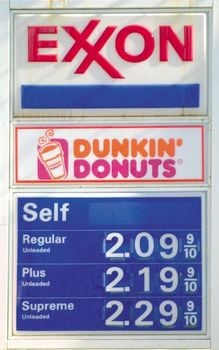 Charlene Brady is getting rid of her 1997 teal Mitsubishi Eclipse sports coupe.
Not because she doesn't like it. Not because it doesn't run well.
"It costs too much to fill it up," the 18-year-old Dracut, Mass., woman said Wednesday after spending $20 on a tank of gas at Haffner's Kick Stop in Hudson – for a total of $50 this week.
"I filled up two days ago and I'm already on empty."
Brady, who has only had the car for two months, was on the way to a used car dealership to test drive something else. Something she can afford to fill up so she can get back and forth to school every week.
"I just thought you get in a car and you drive it," she said. "It's outrageous."
Brady is not the only one making major changes in response to rising gas prices. Most motorists interviewed in Hudson and Nashua on Wednesday say they are cutting back on travel, watching their wallets and doing errands all at once now that gas prices have hit $2 or more per gallon. Only a few people interviewed said the prices didn't bother them.
Nationally, gas prices are at a record high – on average $2.01 a gallon for regular – according to AAA. That's compared to an average of $1.80 last month.
RISING PRICES
Last year at this time, consumers paid $1.50 a gallon for regular gas.
"Terrible," Olive Brown, 80, of Chelmsford, Mass., said as she filled up her Buick LeSabre. At $1.99 a gallon, her total came to $20 for 10 gallons.
Brown said she is traveling less, but "If I didn't have a car, I'm stuck home, and I like to get out."
James Williams, president of WTRG Economics, an Arkansas-based consulting company for energy producers, blamed the spike on the high price of crude oil – the oil that comes out of the ground – and lower than normal inventories.
While crude oil inventories were up Wednesday morning a little over a million barrels, gasoline inventories went down 1.5 million barrels from 204 million to 202.5 million, Williams said, quoting numbers from the U.S. Department of Energy's weekly petroleum report.
"It means you and I drove too much and they didn't produce enough gasoline to match demand," he said.
"We're importing 10 million barrels a day of crude. Just the timing on a couple of these tankers coming into port can make these inventories change . . . We got a little extra crude imports they haven't moved through the refinery yet."
The most expensive gas in Nashua listed Wednesday on newhampshiregasprices.com – which tracks prices at selected stations – was $2.09 a gallon at the Exxon at the corner of Daniel Webster Highway and Spit Brook Road.
"People are aggravated, but it's really out of our control," said Anna Bettencourt, manager at that Exxon Station.
Two weeks ago, gas cost $1.77 a gallon, 32 cents less than it did Wednesday, she said.
"We're just reacting to a cost increase," she said, adding that business has not slowed.
The lowest-priced gas could be found for $1.91 a gallon at three gas stations in the state, according to Wednesday prices listed on the Web site, including the Charter gas station on Daniel Webster Highway in Merrimack.
The highest price was $2.11 a gallon at the Main Street Gulf station in Goffstown.
Regular gasoline at self-serve pumps in Greater Nashua went for between $1.96 and $2.05 Wednesday, while mid-grade cost between $2.05 to $2.19. Premium prices started at $2.25 and went up to $2.29.
WTRG's Williams said consumers are to blame as much as anything else.
"This is our fault because we are using more," he said.
But consumers say they are doing everything they can to use less.
John Sousa, 54, of Nashua, said he has talked to his wife about getting a more fuel-efficient hybrid vehicle, which runs on a combination of gasoline and battery power.
"This is ridiculous," said Sousa, whose Saturn gets about 30 miles per gallon. "The hybrid gets you about 60."
Sousa also has changed his personal daily habits.
"I'm traveling less now," he said. "You look at it and say, 'Do I really need to go there?' "
And, as Sousa points out, as gas prices go up, so does the cost of food, clothing and nearly anything that is transported from one place to another.
"This could kill this economy," he said. "When the price goes up to $3 a gallon, can you imagine what everything is gonna cost you? Just getting to work . . .
"It's crazy and it's been neglected. That's the thing that bugs me the most."
Marc DeCastro, 61, who is visiting from Sanibel Island, Fla., said he sees the problem getting worse.
"I see absolutely nothing going on at the federal government level to bring these prices under control," he said. "No influence on foreign policy, no influence in anything. We seem to be at the mercy of forces we can't deal with."
As far as travel plans, DeCastro said he watches the prices carefully. It also affects how often he fills up his vehicle.
"I would normally just do a fill up, but now I'm just putting in the usual 20 bucks hoping maybe the price will drop," he said. "It's very frustrating."
Karen Spiller can be reached at 594-6446 or spillerk@telegraph-nh.com.