Rappelling rescuers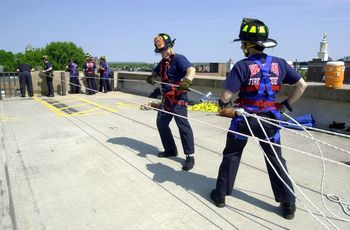 NASHUA – Bill Shea stepped away from a group of guys, swung a leg over the wall on the top floor of the Elm Street parking garage, took one look down, and disappeared from view.
But nobody, either down on Garden Street or on top of the garage, was a bit worried. Shea was doing exactly what he had just been coached to do, and within a minute, his black boots touched gently upon the pavement.
Shea was one of nine Nashua Fire Rescue "probies" – brand new city firefighters on probation – who took part in a "rescue from heights" drill at the garage on Thursday as part of the four-week training schedule they must complete before they answer their first real fire call.
"We cover anything and everything a firefighter may be exposed to while doing their job, from fire suppression to this, over those four weeks," said NFR training superintendent Bob Leuci.
Commonly called "rappelling," the skill is taught to firefighters in case they someday answer a call that involves rescuing a person, or people, from a spot higher than the department's ladder or tower trucks can reach.
"We'd employ this tactic for, say, a window washer injured, or trapped, when his trolley system fails, or for someone who gets hurt while working on a radio or cell tower," Leuci said.
The skill would also be useful to send firefighters down a steep embankment or into a deep hole.
Dressed in blue, wearing helmets with shields identifying them as probationary firefighters, the trainees rolled out several lines of nylon rope from one side of the garage's top floor to the other, all under the watchful eye of state instructor Jeff Allison, a member of Nashua's Ladder 1 crew.
Leuci said the ropes – divided into two categories, static (very little stretch) and dynamic (more stretch) – are made with the same technology that goes into making recreational rock- and mountain-climbing ropes.
Fitted with multiple-strap harnesses, the men began adding various pieces of hardware to themselves as Allison took them through the preparation steps. As they stretched the ropes from which they would soon dangle toward the east edge of the garage, it was time for last-minute equipment checks.
One by one they went, some quicker than others, but all finding the ground without incident. Drivers searching for parking along Garden Street paused to watch, as did a handful of occasional pedestrians who noticed the group of fire officials staring skyward from the ground below.
"This training is very thorough," Shea, who is joining NFR after five years as a Keene firefighter, said as he headed back up the garage stairs. "It's all done with absolute safety in mind."
Leuci said that if all goes well, the nine "probies" will complete their training in two weeks and start their new assignments June 3. The probation period typically lasts nine months.
Dean Shalhoup can be reached at 594-6523 or shalhoupd@telegraph-nh.com.