Rail expansion seen as construction boon
Report predicts $750m in real estate development, thousands of jobs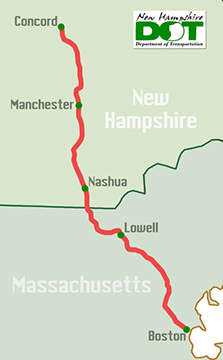 Over 3,600 construction jobs could be created if New Hampshire were to expand a commuter rail line from Boston to Manchester, according to area business leaders and New Hampshire Rail Transit Authority officials who on earlier this week unveiled the final results of an extensive two-year study on the expansion of passenger rail service in the Granite State.
The report, which also looked at expanding the rail line 73 miles from Boston to Concord as well as limiting expansion to from Boston to Nashua, concludes that the choice that "would offer the greatest economic benefit" is the Boston-to-Manchester line, which would result in two stations in Nashua (the Pheasant Lane Mall and Spit Brook Road), one at Bridge and Granite Streets in downtown Manchester and one at the Manchester-Boston Regional Airport.
The study forecasts that construction of the rail line itself would result in some 230 jobs, with an additional 3,390 construction jobs created by the real estate development that is expected to be generated by rail.
The report predicts that development could be substantial, with development of millions of square feet of commercial real estate that would add $750 million to the state's output between 2021 and 2030, and with reinvested earnings adding $220 million per year beyond 2030. That development could end up creating 1,730 new jobs each year, beginning in 2030, according to the report.
The alternative, according to the report, would attract an average of 668,000 weekday riders a year, with the potential to generate more than 3,600 new residential units and nearly 2 million square feet of commercial space supporting 5,600 permanent jobs by the year 2030.
"There is no denying that rail can serve as a catalyst for the type of smart development and multimodal transportation options that will help address New Hampshire's most pressing challenges and position us for the future," said Michael Izbicki, chairman of the rail authority. "We will continue to work with businesses, chambers of commerce, elected representatives and the public to help make rail a reality in New Hampshire."
According to the report, the total capital investment required to extend passenger rail to Manchester is estimated at $245.6 million, with the state's investment valued at $72 million, with infrastructure commitments from the MBTA, trackage rights and as much as 50% in federal support factored in.
The study was conducted by URS Corp. and administered by the New Hampshire Department of Transportation.
To view the full report visit nhcapitolcorridor.com.