Questions swirl around effectiveness of medical malpractice panels
Are NH's medical malpractice screening panels working, even though they are hardly used?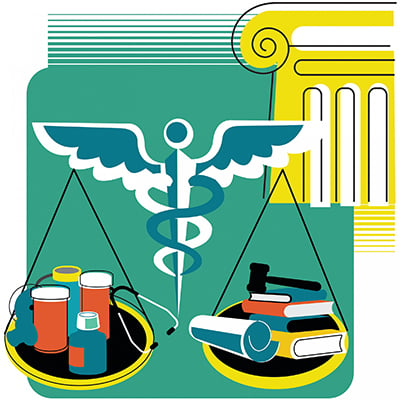 Are the state's medical malpractice screening panels working, even though they are hardly used? Are they saving money and helping to lower costs, or actually adding to the medical malpractice price tag?
These are the questions swirling around the latest legislative fix to the state's eight-year-old screening panel law, fueled by confusing statistics that each side in the ongoing debate have been using to make their case.
While one would-be legislative fix was shot down late last month in the Senate, another is still being considered. But no matter what the outcome of those particular bills, the debate is likely to continue for at least as long as a typical malpractice case.
For those who wish to change the law, the number "two" stands out. That's the number of cases that went before screening panels in fiscal year 2013. Indeed, the numbers have been steadily declining since 2008, when there were 28.
Sen. Sharon Carson, R-Londonderry, says her reaction upon reading two long-awaited reports on the screening panel system was, "Jeez – only two? This has done nothing to lower the prices whatsoever."
But those who support the panels argue that about half the number of cases are going to a jury trial since the panel law was enacted.
"We should stick to the current system. It's working," says Sen. Jeb Bradley, R-Wolfeboro, during a Senate debate.
Less frequently
How could a system be working if it is hardly used?
Lawmakers created the screening panels in 2005, though it actually took several years before the system got underway. The idea was that they were supposed to be a cost-saving measure to keep down the rising cost of medical malpractice insurance.
Instead of going to a jury, a plaintiff would have to appear before a three-person panel – consisting of a doctor, a lawyer and a retired judge – all of whom would be more of an expert in complicated medical legal issues than a regular judge, and certainly more than your average juror.
The plaintiff could waive appearing before the panel, but only if the defendant agreed.
The panel's decision wouldn't be final. Either side could then go to court, but a unanimous decision could be presented in front of a jury, with the goal of limiting the number of one-sided cases.
By shortening the process – the goal was six months – and avoiding jury trials, legal costs and medical malpractice insurance rates would go down, proponents argued.
Everybody agreed that the process had taken longer than expected and that the hearings turned into "mini-trials," but proponents of the system urged patience until a legislative oversight committee published its report.
That happened last fall, but committee members were split. That's partly because they were dealing with two different sets of statistics: one from the Superior Court (which oversees the panel system) and the other from the state Insurance Department, which gets its data from the major insurance carriers.
A lot of times the numbers didn't add up because insurance companies track claims made by defendants, not cases, and some cases involved multiple defendants. In addition, some claims didn't involve a lawsuit.
But both data sets show that most lawyers avoid the panels, and they are being used less and less frequently. The Superior Court report showed that only two of the 107 malpractice cases filed in 2013 were decided through a hearing. A breakdown of total cases since 2007 shows that out of the 609 total cases filed, 192 went before the panel. Some 226 were resolved before the panel, and 191 times the panel was waived.
The court data also showed that the average time from filing to hearing or disposition reached nearly two years (660 days) in fiscal 2013.
The Insurance Department statistics indicated that the panels were used a bit more. Of the 282 claims that were closed in calendar year 2012 (the last full year covered by the data), 38 were in process before a panel. Some 133 were waived, and in 111 cases, no suit was filed.
But that report raised some disturbing points. First, it concluded that roughly the same number of cases went to trial, whether the screening panel was waived or not. Indeed, 8 percent of panel cases went to trial, compared to 6 percent when the panel was waived.
Panel claims took longer to close when compared with those that were waived: 29 months compared to 23 months.
And panel claims resulted in higher legal costs, though that was more than made up for by a reduction in claims. (The data doesn't include the legal costs of the plaintiff.) Legal costs were $55,000 per claim when the screening panel was used, compared to $41,000. However, when payouts are considered, the total cost for a screening panel claim was $177,000 compared to $193,000 for one that was waived.
Apples and oranges?
Panel critics point to another disturbing statistic: New Hampshire malpractice rates rose 4.2 percent in 2012, the second-largest increase in the nation, according to the newsletter Medical Liability Monitor.
"It takes too long, it costs too much, the claimants are not getting the money they should be getting because so much is going to defense costs – lawyer fees," says David Gottesman, a former state senator and a board member of the New Hampshire Association for Justice, the former Trial Lawyers Association. "These panels are not doing what they are supposed to be doing."
Gottesman, and others, say that the panel process simply delays things, forcing plaintiffs to present the same case twice, which adds to the cost. (Supreme Court Chief Justice Tina Nadeau argues that screening panels can't delay things, since the process is parallel — you don't lose your place in line for a trial date while awaiting the screening panel decision — but attorneys say that both sides ask for more time to prepare their case a second time anyway.)
However, Oge Young, a Concord obstetrician and former president of the New Hampshire Medical Society, argues the screening panels are working, not so much because lawyers use them, but because they avoid them.
Before the panels, he says, cases would sit for years before going to trial. "Today, lawyers have to look at the cases, even if they are going to waive them. And that is an important value of the panel system," he says.
And cases are getting resolved earlier, he says, either through the panel or in actual settlements. Of those 192 cases that went to the panel, 105 were heard. Of those that were heard, only four are now awaiting jury trial.
Of the 191 waived, 127 were settled.
Comparing cases that are waived and not waived is like comparing apples and oranges, Young says. Waived cases by their very nature are less complicated, so they would naturally cost less. The important point, he emphasized, is that fewer cases are going to trial.
But it's unclear whether that's so. Senator Carson argues that the reason more cases are being settled is that the state instituted mandatory mediation several years ago, something that wasn't in place when the screening panels were instituted.
Whatever the statistics say, both sides agree on one thing. It is more than a matter of numbers, or dollars. Critics contend that screening panels are just another hurdle a wounded plaintiff has to clear to get compensated, delaying the closure they crave.
"The people who are getting hurt are the injured," says Bob Clegg, a lobbyist for the trial lawyers group.
"The greatest cost [of medical malpractice] is emotional, not financial," Young says. Malpractice suits get in the way of the doctor-patient relationship, force excessive defensive medicine, resulting in scores of tests that aren't needed, and result in money going to lawyers, he argues.
While a few plaintiffs get a windfall, many others – whose claims are too small to attract an attorney – receive no compensation. The screening panel system provides an avenue for these patients, he says.