Q&A with writer-director Ernest Thompson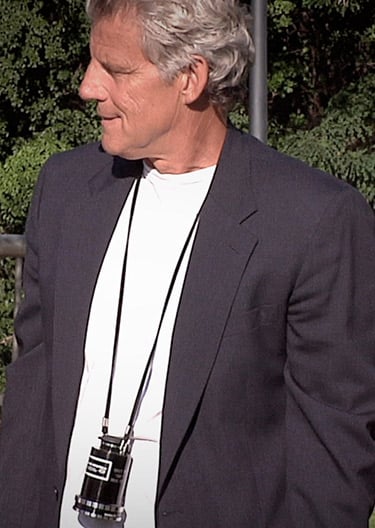 Writer, director and actor Ernest Thompson, a New Hampshire native, would like nothing more than to grow a budding local film community into a full-fledged movie industry by encouraging state lawmakers to consider offering tax breaks that would bring in job-generating film productions. There currently are no such incentives in New Hampshire.
Thompson has written and produced two feature-length New Hampshire films, using Granite State actors and production crews. "Time and Charges" and "Heavenly Angle" were both shown recently at Red River Theatres in Concord.
His Hollywood accomplishments are considerable, with an Oscar, Golden Globe, Writers Guild Award, Broadway Drama Guild and many others on his resume. His most enduring work, the play "On Golden Pond," has been translated into 30 languages and brought him an Academy Award in 1982 for his film adaptation.
In addition to his homegrown independent films, shot through his New Hampton-based company Whitebridge Farm Productions, and offered as On Location Training, Thompson is working on a sequel to "On Golden Pond" and a remake of "The Paper Chase," both scheduled for production in 2018.
Q. When you won an Oscar for "On Golden Pond," you gave a very spirited acceptance speech following your sprint to the stage. What do you remember about that night in 1982?
A. They told us at the pre-lunch that you only have 45 seconds, so I didn't want to spend my whole 45 seconds walking up to the stage. My date that night was Diana Ross. I hung around long enough for her to give me a quick kiss, then I was off and running. Other than that, it's kind of a blur.
I remember most that Henry Fonda could not be there, and because Diana was my date, we had her giant limo. She asked me where I wanted to go and (since) the world was my oyster at that moment, I said, "I want to go to the Governor's Ball, but before we do anything else, we're going up to Henry Fonda's house to share the moment with him." He had won also, his first non-honorary Oscar. So we went up there and clinked our Oscars and he said, "I'm proud of you, boy." That was the highlight for me of that evening. To this day, 35 years later, it still remains a rarefied moment.
Q. You are unable to pay your casts and crews, including yourself, for your New Hampshire-made movies, so how do you produce such high-quality movies under this business plan?
A. The answer to that question is offering them a sense of ownership. The works are of remarkably high quality, but I try to set the standard myself. I write and direct and play a role in each of the movies so people can look to me and everything I think I know, I share.
More than 800 people have accepted that invitation. It's about being a part of something that might not otherwise be available to those people, and I try to make everybody feel included and honored and special and I think the results speak for themselves. I don't think anybody went away disappointed or feeling as if he or she hadn't been valued.
As I've said many times, in Hollywood, there's a film crew on every corner. Not so many in New Hampshire. So, we were able to celebrate that rarity, and I think a lot of people dream that dream of having a part of a film, and I avail that to them. I think there is that sense of pride in the product.
Q. Will you shoot your sequel, "Home on Golden Pond" in New Hampshire?
A. When I say to potential investors and even to my producers who love this area, when I say, "We can shoot here," and they'll say, "Wait a minute. New Hampshire doesn't have a tax incentive." And I'll say, "Not my department." But it really is.
Then you go across the border to Massachusetts and get a 25 percent tax rebate. Say my budget is $12 million. In New Hampshire, I'll have $12 million. If I go across the border to Massachusetts, magically, I'll have "15 million" because Massachusetts offers a 25 percent tax rebate. No studio or producer is going to look at that and say, "Well, obviously we should shoot in New Hampshire." They don't have the nostalgia and sense of neighborhood that I have.
My family lived in New Hampshire when I was born. It's in my blood. I would hate to think that we wouldn't shoot the sequel to On Golden Pond here in the state.
Q. Wasn't there a roadblock to filming the original "On Golden Pond" in 1980?
A. There was a Screen Actors Guild strike going on, which meant that no other film could be shooting. We got a special dispensation largely because Katharine Hepburn called up SAG and said, "Listen, the life expectancy of these two actors (Hepburn and Fonda) is about 17 minutes. If we're going to shoot the movie, we've got to get on with it." And they, to their credit, let us shoot. And there was enough money with Jane Fonda producing (who was) at the time being a very big star, that we were able to afford to shoot here.
Q. There have been several failed House bills presented to the NH Legislature that would involve various financial incentives or tax credits for filmmakers.
A. "On Golden Pond" is the only major studio movie to be shot in its entirety in the state of New Hampshire. And that was 37 years ago. "What About Bob" with Richard Dreyfuss and Bill Murray – where does it take place? Wolfeboro. Where was it shot? Virginia. They came to Wolfeboro for one day to shoot.
It's heartbreaking to me. I have worked so hard in the 27 years I've been back and living here. I have written to governors, senators, legislators and said, "Listen, you know, use me. I will come to your office. I will share with you everything that I know about the film industry. I will try to help you build a film commission here. It will be attractive for other filmmakers to come and shoot in New Hampshire." I've met nothing but resistance.
Q. Talk about the correlation between being welcoming to filmmakers and the lasting tourism benefits.
A. Sometimes I think I should rent eight buses and take every legislator up to Holderness and show them, if they don't already know, how many businesses still use the name "On Golden Pond" as part of their title. The Inn On Golden Pond, The Manor on Golden Pond, On Golden Pond General Store, there's Walter's Basin, named after the fish, and there are tours of the lake so that means that people are coming from all over the world, still, 37 years after we shot "On Golden Pond," who partake in the mystique of this movie that was shot here and that generates a lot of economy to this area.
Q. How could New Hampshire benefit from tax breaks for film companies?
A. First of all, look at our neighbors. Massachusetts does an inordinate number of movies, and they fight for their tax incentive all the time. Same thing with Rhode Island. Providence had so much activity back in the '90s and early part of this century. Go to Georgia, where it's a constant stream of films.
A whole industry gets to grow here. Crew members move here, and employment to thousands of people who might otherwise not have that opportunity. I think I demonstrate that on a regular basis when I make my zero-budget movies because look at the people who turn out who want to learn about it. If I could offer them jobs, they would stay. They would profit from it. Once an industry like that takes root, it's the same thing as Silicon Valley or anywhere else. But the precedent has to be set. "On Golden Pond" in 1980 wasn't enough to set it.
Q. What has been your experience producing two movies in New Hampshire?
A. The first movie took me two years to shoot and it took me another year and a half to cut because I had to work around people's schedules, and it was glorious because I had so much time to think about it, which never, never happens in Hollywood. What I liked is for the product to speak for itself and to slowly release it so I can introduce it to audiences and let it grow that way. That doesn't happen anymore.
Q. It's not unusual for your calls for cast and crew to have 500 people turn out. Does any New Hampshire community ever say "no" to being in your movies?
A. Franklin was the only place with the only "no" I ever got. We wanted to shoot in the beautiful opera house there, and the town manager or whoever said, "Oh boy. That's not going to be possible. Where are you going to park your generator truck?" I said, "If I had a generator truck, that would mean I had a budget."
Nobody else ever said "no" to us. Any question I asked or any request, and I'm not just talking about actors and extras and crew members. I'm talking the people who opened their homes and let us shoot there. The people who lent us snowmobiles and vehicles. A guy with a helicopter came up from Nashua who said, "You need my helicopter? I'm in."
It didn't end there. Police departments from New Hampton, Meredith, Holderness, Ashland, Bristol and their fire departments. Whatever we wanted, they were there for us. And nobody ever said, "When am I going to get my paycheck?" Everybody said, "How can we participate?" So, what's wrong with that business model?
Q. What do your Hollywood friends think of your grassroots approach to local film productions?
A. They think I'm crazy. And they also envy me because I just get to do it. We're still trying to figure out how to monetize the films that we make. We're getting closer and I think the day's going to come.
But when I talk to actors and I've worked with lots of them and I may go to a screening or an Oscar event in L.A. and I'll talk to a Lesley Ann Warren or Elliot Gould – people I've known through the years – and they'll say, "What are you doing?" I'll say, "I'm making movies and I challenge actors to come and play roles they wouldn't otherwise get to play." And I can just see the dreamy looks in their eyes, because that's all actors want to do.
Q. You seem committed to growing a film community in the state.
A. I call my two New Hampshire movies 'valentines to the state' and they really are. "Heavenly Angle" makes downtown Laconia look like Paris. It's a guy knowing where to put a camera and trying to capture the beauty of our amazing state. And I don't mean merely the Lakes Region, where I live. From the White Mountains to the Seacoast, New Hampshire is a filmmaker's dream, with endless possibilities, from modern-day to period settings, rural and urban both.
We have cities that can double for anywhere. "In Time And Charges," I used downtown Laconia and Plymouth for New York City scenes and part of "Heavenly Angle" takes place in L.A. Which, except for one day's shooting out there, I used, if you can believe it, Holderness and, again, Laconia. I think that creative and truly independent on-location filmmaking is the future. Why not have it be here? Why not let New Hampshire be a mecca?