Q&A with WMUR-TV President and GM Jeff Bartlett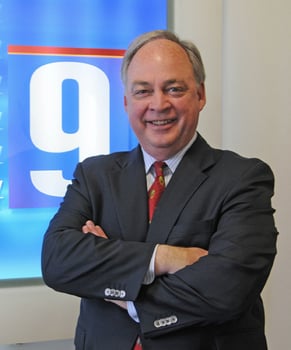 Jeff Bartlett, president and general manager of WMUR-TV since February 2001, has had a career that has taken him around the country, from Fayetteville, Ark., where he was president and general manger of KHBS/KHOG-TV before joining WMUR, to such landmark stations as WBBM-TV in Chicago, KYW-TV in Philadelphia and WBZ-TV in Boston, all of which he served as news director.
NHBR caught up with him to talk about the television station's unique role in New Hampshire politics.
Q. You've worked in Arkansas, Chicago, Boston, Philly. How is New Hampshire different?
A. The intense interest in politics that exists here doesn't really exist in other places, no matter what size the market is. There are many obvious reasons why. First, there's the first-in-the-nation primary. Second, the governor is elected every two years. Third, we have the largest legislature in the country.
We devote more time in terms of coverage than any other station I've worked on.
Q. How has the political scene changed since 2001 when you came here?
A. We spend a lot more time and money on the Internet. Our station had the fourth-highest Internet penetration in our market in the country. Our mobile offering grew 95 percent over the last year.
We don't make as much money from the Internet. You're really turning TV dollars into digital dimes.
Q. There has been little local TV competition for you in New Hampshire, but Bill Binnie is trying with WBIN.
A. Bill [Binnie] started doing newscasts again. He is less leveraged than the former owners. What remains to be seen is what he does. I don't mean we don't view them as a challenge, because I'd be crazy if I didn't. I haven't done anything in particular to counter it yet. I'm watching.
Q. The Union Leader once was the political kingmaker in New Hampshire. Then WMUR. Have you lost that dominance?
A. Every news medium has had some problem with the proliferation of news sources because it spreads the eyeballs. We are unlike the newspapers, who have some power though their editorials. They have a position and push a candidate. We have never done that. Our power is our coverage. The other power we have is the power of advertising.
Q. Let's look at this primary when it comes to advertising.
A. We had a number of candidates that didn't put as much time in New Hampshire as we might have expected. Some campaigned in Iowa and skipped New Hampshire for South Carolina. I think they were after more evangelical voters.
Q. How did that affect you?
A. We were off about 40 percent from our projections.
Q. The general election?
A. Since the primary, we've run 14,600 political spots. The record was something over 16,000, set in 2008. At this point, this is the second-highest political year since we've owned the station.
Q. Since you don't discuss dollars, how much of your revenue stream is political advertising?
A. Some years as high as 40 percent. It might have been close to 50 percent one year [2008], but that's unusual.
We have to protect our regular advertisers. If they need to get on, we work to help them get on.
Q. Complaints?
A. Unlike other markets, where people have become swing states for the first time, people here sort of get it. We work with them to ensure they don't go dark during a political period.
Q. The presidential debates. Any advice?
A. Find a way to ask the pertinent question in a way that the response is not [what] you've heard 900 times. It's not the question. It's how you ask the question.
Q. Will your debates for governor and Congress be more meaningful this year?
A. In some cases, 20 or 30 percent of the audience made up their mind about who they are voting for after watching one of our debates. We have an index online of where everybody stands on all the issues, and our biggest hits are the day before and the day of the election.
Q. Tell me about some of the difficulties of dealing with 14,000 political ads.
A. They change all time, because they get preempted or because they get pushed out by a higher-priced spot. There is breaking news, so you are constantly revising all the ad buys. We have one person whose sole job — and she has an assistant — is to keep track of their spots. At one point, President Obama had four different spots on the air at the same time, running in different schedules.
We have to look at the end of the week to see what ran and report to the FCC [Federal Communications Commission]. It's a complicated paperwork nightmare keeping track of all these spots.