Q&A with: Wine specialist Carla Snow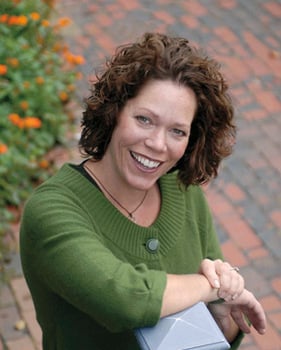 Pelham native Carla Snow has traveled the world for her passion — wine and food.
At the tender age of 14, she says she fell in love with the food and beverage industry while working at her first job at McDonald's. Decades later, she found herself in management at the posh boutique W Hotel in San Francisco. But eventually the hours slogging through spreadsheets and not swirling and sipping wine got the better of her.
In a bold move in 2001, she sold everything and traveled to Australia with just a backpack and a renewed sense of purpose. Graduating from Le Cordon Bleu with culinary and sommelier certificates, she further studied wine throughout the Land Down Under, New Zealand and France's famed Bordeaux and Rhone regions before coming back home to Portsmouth.
While motherhood — Snow has a 3-year-old daughter — has tempered Snow's original goal of owning a restaurant, her love of wine turned into a business called A Grape Affair.
And all of this before she turned 40.
Educating the public on wine, consulting with restaurants and wine shops and helping the enophilically challenged find their way through their wine cellars, Snow — she believes she's the first female Certified Wine Specialist in New Hampshire — brings an enthusiasm to what she does that is just as sublime as the wine in the glass.
---
Q. When did you decide to make wine a career?
A. While I was in Australia, I met the wife of a winemaker from Bordeaux. I told her that's where I wanted to go next. She invited me to come live with them and study with them.
I moved to France for six months and apprenticed with a winemaker in Bordeaux. He had a good friend who was a winemaker in the Rhone, so I spent several months there as well. I learned more during my six months in France than over 10 years of book studying.
I then came home — my visa expired — and I worked for a distributor to stay in the wine business for three years.
I then decided to have a family. As soon as I had my daughter, the last thing I wanted to do was own a restaurant. I was just so in love with being a mom. After she was born, I realized I couldn't keep being a [wine] rep. I had to find something I could do that would allow me the time to be with her more often.
I was getting a lot of inquiries to do private events. I realized there was probably a market for it. So I started A Grape Affair two-and-a-half years ago.
Q. What's the difference between a "certified specialist of wine" and a "sommelier"?
A. It depends on who you ask. The technical answer is that a sommelier is a job title — anyone who is working with wine, serving wine, talking about wine in a shop or restaurant.
But you can also be a Master Sommelier. It takes six, 10 years to get there. There's a lot more studying involved and a lot more exams, and each exam is between $500 and $800.
The Court of Master Sommeliers, which originally was a British organization but now has an American chapter, offers the Master Sommelier level.
The Certified Wine Specialist is offered by the Society of Wine Educators. It's an American organization, internationally recognized. They have two tiers, a Certified Specialist of Wine and a Certified Wine Educator.
Q. What made you decide to go out on your own?
A. The business has completely evolved since I started it.
I started by doing private events and corporate things, and soon I was consulting for restaurants and shops and doing staff trainings — which I continue to do.
The classes are another part. I realized there was nothing north of Boston where someone could take a class that they could build on.
Somebody could take a two-hour class on French wines, but you leave and that's it. Other things are done by distributors that are trying to get you excited about their products.
I really saw a hole for an unbiased wine professional in New Hampshire. By unbiased, I mean I'm not trying to sell you anything. I don't get kickbacks from suppliers, I don't get schmoozed by suppliers.
I'm there to make the world of wine a less intimidating place. My goal is to help you get more comfortable with wine, whether you want me to talk about $80 bottles or $10 bottles.
Q. Your career has taken you literally across the globe. What are some of your favorite experiences you've had abroad?
A. I've had a very blessed, yet interesting life. My favorite place in the world besides New Hampshire is New Zealand. Everything about it is everything I love. It's outdoorsy. The food is amazing. The wine is amazing. The people are great. The weather's great.
When it comes to anything wine-related, I'm a Francophile. We're going to France for three weeks over the holidays. I'm taking my daughter there for the first time. I'd love to spend my summers there as my daughter gets older.
Q. What do we learn in the UnCorked classes?
A. I have two classes, Level One and Level Two. Level One is six weeks, and we do a couple of great exercises. We do a sensory evaluation, where we take apart the components of wine. We taste acid, we taste tannin, we taste sugar. We feel them on our palate, so that if someone says, "This wine is acidic," how do you know that? Why? Where do you feel it? It's difficult to pull all that out with a glass of wine that's balanced. But when we taste them separately, people get it.
I don't want them to be thinking about "flavor," I want them to be feeling what the wine does.
We also study essences — green pepper, mushroom, dark chocolate, cassis. We smell things. So if they smell a wine and smell cedar, for example, we compare that to the essence and ask, "So is this what you're smelling?"
Then we move on to viniculture and viticulture, the basics of winemaking and wine-growing. We also do a blending exercise, why winemakers blend and what wines taste like on their own.
Then we move into the regions. We do Washington, Oregon, a little bit of the Northeast, California, then France. Then we do a little bit on food and wine pairing, and the last week is Italy.
At the end of six weeks they get a certificate.
The second class is more focused on the regions. We do Champagne, sherry, Port, Germany, South America. We get more into the regions and less on the basics.
Q. You also offer consulting services for those wanting to create or update their wine cellar. What do you do in that part of the business?
A. I have people that have these gorgeous cellars with anywhere from 500 to 5,000 wines and they don't know what's in there. They don't know what to drink, when to drink it. They don't know what to do with it, should they hang on to it or sell it? I'll take an inventory of the cellar and I can organize it for you by what to drink when.
If you're building a cellar, I can help you with what to stock it with, how to go about your future with a cellar, that it's stocked and you're rotating things through.
Q. What about someone who doesn't have a cellar but might want one, maybe 50 or so bottles. Would you handle a consultation at that basic a level?
A. Absolutely. I'd tell you to start with things you like. You don't want to stock your cellar with things you don't like. When you get into 1,000-bottle cellars, then you stock with things like German Rieslings that are going to age well.
But for something that size, start with things you like, and buy at least three bottles. You need to taste things along the way. If you have a larger cellar, get a case. But start with three bottles of each. In five years, open one and see how its doing, open one in 10 years, and so on.
Q. We've all been in the situation where you're presented with this biblical-sized wine "list." What are a few tips you can share to arrive at a selection?
A. When you're handed a wine list of that size, there's usually a sommelier to help you with something like that. I would ask for help. The sommelier is the one who put that list together, so they are the ones that will be able to guide you.
Some answers you might like to have in your head are: What do you like to drink? What are you comfortable spending? What are you having for dinner? Once you know those things, then ask for help from the restaurant.
I like to always try something different. I figure out what my price point is. If I only want to spend $50 tonight on a bottle, then I make sure I only look at those $50 bottles.
Flights are also fun, because you can try several wines. Once you decide what you like, then you can get a glass or a bottle.
When you're shopping for wine, also know your price point and know what you're going to do with the wine. Are you going to have it with dinner or drink it at happy hour? Know what you do like, but still branch into something different.
If all you drink is chardonnay, that's OK, but try to buy a different chardonnay every time you buy a chardonnay. That's how you're study — through the palate.
Q. What are you drinking now?
A. I'm drinking a lot of New Hampshire wines now, and I'm really trying to get my head around that, and do my part as a New Hampshire wine professional and a New Hampshire native to spread the word about New Hampshire wines. I'm trying to decide what I like, what I don't like, why I like it, why I don't like it.
Q. Are you including the fruit wines, too, or are you sticking with just grape?
A. The fruit wines, too, yes. And ciders. I just spent the weekend up at Farnum Hill in Lebanon. Their dry cider tastes like a Vinho Verde. We're going to serve it at Thanksgiving.
Q. What are a few of your favorite wines?
A. I love Rhones and French wines. Cote du Ventoux is a fun little wine that is like $12. It's an easy drinking red made in the south of France. It's a blend of several different southern French grapes. It's available in wine shops, though, not so much in grocery stores.
I love sparkling wines and Champagnes, too. People should drink bubbles every Sunday. Celebrate life and the weekend.
Q. What's some of your favorite food-wine pairings?
A. My favorite combination is fried chicken and Champagne. It's the way to my heart. On a sailboat? I'm done!