Q&A with Trump campaign manager Corey Lewandowski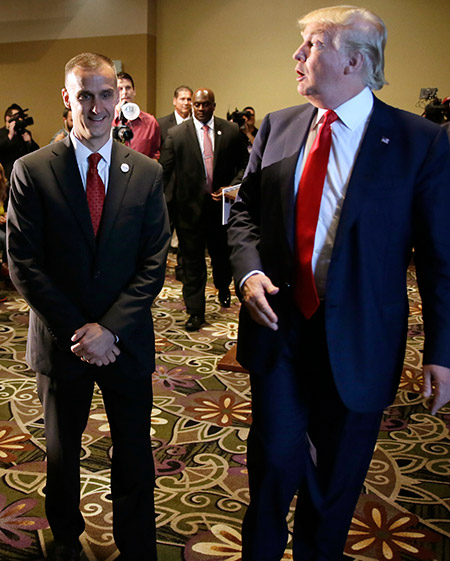 He may work for the most talked-about presidential candidate of 2016 but Donald Trump's campaign manager, Corey Lewandowski, who grew up in Lowell, Mass., comes from modest.
At 40, Lewandowski is a familiar figure in New Hampshire as well as nationally, having spent several years with Americans for Prosperity-NH as well as working in public affairs, lobbying, real estate – and he even ran for public office while in college at UMass Lowell.
Q. Did you ever have a typical college job like slinging hash or making pizzas?
A. I did have jobs like that. In fact I delivered pizzas for a place on Lakeview Avenue in Lowell, so absolutely did that job.
Q. Where did your "fearless gene" come from?
A. It's about hard work and determination and finding something that you like to do and going out and doing it. I think that cliché is often overused, but when you find something you really like, and have an opportunity to do it, it's not like going to work.
I've had some great opportunities in my life, and part of it is from hard work and part of it is luck, like anything else, and knowing if you never give up, keep trying and you do something different, once you find what you really love to do, you'll have the opportunity to do that. If you keep trying, you'll be successful.
I had the opportunity in college to intern at the State House in Boston and found it to really be exciting and exhilarating. And after college, I went down to Washington, D.C., right away and started graduate school and started interning on Capitol Hill and just knew instinctively that that's part of what I wanted to do, which was try and change the country for the better through the political process and have been involved ever since.
Q. "He's a good guy, but he's a bomb thrower" is a quote about you from Politico. Reaction?
A. I like the first half of it, I guess (laughs). That's hard to find sometimes.
Look, politics is a tough business, there's no question about it. If you're going to be successful, sometimes you're going to ruffle feathers and sometimes you're going to do things that your boss wants you to do, whoever that boss may be, that maybe makes other people angry.
Politics. It's a contact sport. Let's not forget that. This is very serious; the direction of our country is at stake. The future of our country is at stake. And so, if some people say I'm a good guy, I'll take that as a compliment and some people say I'm tough and dedicated and focused to what I'm doing, I'll take that as a compliment as well.
Q. You seem to have a higher tolerance to swimming upstream against opposition thinking at times. Would you say that's true?
A. In this industry, regardless of who you are, if you read everything that is said about you, or you listen to what all the pundits say about and all the failures that you're going to go through, then you'll never be successful.
I think if I can go and put a good hard day's work in and do it to the best of my ability, and if that incites criticism for some things, I'm OK with that. At the end of the day the people that I am accountable to are obviously my boss and my family, and if I can be respectful and treat people with respect, that's OK with me.
Q. Despite your many jobs, were you truly prepared for what you call the greatest job in politics?
A. This is by far the greatest job in politics. It is unlike anything I have ever been able to do in my life or my career. And it's so unique and I'm very, very spoiled having worked for Mr. Trump now for the last 11 months to see and learn things I never knew even existed, not only in politics but in business in negotiating deals and understanding the bigger picture.
I don't know if I was prepared for it, but every day I wake up and I'm thankful and grateful, candidly, to have this amazing opportunity and hope I can do as well by him as I am able to do.
Q. With Trump, each day you never know what you're going to have to deal with.
A. I'm so fortunate because I have a boss who's a perfectionist. He demands excellence in everything that he does and I try to do that with our staff here as well, but we run our campaign like he would run a business, because that's what Mr. Trump expects and demands and that's what we should do.
We watch every dollar as if it were our own, because he's funding the whole campaign, so we're very cautious about how we spend money. We're very cautious of what we do, and we try to make the best deals for everything we do.
We require 15-hour days from everybody who works for the campaign, and that's because it's a leadership trait that starts at the very top of this organization with Mr. Trump, where on many, many occasions he's doing television and radio shows starting anywhere from 5:30 in the morning and he's finishing at 11, 12 o'clock at night, every night. So we expect that excellence from everybody. I think it works for us.
What we try and do is put him in a position where he can be as successful as possible with the staff assistance that we provide and the logistics support that we provide him so that he can be as successful as possible.
But at the end of the day, we're here to make sure that his job, which is running for president of the United States right now, is as fundamentally unflawed as possible, if that can be done.
Q. How did you and the Trump For President campaign connect originally?
A. I was very fortunate. A year ago April, I was hosting an event in New Hampshire with a series of potential presidential candidates. A number of senators and governors came, and we invited Mr. Trump, and he made a presentation. It took place at The Yard in Manchester. He came and gave a speech and I had followed up with a thank you note for his attendance and followed up after that a few times, and then I received a phone call from a mutual friend who said, "Would you like to go see Mr. Trump in New York in late December (2014)?" I said, "Of course."
The night before the meeting was to take place, my friend called and said, "Hey, I can't make it. It's just you and Mr. Trump tomorrow." And I actually wasn't sure what the meeting was all about and had a great meeting with Mr. Trump in early January. From there, literally on the spot, he offered me a position to run the campaign, and he was fully convinced at the time that he was going to run for president of the United States and that he was going to win.
He convinced me within 20 seconds of having the initial conversation, and it has been just a phenomenal experience for me and I think it's going to turn out very well for the country.
Q. Discuss the challenges of being with your family amid travel and a non-stop work schedule on behalf of Mr. Trump.
A. Yeah, it's tough. I'm very fortunate that I've had the privilege of being married for more than a decade, which is important. I've got four great kids between the ages of 4 and 9 in the Windham school system. The tough part is my job is in New York, and if it's not in New York, I'll give you an example. Next week we'll be in Illinois, Wisconsin, New Hampshire, Iowa, Florida, Texas, Tennessee, Massachusetts and then South Carolina.
So, the life/work family balance is a difficult thing, but my wife understands it. I mean, I've known my wife for 28 years, so this is not a new phenomenon. I've known her since she was in 8th grade and I was a freshman in high school.
When you have a great support system at home, it makes your job a lot easier. While I know it's difficult on her and the kids, they understand what we're trying to accomplish here is very, very important for the future generations.
Q. If Mr. Trump wins the White House, would you hope to have a position in the administration? Or what is your dream?
A. I'm so blessed – I'm living my dream right now. If somebody would have told me growing up in Lowell, Mass., that I would have an office in Trump Tower with a balcony on Fifth Avenue and having the opportunity to talk with one of the most successful, wealthiest people in the history of the planet on a daily basis, I would've said there's no chance.
I mean, it was so far-fetched from what I thought was humanly possible. That's why this country is so great. If we're lucky enough that he wins the election – and it's a long way to go from where we are today – if that were to happen, you know, I would serve in any capacity that he'd want me to, whether that's in Washington, D.C., or if he says, "Thank you for running my campaign and we've done a good job and we've won, now you can go do something else," I would do that too, but I would serve at his pleasure.
Q. Did Clint Eastwood steal your act at 2012 Republican RNC convention when he talked to an empty chair, similar to your debate with a cardboard stand up of then-Gov. John Lynch?
A. I wish. (Laughs). I'm humble enough to know that sometimes you have to do something that draws attention because the issues that we talk about sometimes don't get enough attention, in particular when you're in a state that is so politically active like the state of New Hampshire you need to do something that breaks through the monotony of so many events taking place.
The problem we had in the state at the time was we were trying to kill the small business tax, the LLC tax; we were trying to kill a gas tax, right? Even our great state of New Hampshire, which has a balanced budget requirement, continues to tax people and tax people.
What we're seeing is small businesses that could be starting in the towns like Windham, Nashua, Salem, they're now moving across the border the other way down in Massachusetts, and that's a real detriment and we see our people who have great opportunities leaving our state to go work in Massachusetts and paying the Massachusetts commuter tax.
You know, I live in a bedroom community. A lot of people drive into Boston everyday to work. They pay a Massachusetts tax, and so that doesn't help our economy. We need to do something to create jobs. The purpose of that debate with the cardboard cutout of Governor Lynch was to raise the awareness that if we give people tax relief, whether it's at the pump or the LLC, or encourage new businesses to start, our state will be better for it because the Live Free or Die state is beginning to unfortunately become a lot more like other states where they're starting to tax us to death.
Q. Offer advice to people to follow their dreams as you have even though by doing so there are no guarantees.
A. I've been so fortunate and blessed, taking a chance on something that many people never thought that it would be where it is today. And I don't mean that just about Mr. Trump's campaign, because I think we've exceeded a lot of expectations. But just in life, many people could play it safe and take a job and stay there for their career and be perfectly happy. I always want more. I always want better. I always want my kids to have better than what I had. Take a chance sometimes. Doesn't mean it's going to work out but be resilient, right?
Look, some of the greatest people in the history of our country who started massive countries or had unbelievable success, they tried something new. You know, Bill Gates quit college. He quit Harvard to start a small company called Microsoft. But I say, take a chance and hope it works out the best because if you work hard, you make your own luck, I believe.