Q&A with: Travel Channel host Samantha Brown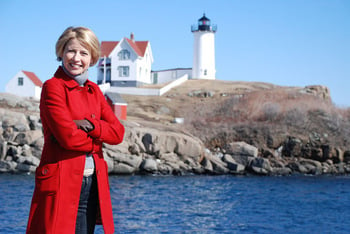 You've seen her smiling face from Stockholm to South Beach, but you may not know that Samantha Brown, host of the Emmy Award-winning Travel Channel series, "Passport to Europe," calls New Hampshire home.
NHBR caught up with the globe-trotting Granite Stater — who travels an ungodly 10 months of the year filming episodes for the Travel Channel — by phone from Manhattan, complete with honking taxis in the background.
---
Q. Were you born in New Hampshire?
A. I was born in Dallas, but my family moved to Derry when I was in 2nd grade. Later, we moved to New Castle.
Q. Where's your favorite place in New Hampshire to visit or stay?
A. I love going back to New Castle. My whole family lives in the Seacoast region.
Q. Have you been to the Wentworth By the Sea hotel in New Castle since its incredible restoration?
A. Oh yes! Growing up in New Castle, it was so sad to see the Wentworth fall into such disrepair. There were always questions of it they were going to save it or not to save it.
Q. Do you get back to New Hampshire often?
A. I try. I always seem to come back at Christmas, during the winter months. I love coming during the winter, the off-season. It's so busy in the summer. In the winter, you can walk on the beach alone. In fact, I'll be coming back for my high school reunion at Pinkerton Academy.
Q. How did you get your start?
A. I went to school in Syracuse and majored in musical theater. I went to New York City to pursue my acting career and ended up doing a lot of improvisation. I was doing more comedy than musical theater. From there, I started in commercials. They recommended me to the same production company for the Travel Channel. I probably got the job because I could improv. Most cable shows like that aren't scripted. I wasn't a world traveler, and that was something I really wanted to bring to the show.
Q. How long are you actually on the road?
A. I travel abut 10 months of the year, about three weeks a month. This year it might actually be more.
Q. What's one or two of your favorites?
A. It's really interesting, but it's Berlin. It's exciting to be in a city that's evolving into what it's about to become. Many other places, you're visiting their past. In Berlin, things are happening now, the architecture is happening now. You're really living in the moment.
Q. And where would you never return even if they paid you?
A. I really can't answer that. I truly feel like the show isn't about me, it's about the travel experience. Just because I personally don't like it, doesn't mean someone else wouldn't have a good time. I always try to find the positive.
I have found, however, that places that aren't so lovely, the people are lovely. Sao Paolo is very gritty, but the people are like Labrador puppies. I had a wonderful time there. It was a great experience.
Q. Where haven't you been that you want to go?
A. Japan. When we were filming "Passport to China" — which premieres in July — I found I really wanted to explore all of Asia, but I've always wanted to see Japan. Even in the 8th grade, I wrote a report or something about it.
Cindy Kibbe can be reached at ckibbe@nhbr.com.