Q&A with Tampa Bay outfielder Sam Fuld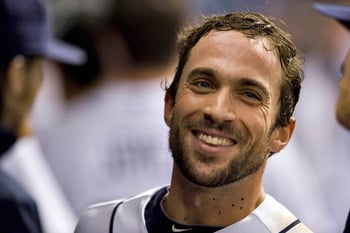 Since he was a young boy, Sam Fuld wanted to be a big league baseball player, but he started with two strikes against him.
First, he was from New Hampshire (Durham to be exact), where snow covers the baseball diamond a good part of the year — and, second, he had diabetes. Few pro ballplayers come from the Granite State, fewer still have diabetes.
But last spring, Fuld, a Tampa Bay Rays backup outfielder, was catapulted into stardom. The big break came when Manny Ramirez retired, giving Fuld a rare chance to show his stuff. He proved to be a scrappy addition, clutch hitter and superb fielder (he was nominated for a 2011 Gold Glove Award).
During the off-season, Fuld and his wife, Sarah, who he met at Phillips Exeter Academy, are awaiting the arrival of their second child. This leaves him busy, but he still finds time to help raise awareness about diabetes and inspire children. He recently served as the honorary chairman of New Hampshire's Childhood Chronic Health Conditions Awareness Week.
Q. The 2011 season was quite a whirlwind for you.
A. A lot of things are unpredictable in baseball. You have to expect the unexpected and really have to take advantage of the opportunities. All in all, I'd say I did a pretty good job.
Q. It must have been a tough transition.
A. Initially, with lots of attention coming early in the season, it was overwhelming. It wears you out and it's physically taxing. Once that wore off, it was OK. Success gets magnified in the East, where there is a lot more media.
Q. You've had diabetes since you were young, and now you work to raise awareness for children with various diseases or conditions. What message do you give them?
A. I always look at diabetes as a challenge. I get frustrated, like any other diabetic person, but there is no sense of saying, "Why me?" I realize I'm stuck with this disease until a cure is found. I can do anything physically or intellectually that anyone without diabetes can do.
Q. As an adolescent, you were inspired by a major leaguer who also had diabetes.
A. When I was 12 years old, through Rich Gale, a family friend who was a pitching coach for the Red Sox, I was introduced to Bill Gullickson, a major league pitcher and diabetic. I met him before a game and spent a short time with him, but I was amazed and inspired.
Q. Between your work inspiring sick children and your own condition, does having children have greater meaning to you?
A. Definitely. The way I look at childhood diseases has changed a lot since having a kid. Knowing my son is at an increased risk for Type 1 diabetes has really made me hope for better treatment and greater awareness.
Q. With an economics degree from Stanford and a fascination for baseball stats, are you going to someday end up in the front office, in the mold of Billy Beane of "Moneyball" fame?
A. I might. The front office part of baseball is interesting. Times have changed, and more higher-educated people are getting into the business. My combination of baseball and economics may someday make for a good fit. I hope the opportunity does come — but not too soon.
Q. Your mother, Amanda Merrill, is a state senator. Do you have any interest in going into politics?
A. I don't think so. I admire my mom's work, but I'm not good at public speaking. I've never had any desire to go into politics.
Q. What do you do in the off-season?
A. A lot of nothing. It's great. I spend time with my family. During the season, we play almost every day. We go eight days before a single day off. My wife and I also bought a home, and we keep busy with a 2-year-old boy.
Q. Do you have any commercial endorsements?
A. No, I haven't done anything. An offer came from a car place in return for a car, but I already had a car.
Q. Do you get to New Hampshire often?
A. It varies. Last year I went up twice, and this year I hope to get up there in late January or early February, once the baby is old enough to fly. I like to experience just a little snow and then get back to the warmth of Florida.
Q. Your favorite place in New Hampshire?
A. I'd say Durham — the old UNH baseball field that is now soccer fields. My dad and I spent many hours there.