Q&A with state climatologist Mary Stampone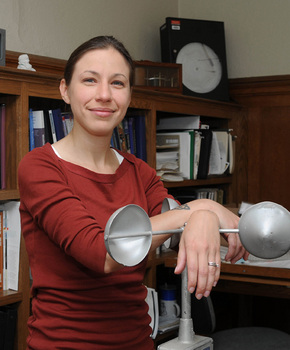 There is a reason so many folks in New Hampshire and New England talk about the weather a lot. That's because "our weather is very interesting," says Mary Stampone, New Hampshire's state climatologist since 2008.
There has been even more weather talk of late since the National Oceanic and Atmospheric Administration released data showing that from January to June, it was the state's hottest first six months of any year since 1895. Even with a relatively seasonable June, the average temperature for the first six months was 5.3 degrees above normal for New Hampshire — and also above the national average, which was 4.5 degrees above normal.
Stampone — an assistant professor of geography at the University of New Hampshire – is the public resource for the state on matters such as drought, flooding, hurricanes and most abnormal weather events.
Q. What does this NOAA data tell us?
A. This tracks with trends going more than two decades. Eight of the hottest years on record have happened since 1990, with 1998 still being the hottest. This is a significant indicator that things have gotten warmer.
The weird weather that stands out in my mind is March (2012), which was the hottest March in record. The average temperature for March was 39.6, which was nine degrees above the normal temperature of 30.6. We broke 1,000 local station records for high daytime and nighttime temperatures. This was a significant deviation above normal.
Q. Are there reasons for this?
A. For us, the patterns of warmer and drier air from the south and west have blocked the normal flow of arctic air from the north. That untypical circulation pattern was what made March so warm.
Q. What do farmers talk to you about?
A. We are not in a drought situation now, but earlier this year there was concern because of the warm winter. I've heard comments about early harvesting, and they had noticed that certain types of fruity trees were doing great. The problem was the variable weather we've been having is that planning two or even five years ahead is so difficult.
Q. Why is New England weather interesting?
A. We happen to be at the confluence of several major U.S. storm tracks and jet stream pathways. As these patterns move across the country, they tend to bring storms right over our area as opposed to other parts of the United States.
In general, long-range forecasts for New England are notoriously unreliable because of these key atmospheric and circulation variations. The Climate Prediction Center at the National Weather Service more times than not will list equal chances of the temperatures being below or above normal long range. For example, the temperature outlook for July was above normal, but for August it could be either above or below normal.
Q. How great is the connection between global climate change and our daily weather?
A. I started out in geology and was interested in the interaction of geological processes and what was going on with the weather and climate change. It was during this time (the 1990s) when global climate change was becoming a serious environmental concern.
There is so much ongoing research trying to get more definitive answers, and it is improving. We know average temperatures have been rising, and since 2001 we have had a rise in the number and severity of extreme weather events. We know that weather systems such as El Nino and La Nina are having more devastating impacts than before.
Climate change is a worldwide phenomenon with inter-annual variables. There is the climate and the weather we experience every day. I had a relative in Michigan tell me about the cold winter and that he thought the planet was warming. How warm or cold it is on a given day shouldn't provide an opinion on whether or not the climate is changing.
Q. What's the oddest climate change discussion you've had?
A. I was having a conversation with someone about ghosts and, knowing that I am a climatologist, this person described to me a study he read about how paranormal activity has increased in response to climate change. I do not know where this study was published, but it is the most unique climate change impact I have heard thus far.