Q&A with social entrepreneur Gretchen Ki Steidle
'If we're going to help advance social change, then we have to work with the people who are going to advance that social change,' says Gretchen Ki Steidle, founder of Portsmouth-based Global Grassroots.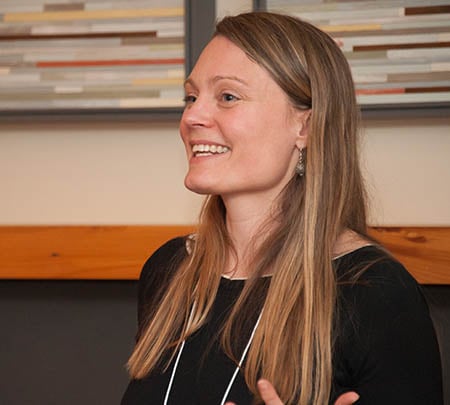 If the world wants to eliminate poverty and violence and eradicate disease, Gretchen Ki Steidle, says she has one way to do it.
Through her Portsmouth-based nonprofit, Global Grassroots, is helping teams of women in Africa provide safe, clean water access to their communities and at the same time solve several social issues that impact women and girls, including sexual violence and exploitation.
Launched in 2006, Global Grassroots has trained over 700 "change agents," who have designed over 100 organizations.
Steidle, who started her professional career in investment banking, also was a producer of the documentary film, "The Devil Came on Horseback," and co-author with her brother Brian of the book of the same name, about his experience as a military observer in Darfur.
On Nov. 9, she will be the keynote speaker at the NH Women's Foundation's annual Women Building Community luncheon, where her topic will be "Cultivating Community: Driving Social Conscious Change." For more information, visit nhwomensfoundation.org.
Q. What inspired you to start Global Grassroots?
A. I attended Tuck business school at Dartmouth. Before that, I had been in international investment banking and had always been interested in ideas and innovation and decided after spending some time working at Ashoka, a leading organization focused on social entrepreneurship, that I found myself fascinated with why good ideas don't spread more quickly.
In 2004, I went to South Africa, where the AIDS epidemic was rampant at the time and traveled around the entire country to understand it better. I met with business executives, social entrepreneurs, academics.
One day, one of them asked me if I'd ever had a chance to visit the townships and talk to some of the women there. I hadn't, but I didn't know where to start.
He brought me to the home of an amazing woman, named Zolecka Ntuli. It was a corrugated metal hut, dark inside and hot as hell. We were sitting there in her room with her and her friends, who had full-blown AIDS. Zolecka told me how she was compelled to act after a 12-year-old girl was raped by a group of young boys who thought it was their right to have sex with her. Zolecka was not formally educated – she was unemployed and had no resources. But she found some loose change to buy some bread and she invited 15 women to come together to start a dialogue about the issue of sexual violence and rape. She then decided that this is what she wanted to dedicate her life to.
She raised her own money by selling beadwork to put herself through counseling training. In South Africa, many men think that women carry HIV, so when the men get sick, they do not want a woman caring for them. So Zolecka had to find men willing to be trained as caregivers as well as educators.
It was about six months later when I met her, and by that time she had been able to get 60 people together three days a week (including 15 men) to talk about how to solve the issue in their community.
What I realized in that moment then, it wasn't just a matter of greater business investment and ideas, it was about investing at the grassroots level, where there was the knowledge and the courage in these ideas to stop this epidemic. I knew at that moment that I wanted to dedicate my work towards helping courageous leaders within these marginalized populations of women advance their own ideas for social change. I left South Africa and immediately went home and founded Global Grassroots, which is dedicated to providing training, funding and advisory support for grassroots change agents like Zolecka, who are , working to advance social justice for the world's most vulnerable women and girls.
Q. What is different about the work you're doing?
A. I call this whole realm of work "conscious social change." What I noticed in the work I did in international development and activist work in Darfur, very frequently outsiders go into a community thinking they know what is needed and impose their programs on a community, with good intentions, but it isn't necessarily what is needed and not always sustainable, and sometimes can even create harm.
I also recognized that many people get stuck on their own agenda, and their own ways of doing things, focused on growing their own programs, but they lose touch with alleviating what's underlying the issue.
It's the right thing to do, it feels good to be of service, but if we're not aware of our own motivations and intentions, it can get in the way.
Q. Part of your process is to focus on mindfulness. How does that work?
A. Mindfulness is essentially brain training that helps you become more aware of yourself and aware of your surroundings. The more we understand from our own personal awareness, the greater chance we will have of compassion and greater patience with the people we're working with.
Mindfulness affects the way you connect with other people, allows you to listen in a way with compassion and understanding so that you can connect more with people who are different than you, to go deeper in diagnosing social issues more collaboratively, to form more solutions, and more effectively be a leader who inspires more social transformation. But it all starts with yourself.
Q. Could you give an example?
A. In Rwanda, it was my very first group — 60 women, all of whom had contracted AIDS by sexual violence during the genocide. They were traumatized, suffering from PTSD and were living in sort of survival mode. I recognized that I could not expect them to manage their own nonprofit organization until they were able to attend to their own rehabilitation and realized that this whole approach had to include the social entrepreneurs' well-being. I then began to bring various mind-body practices that help them deal with trauma.
There's scientific-based evidence that it can reset the nervous system, and these are practices that are easy to learn and easy to teach, so they can turn around and teach others who may even be more vulnerable than they were.
Q. But it goes beyond mindfulness training.
A. If we're going to help advance social change, then we have to work with the people who are going to advance that social change, give them tools on their own.
First, our program trains them in understanding the nuts-and-bolts skills needed to plan a social venture from scratch so that they can always do it again to start something new or to evolve or expand their existing programs.
Included in this training are best practices on how to financially sustain their operations after they begin by using creative strategies to raise funds, leverage waste, and draw upon their own community. We teach them the financial literacy to budget for their ventures, analyze their spending and make sound financial decisions.
After going through six to 12 months of venture development coaching, we then fund 100 percent of their startup costs with a grant. We stay with them for an entire year after that to help them with any challenges so that they can reach self-sufficiency within 12 months.
We also help them connect with other NGOs working on similar issues when they may need such experts, like reproductive health experts, gender-based violence experts, legal experts, technical assistance with construction, water quality testing and hygiene management.
Q. You started out in investment banking. What did you learn from that part of your career?
A. I was an investment banking analyst for a boutique bank, working on large-scale infrastructure projects. That inspired me to work internationally. I developed a skill set in financial analysis and project financing that I'm still using, but on a micro level. I learned about what it takes to help develop the financials of a sustainable entity for our organizations.
Q. Does Global Grassroots have a focus on particular kinds of social entrepreneurship ventures?
A. We are primarily investing in women who want to work on clean water access, but by addressing that they solve related social issues that impact women and girls, including sexual violence and exploitation, girls' attendance in school, domestic violence and water-borne illnesses.
What we do is work with teams of women with financial planning and underpinnings that they can sustain themselves long-term. This not starting small businesses. We're starting small nonprofits. We're not lending – this is not microlending. This is grantmaking. It's one little thing that can do so much in the community.
Q. What kind of success have you been seeing?
A. We are working with women in Rwanda and northern Uganda and have a goal of supporting the delivery of safe, clean water access – permanently and sustainably to more than 30,000 people. It's the first of year our partnership with the Coca-Cola Africa Foundation, and at this point we are close to 18,000 people – almost two-thirds of the way towards our goal.
Q. How hard is it to find financial support for your work?
A. I think sometimes funders have a hard time wrapping their head around the complexity of the program to get a complete understanding of the transformation that's taking place here. On one water venture, we found that 80 percent of the women had to trade sex for water at least once in their lives, and 100 percent of the women knew someone who had contracted AIDS that way.
Q. How often do you go to Africa?
A. I take interested people – donors and board members – every spring. Next year, were going to do one in March. Otherwise, I've got a really amazing staff that are all local in Rwanda and Uganda. I learned early on that if I wanted this work to be sustainable and grow, I developed a program where we train others and certify them in the curriculum.