Q&A with Restaurateur Tom Boucher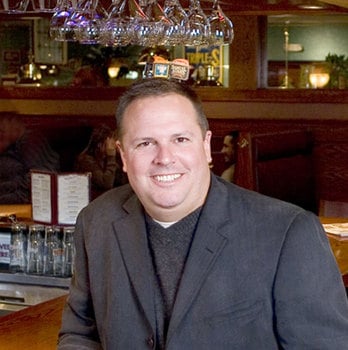 Several southern New Hampshire restaurants have fallen victim to a weak economy and saturated market and have since gone out of business.
Bucking that trend has been T-Bones and Cactus Jack's, casual dining establishments that make their marks with made-from-scratch meals at competitive price points.
Chief executive and owner Tom Boucher will break ground this spring in Bedford for a new, higher-end restaurant called The Copper Door. Boucher, who worked his way up from server to owner of his company, concedes the idea was partially designed to fill the void left by C.R. Sparks, which closed last year.
Q. Tell me about The Copper Door?
A. We're going to be breaking ground for The Copper Door sometime in March. That's the projected date, but you know how construction goes. We plan on opening in early to mid-November and The Copper Door is going to be a concept that we think fits nicely in between what T-Bones offers and fine dining segment.
People sometimes get a little bit uncomfortable at times with the stuffiness of fine dining. Between trying to decipher what the food content of some of the menu items are to the wine list. They don't necessarily want to be in that real casual environment like an Applebee's, and T-Bones is a step up from there, but the next jump is fine dining. We're filling that niche I think right in between the two. We're taking the best of fine dining but leaving the stuffiness behind.
Q. Your restaurants to date have all been about casual dining. Will customers pay a higher price point when the atmosphere doesn't feel upscale?
A. The answer is yes and no. They will pay more than T-Bones because we're going to be delivering a higher level of atmosphere and service along with a chef inspired made-from-scratch menu.
I think the term "atmosphere" needs to be defined a little bit more. It's not going to be a fine-dining atmosphere where you're going to have piano music or jazz music playing with servers wearing tuxedos, but it's still going to feel elevated compared to T-Bones or Cactus Jack's. We're going to spend $4 million on this project, so I think people will be quite impressed and surprised when they walk into the building.
Q. The closing of C.R. Sparks seems to have left a void for finer dining. Was this part of your motivation to open a restaurant with a higher-end menu?
A. Yeah. I don't think it's a secret at all and I don't think I'm speaking out of turn to say that when C.R. Sparks closed it left a huge void. It was one of my favorite restaurants.
I live in Bedford and besides T-Bones or Cactus Jack's, I would frequent there at least once every two weeks because I enjoyed the atmosphere, I enjoyed the staff, I enjoyed the food. It was a staple for the community, even the state of New Hampshire, and the decision was made to close it and I respect that of the owner.
We saw a jump in sales at T-Bones in Bedford just by default, with diners looking for someplace to eat. And I talked to other restaurateurs in the community, some of the places downtown and they all saw a jump in sales. It's clear there's a void and people that live in Bedford and Amherst or even parts of Manchester are looking for that type of dining, so it certainly was a motivation for us to start moving this concept down the tracks a little faster.
Q. You're putting this project together after a number of nearby restaurants have closed. Is the economy to blame or was the market over-saturated?
A. It's a combination of both. The market in Bedford, in my opinion, was very over-saturated with casual dining concepts. T-Bones had been there for a little over 20 years and over the years we have seen more and more casual dining restaurants being built. I think the first one to come in was Outback, then Carrabba's came in, of course that was back when Shorty's was around. Then you saw Bugaboo Creek go up and Applebee's and Karen's Kitchen.
Bedford is only a community of only 20,000 people and there are only so many dining seats you can fill at the casual level. That doesn't necessarily fly in the face of what we're doing with the Copper Door because this concept's not catering to that segment of diner.
The over-saturation was certainly a part of recent restaurant closings in Bedford, and when you throw the economy piece into it the mix, well, that doesn't help.
I think a lot of those places were just teetering and when you pull back some of the revenue on those places they just topple over. And we've seen that in other communities where our T-Bones restaurants are.
I read a lot about what's happening nationally and that's exactly what's happening around the country, too. It's the first time in the history of the restaurant business since they've been tracking from the early '80s where there's been a retraction of restaurants in the country for 2008 and 2009. I think for 2010 they haven't got the final figure yet, but it's starting to come back. The economy was a huge, huge impact on our industry.
Q. T-Bones has been around since 1984. When did you join and talk about your ascension from an hourly employee to CEO and owner?
A. I started in 1987, graduated from Merrimack College with a chemistry degree. I'm putting that to hard use every day now (laughs).
I actually had an academic scholarship to get my masters at Villanova and I went the first semester, did some soul-searching and realized I couldn't see myself in a lab coat working behind a beaker every day of my life and it just didn't feel right in my heart.
So I left the scholarship, came back home. Started working at T-Bones as a server as my "in-between fall back job" when I finally found my new career. I just grew to love it quickly and became a manager within a few short months, worked my way to the point where the former owners – the founding owners at the time — asked me to run the Bedford T-Bones as the general manager. Then in 1994, the three of them and myself opened Cactus Jack's as a second concept. That's when I became an owner within the company.
In 2004, I took over as CEO of the company and in 2007, my partner Mark Fenske — one of the founders – and I bought out two of the other founders. They were older and in the twilight of their careers. They're now enjoying life and handed off something they built in 1984 and we're still doing terrific.
Q. How many people are employed by your restaurants and why do so many stay as long as they do in an industry known for high turnover?
A. We flex anywhere between 450 and 490 depending on the season. We have a location in Laconia that houses both T-Bones and Cactus Jack's. It's the first dual-casual dining concept in New Hampshire that has two different styles of restaurants under one roof, and it seats 325 including outdoor dining in the summer.
We hire a substantial amount of people in the summer so that's where we get that flex.
I think that formula has really worked for us for a long time and it's something that I believe in deeply in my heart because it's how I started out. We view the restaurant business as a real career choice. It's something you can do for the rest of your life. It's something you can walk in and be proud to do every day because you're serving people, I mean there's no higher calling than serving people and we do treat our employees really well.
There are lots and lots of layers of benefits and little things we do for them that a lot of companies don't do, never mind the restaurant business. We're very proud to have that history of longevity of employees, that's something that we're really focused on to keep our employees here and happy.
I'll just give you an example of one little thing that we do that other restaurants don't do: We absolutely disallow managers to work more than five days a week. And people who aren't in the industry might think, "Well, of course they wouldn't."
Well, it's not the norm in the restaurant industry. Many times you'll work six days and sometimes seven, but we absolutely only allow them to work five days a week.
Some of our managers, like our 20-year managers have earned four vacation weeks a year, which is substantial. Most companies don't do that. That's where we talk about how that's a career for them. They make a good salary, they have profit sharing plans, and they have great vacation plans, and health insurance. We do a lot of the things you would see in a big business, but we're applying it here in the restaurant world.
Q. You were named restaurateur of the year by the New Hampshire Lodging and Restaurant Association last fall. What does that mean to you personally?
A. You know, when I was first getting up on stage, I was thinking, "Geez, this is such an honor." And it was very humbling because we have such an amazing amount of people that make T-Bones work. Of course I'm the front guy. I'm the CEO and my title is CEO/owner and really what it should say is CEO/part-owner because I have 10 other operating partners that make this company work, from my other principle partner Mark, who's one of the founders — he's the CFO — to our director of operations Dan Fraser, Lisa Allen is our chief administrative officer. Then we've got a whole bunch of operating owners that operate their individual stores and they're part owners.
So, it was a little awkward for me to accept that award by myself with my name on it. I wanted every person's name on it, but that's not how it works and I think they all understand that. It meant a lot to our company for sure that we're recognized for the things that we've done over the years, not only as a business and having its success but in the community we do a lot of charitable work that I think the New Hampshire Lodging and Restaurant Association recognizes and I know for sure our customers do.
Q. Do you like to cook, and if so, what's your go-to dish when cooking for the family?
A. You know I just made, and believe it or not it sounds really plain Jane, but I like to make beef stew particularly in the winter time. I think most people can assimilate the smells of beef stew in the house when the snow is falling and the Patriots are going to be on.
It's like the perfect meal for me. You got a little vegetable, a little potato, a little meat. I actually saw it on the Food Network one time, which is a great channel for people to watch and get ideas.
I actually tape the shows, and then if I feel like making something I've never made before, I'll run the show and I can see the TV from my kitchen and I'll follow along. So the beef stew I made, you marinate the chuck sirloin overnight in a whole bottle of cabernet sauvignon with garlic and rosemary and it is unbelievable.
So, to answer the question, yes, I like to cook and at times I'll put my two cents into our menu development, but I leave that to the experts like Chef Nicole. Like anything else in life, surround yourself with great people and you'll be successful. That's been my success for sure.