Q&A with Restaurateur and Broadway producer Chuck Rolecek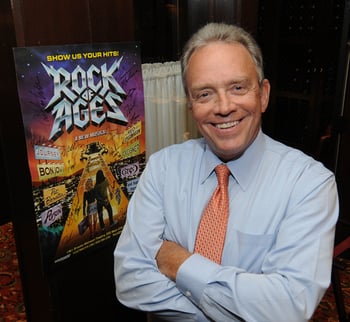 Chuck Rolecek has spent decades in food service, including as owner of the former C.R. Sparks in Bedford and now Hanover Street Chophouse in Manchester. A few years ago, he provided some investment money for an unknown play called "Rock of Ages." It has since become a Broadway hit and the movie version, with a star-studded cast headed by Tom Cruise, opened June 15.
Q. You own Hanover Street Chophouse here in Manchester. How did you suddenly become a producer?
A. The way I became a producer was a little bit of luck. In fact, a lot of luck. My son is a struggling Broadway actor and I was down in Broadway a couple of years ago, and people were looking for funding and financing. I thought maybe there was an opportunity to open some doors. Never in my wildest dreams did I think this would become a major motion picture, let alone a hit on Broadway, let alone a hit off-Broadway, let alone a hit in summer stock theater. It's really been amazing.
Q. So by putting some of your money into an original Rock of Ages production, you get credit as a producer.
A. It gives me credit as a producer for the Broadway show. But, when these projects start out, they're looking for funding and they're willing to give away some producer credits and things of that nature. "Rock of Ages" had failed as a play in the Los Angeles theater district about five years ago and had a brief stint in Las Vegas and didn't make it there. Then it was revived as an off-Broadway show and all of a sudden it took off.
Q. Did you rub shoulders with Tom Cruise, Catherine Zeta-Jones or any other stars of the movie?
A. A little bit. The movie was filmed in Miami last summer, and I had the good fortune of going down three different times. During those times, I sure learned a lot about the movie-making business, particularly that stars come in and do their scenes for maybe three, four or five days in a row and then they're done. It's really amazing how the director and the producers and everybody put the movie together, and how they film all these scenes out of sequence and then they make it look like everybody was there, everything just went in a chronological order.
I had the good fortune of meeting three or four of the stars. Diego Boneta is the lead star who plays the role that Constantine Maroulis from "American Idol" played in the play for a couple years. His (Boneta's) partner was Julianne Hough, who we all know is Ryan Seacrest's better half. I had a chance to meet Russell Brand as well as Paul Giamatti. Unfortunately, I just couldn't work my schedule when Mr. Cruise or Ms. Jones were there. They only needed me for one scene and said, "You're done, now go back to New Hampshire." (laughs)
Q. Word is that Cruise really threw himself into the role of Stacee Jaxx.
A. If you ever think that Tom Cruise is overpaid when you hear these figures of $20 million a movie, forget that notion. He's worth every penny. The guy is the quintessential, top-notch, A-rated actor — and this is from every story I heard.
When he got to town he was told to kind of get in good shape because he was going to be in a lot of scenes where he had to take his shirt off. The first day, I'm told he took his shirt off and he did one of the scenes on stage and he looked like an NFL linebacker. (He) just put himself in fabulous shape with a bodybuilder for two or three months prior to the filming. Then I heard a story that a director or somebody told him, "Don't worry about it, we'll Photoshop you, do a lot of head shots and it's about the other part of your acting," and he said, "No way."
But, to do one better, his role was Stacee Jaxx, kind of the sleazy rock 'n roll star. It's a David Lee Roth persona or a Mick Jagger persona, and in a fair amount of the movie, Tom got to play the guitar. Again, they told him, "Learn how to hold the guitar and learn a few chords." The first day he picked up the guitar, he did a riff — you'd think he had been in Bon Jovi the last five years. Phenomenal. He took guitar lessons unbeknownst to a lot of people and the guitar playing (in the movie) is his guitar playing too.
Q. So tell us the story of your small role.
A. On the second trip they said, "We might need some extras for a scene we're doing in a couple of weeks, and do you want to be in the movie?" Reluctantly I said, "Oh, what the heck — you only live once." And they said, "Do you have any clothes from the '80s?" And I said, "Matter of fact, I'm one of those hoarders, I do have a lot of the clothes from the '80s, so I'll bring some down."
Unfortunately, I couldn't fit into any of them, since it was 25 years ago, so I went to the wardrobe trailer the first day and it looked like my closet with the wide pants and the paisley tops with the elastic band along the waist, of course, the Members Only jacket. So, if you blink or if you don't blink too quickly, you'll see me in a Members Only jacket carrying a Samsonite briefcase as I'm getting onto the bus back to the Midwest after our star Julianne gets off the bus in Hollywood.
Q. So you don't have as much screen time as Tom Cruise?
A. It's a very, very short clip. I'd say 10 seconds, so if you're still getting popcorn or your drink when you walk in the theater, you'll miss out.
Q. Will there be a cast party at Hanover Street Chophouse with Tom Cruise and the other stars?
A. There might be a cast party, but I'm not sure we're going to get to that level. If nothing else, I'll be at the Hanover Street Chophouse, so someone will be there.
Q. And the play is still running in New York?
A. Yes. It's at the Helen Hayes Theater. It's a great, great show. It's been running 3-1/2 years, and we're soon to have an honor that we're the 50th longest-running show in Broadway history, and that's quite an accomplishment for being that we started off-Broadway and never thought we would get past that.