Q&A with regional wine broker Dianne Carter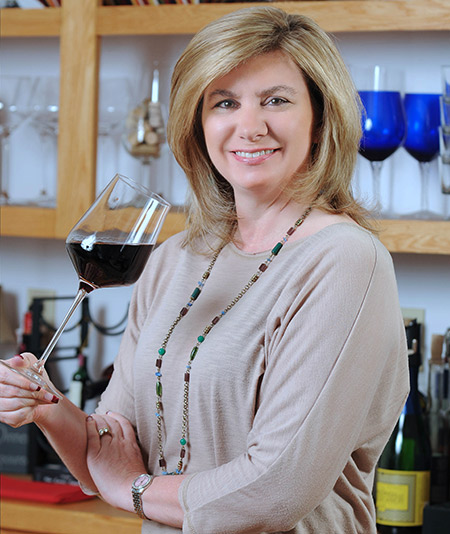 A love of wine and a realization that there was a huge void in the marketing of New England-produced wines led Dianne Carter to start New England Uncorked in 2012.
Carter, a Bedford resident, is a broker of regional wines (but does not sell New Hampshire wines as they self-distribute here already). She believes wines from the Northeast are under appreciated but are finally gaining greater acceptance in stores and restaurants.
Prior to founding New England Uncorked, she worked in information security at Fidelity Investments, building databases and supporting applications there.
Q. Is it true that your aha moment occurred while visiting Mystic, Conn., celebrating your 10th anniversary with your husband?
A. We were on a weekend trip to Mystic when we stumbled upon a winery I hadn't heard of called Jonathan Edwards Winery. It was a Friday afternoon and a beautiful day, and we decided to stop and have a glass of wine. We walked into this beautiful farmhouse that was renovated into a wine tasting room and winery. We sat out on the porch, and I had a glass of Gewurztraminer. I was just blown away and couldn't believe I hadn't had this before (thinking) why didn't we have this in New Hampshire? So I sat back in my chair and said to my husband, "I think I know what I need to do."
Q. Did you already have an interest in wine?
A. I had been getting a wine education for some time on the side and had been asked by so many of my colleagues if I would ever do anything with it and didn't think that I would. I just thought it was for my own satisfaction. I think it just hit me in that moment, kind of like a lightning bolt, you know? It's a moment, an epiphany, an aha moment when you just realize what you were meant to do.
Q. When did you begin planning your exit strategy from Fidelity?
A. Knowing what I had to do, I took my time about it. I took some time to study the laws in New Hampshire and to make sure that I knew what I was doing and that I was doing the right thing. So I sat with some people who are in the industry and I did a lot of self-teaching.
There's a lot of camaraderie in this industry, and there were some people who were very willing to help out and gave me a lot of their time. The other thing I did was leave Fidelity and take a part-time morning job in technology to help me sort of transition over so there wouldn't be such a financial shock. It was about a year later with both feet in.
Q. Explain the niche you've created for yourself with New England Uncorked. It's an unfamiliar business model to me.
A. That's because there isn't one. I'm the only one who does what I do. I'm not the only broker – there are several in New Hampshire. I'm the only one who focuses solely on regional wines.
So many people have this perception that we don't have great wine here and they would just prefer to have wines from other regions, like California, France, Italy, Argentina. The products I carry are solely regional wines. Q. Why did you choose to not approach the NH Liquor and Wine Outlet stores to carry your products?
A. New England wines are all boutique wineries. They don't mass-produce like other regions because there are a lot of fairly new wineries. They're smaller-scale, and they cater to the people who come in as tourists and want to sample local product.
That being said, it's really not a good idea to put them in state stores because the state would require mass production and large volumes and we can't do that.
The other reason is because New England wines are really a hard sell at this point. We have a stigma that we don't have great product here, and so I go to various wine shops and restaurants and sell products to these people. I open bottles and pour for their customers. There's nothing better than watching someone who has an idea that they're not going to like what they taste and then they taste it and their eyes open wide and they say, "Wow! Why haven't I had this before?" The same moment I had when I was in Connecticut.
Q. Where does this perception come from that our wine is not as good as, say, California?
A. It's interesting that you asked that because California once had the same stigma. If you ever heard of the movie "Bottle Shock" or the story behind "Bottle Shock," France felt the same way about California wines and they were being, as you'd say, wine snobs, and they couldn't believe that California wines actually won in a blind tasting.
I think that at some point we're going to get to the same kind of reputation California has. A lot of people will hear that and say, "No way." But I don't believe that. I think that we have some terrific products. People just need to have more of an open mind about it and give them a try.
We just had a white from Connecticut win double gold at an international competition in California, so it's starting to happen. Another recent article mentioned Shelburne Vineyard in Vermont as being the up-and-coming number one winery.
I'm just hoping as we see more wineries coming up, that we see them being just a little more patient with the product and giving it more time to mature before they get it out there on the shelves.
Q. Starting out, what was reaction like when you first visited restaurants and retail locations with your New England wines?
A. Well, first it was a matter of cold-calling these people and I've had some experience in my past so I'm not afraid to do it. I'm not afraid of "no," and you do get a lot of "no." I still get that today, but you just keep motoring past and keep trying and you never give up.
I've had some wine shop owners say, "I'll give you a try but I'll tell you right now I'm not going to like what you have." And then you get it in front of them and they say, "These are really great. We're going to help you. We're going to bring them in." And it's the best moment.
Q. You are also working with local distillers that include New Hampshire-made spirits.
A. A new distiller, Djinn Spirits in Nashua, reached out to me and asked me to represent them on-premise in restaurants, and I think that's a great thing to do. So you will see me start carrying more local spirits.
Q. And you are reaching out to New York wine producers?
A. Look for North Fork Long Island wines to be heading to New Hampshire soon.
Q. Is there a bricks and mortar store in your future?
A. I have given thought to that. I have to tell you my initial thought when I was thinking about jumping into the wine industry was that I would open a shop and I thought better of it because I have two small children and it would really tie me down.
At this point, it's not a good time for that, but the thought is lingering in the back of my mind, and I have looked at some real estate in different parts of the state and thought "Wouldn't it be something grand to see New England Wines or The House of New England Wines here?" But it's something I'm standing back on now and we'll see what the future brings.
Q. Sounds like you're glad you paid attention to that lightning bolt in Connecticut.
A. Well, you know a lightning bolt isn't something you ignore.